One day earlier than terrestrial broadcasting at Yahoo! Movie "Brass Layter" episode 13 episode delivered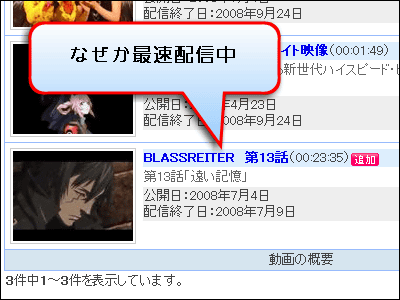 Even the earliest broadcasting station was scheduled to be broadcast from 26 o'clock on July 5 "Anime"Brass litter"Episode 13 of" Distant Memory ", What, Where and How Wrong Yahoo! It seems that it was released from 0:30 on July 4 and it was delivered by video.

Details are as below.
Yahoo! Video - Animation - BLASSREITER

I am writing this article at 13 o'clock even though it still has been delivered on the above page and it looks like the following. When I clicked on, delivery really started ...... I confirmed until the title was released for the time being, but it was truly episode 13.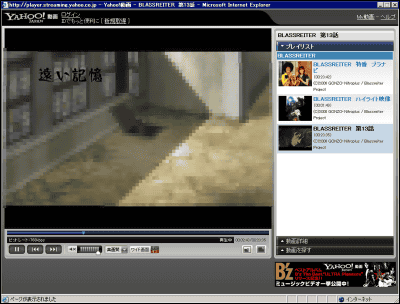 Chimami, similar cases have happened in the past, "Les Miserables Girl CosetteIn the case of BIGLOBE sometimes it has delivered the main story of 22 episodes on the net two days earlier than this main airing.

Currently, Yahoo! I am checking by inquiring about the movie "Is it erroneous delivery or I decided to publish it earlier than terrestrial fastest broadcasting?" It is scheduled to be appended as soon as details are known.

2008/07/04 15:16 Addendum
Yahoo! Although I was investigating at what stage the accident happened at the stage I inquired of the movie, it was not the timing to be delivered, so I deleted it and removed the link. Also, if there are similar things in the future Yahoo! It seems that you want to contact me from the inquiry form of. In other words, it seems that it was misdelivery simply.