"Slayers" series latest work, the fastest broadcasting on AT-X is decided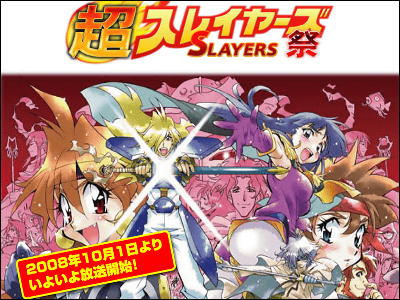 Already at GIGAZINE ""Slayers REVOLUTION" now on air, decided to create a new series"Although it announced that it is said that the fastest broadcasting will be done on AT - X, the latest work of that series was decided.

The "Slayers REVOLUTION" series is broadcasted on six television Tokyo series stations, but if the fastest broadcast is AT - X, it seems that it will be the fastest anywhere in the whole country.

Details are as below.
AT-X Animation special channel on a notch above
http://www.at-x.com/

According to the release sent from AT - X to GIGAZINE, production of the latest work of "Slayers" series and the fastest broadcast on AT - X are decided.

The content has not been clarified, and the broadcasting time of the work and the animation title are undecided at this time. From AT-X in OctoberBroadcasting past works of Slayers at "Super Slayer Festival"It is also possible to see all the old works by the new series.

At AT-X, it is based on "Super Slayers Festival""Slayers" recruitment broadcast viewing campaign viewing monitor wantedAs you are doing, please check it if you are interested.
in Anime, Posted by logc_nt