Sorry, Rei Ayanami's "Garlic Ramen Without Poke" will NOT be for retail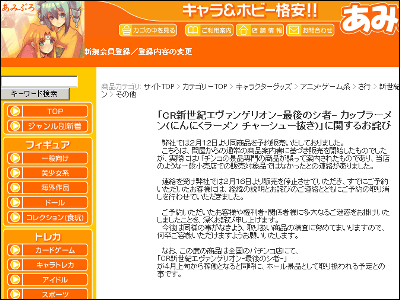 We've reported about Nissin Foods launching "Garlic Ramen Without Pork", Rei Ayanami's favourite food from Neon Genesis Evangelion, as instant noodles this March.

They are producing it, but sadly it seems like they weren't for sale. The online shop accepting pre-orders announced the cancellation of the sales with apologies on their website.

Read on for details.
(Japanese)Apologies regarding "CR Neon Genesis Evangelion -The Last Messenger- Cup Ramen (Ninniku Ramen Char siu Nuki)"

According to the website of online shop "Amiami", which was receiving pre-orders for the instant noodle "Ninniku Ramen Char siu Nuki (Garlic Ramen with no Roasted Pork)" since February 12th, the misunderstanding was due to the wholesaler's mistake, sending release informations of Pachinko prize products along with usual retail merchandise. The retailer ceased to take order on February 16th and cancelled all the orders made by that time.

So the instant noodles are not for sale, but would be given as prizes for Pachinko machine (a hybrid of pinball and slot machine, using little metal balls instead of coins to win prizes instead of money) "CR Shinseiki Evangelion: Saigo no Shisha (CR Neon Genesis Evangelion: The Last Messenger)", to be launched this April at pachinko parlours throughout Japan.

Maybe a diehard Evangelion fan should start practicing pachinko, to be sure to obtain the instant noodles.