There is a situation in which "Google may cause damage to your computer" appears on every Google search result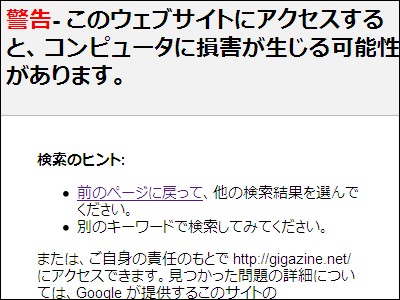 At around 23:40 on January 31, 2009 (Saturday), Google's all kinds of search results showed "This site may harm your computer", and a warning appears when you try to see the site Did. If you search on Google, you may have experienced a problem with the Google search engine, as you will see warning phrases via other search engines or viewing via bookmarks as you normally would.

It seems that corrections were made around 0:20 on February 1 (Sunday).

Details are as below.
"GIGAZINEAs a result of searching, GIGAZINE seems to be a dangerous site ... ....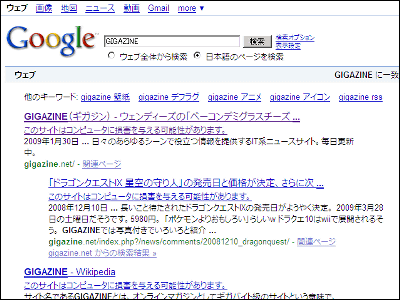 Search results of "Yahoo!". Because it's a rival! Is it?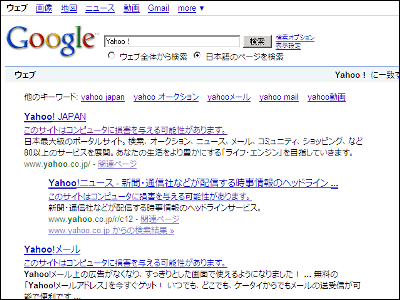 Search results of "Google". I judge that even my own danger is dangerous.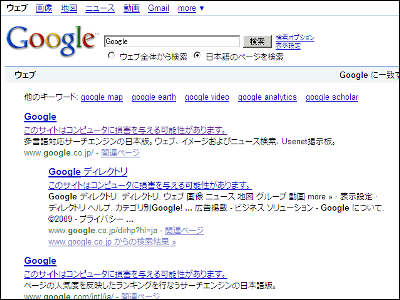 Search results of "2 ch". Is not it wrong ...?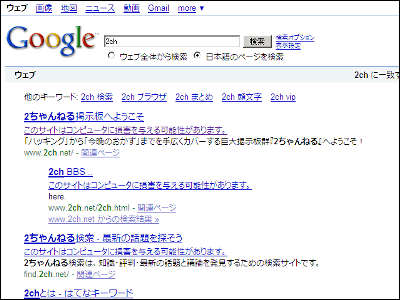 Click the search result to the warning screen. You can not move directly to the site, you have to enter URL yourself.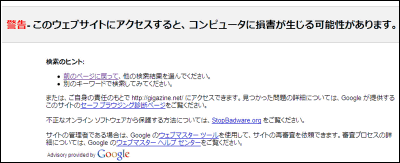 In order to know the details of the problem, go to the Safe Browsing Diagnostic page provided by Google and this is 502 error.




There seems to be something wrong with the trouble. It is quite inconvenient for those who use Google search, so I want you to get better sooner.

Additional notes:It was improved around 0:20 on February 1 (Sunday) and the above trouble did not occur. It was good to be fixed in a short time.

Further postscript: A report was reported on Google official blog that this cause is a human error. According to Marisa Maier, Vice President for Search and User Experience, Google will display a list of sites that may harm your computer as displayed this time as a nonprofit organizationStopBadware.org"We managed to manage it both automatically and manually, and when I updated the list in the process as well today, as the list contained" / "in the list due to human error all URLs It seems that it has been determined as a problem site. Because our team immediately noticed this mistake and fixed it, the problem is about 1 hour around 7:25 (Japan time 0:25) from about local time 6:30 (Japan time 23:30) That is why it fell in.

Official Google Blog: "This site may harm your computer" on every search result?!?!