KDDI revealed today new cell phone lineup for 2009 spring sales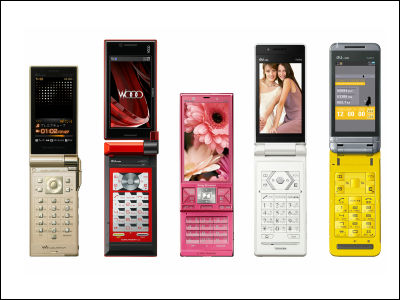 KDDI today revealed their new phone device for 2009 spring release. Breaking their regularity on model numbering order, new models are quite variable.

The common denominator is the usage of full WVGA LCD. The lineup includes KDDI's first touch-screen phone "Wooo Ke-tai" with 3 dementional LCD which can show their contents sterically, "Cyber-shot Ke-tai" with thinner digital camera function well programmed for better image, a new walkman brand cell phone "Walkman Phone, Premier3" and so on.

Detailed photos and description follows.

(Japanese)New lineup for au cell phone carrier | 2009 | KDDI

Walkman Phone, Premier3(by Sony Ericcson)
Equipped with 3.0 inch WVGA+ (480*854) LCD and 3.2M pixel auto focus camera. The on-board sound equalizing technology "Clear Audio Technology" has modes of "clear stereo", "clear bass" and "DSEE" and enables yout to use the device as a portable music player.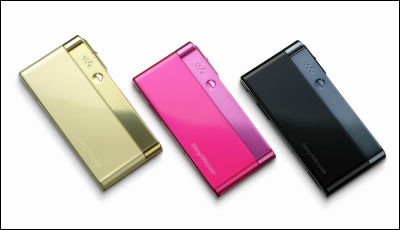 H001(by Hitach)
World's first 3D-enabled 3.1 inch full WXGA+ IPS LCD, with a pet name "Wooo ke-tai". It can show movie contents like "LISMO Video", One-segment TV, games, photos in 3D style. The image engine "Picture Master for Mobile" with new function "Double Tone Optimizer" will show high-contrast images. 5.0M pixel digital camera with face detecting focus support and anti-shaking technology. Bluetooth enabled.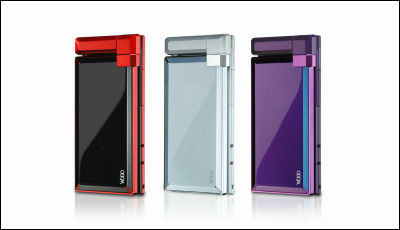 S001(by Sony Ericcison)
S001 is a world's first cell phone device equipped with 3.3 inch full WXGA+ organic EL LCD. As its pet name "Cyber-shop Ke-tai" shows, its "Exmor" 8.1M pixel CMOS sensor, automatic exposure and white balance controler "Omakase Scene detect" and "Osusume Best Pic" function, takes 7 pictures in a second and choose best one automatically, make the device a sophisticated digital camera.


T001(by Toshiba)
The second edition of "full-change ke-tai", featuring a modular outer shells and a keyboard to change the looks of the phone in 1536 ways. Combination of 3.1inch WVGA organic EL LCD and "Mobile LEXA Engine" encoder will show you high quality one-segment TV movie. Also with 5m pixel camera with face detection.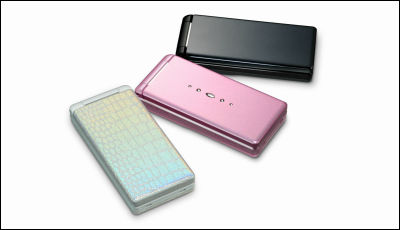 CA001(by Casio)
Au's first touch panel cell phone with 3.1m WVGA LCD. 5.1m pixel camera with auto focus, face detection and anti-shake technology. Also with motion sensor and can be used as a passometer. Utility software "au Smart Sports" included.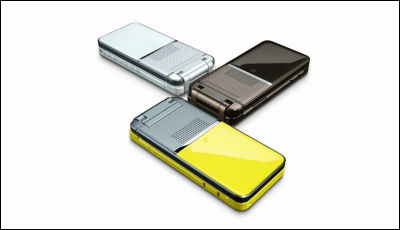 SH001(by Sharp)
3.0 WVGA LCD phone with 8m pixel digital camera featuring ISO2500 sensitivity. "ProPix" encoding engine will generate vivid color image with low noise. The images taken on the camera could be transferred to AQUOS brand LCD TV. the function "noise canceller", "slow talk", "voice clear" and so on enhances the voice call quality..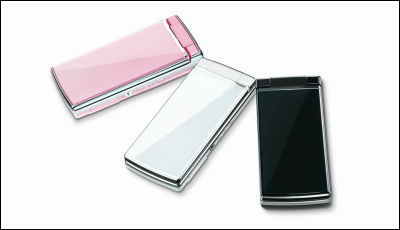 P001(by Panasonic)
3.1inch full WVGA high-fidelity color LCD and 3.2m pixel camera on board. Beautiful "QUAD FACE DESIGN" on thin 13.3mm body.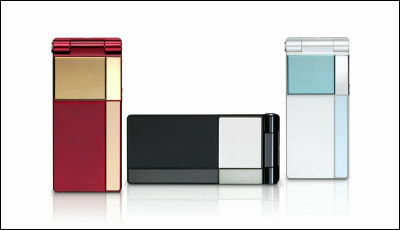 K001 for Juniors(by Kyocera )
Phone for juniors with 2.8 inch WQVGA LCD and 1.9m pixel auto focus camera. "Emergency alarm", "Emergency light", "Battery cover lock", "cash receipt book", "calicuram time table", dictionaries...lots of function for student age kids.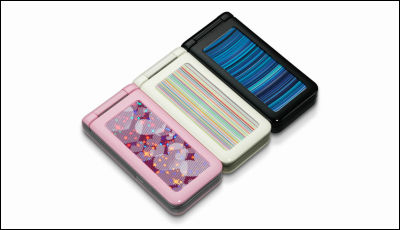 NS01(Manufacturer name unavailable)
"The cell phone with a belt" 2.8 inch WQVGA LCD phone with 1.9m pixel auto focus camera. Compact, simple design fits your life style.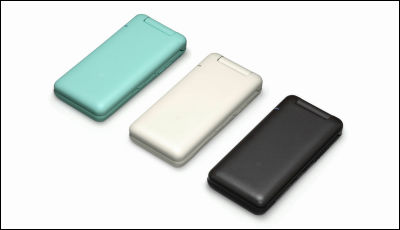 NS02(Manufacturer name unavailable)
a "case-like ke-tai" with 2.7 inch wide QVGA LCD and 2m pixel camera.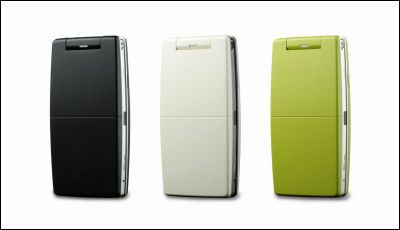 Following is the site of these new lineups.
(Japanese)KDDI au: NEW COLLECTION 2009 SPRING

There also was an annoucement of new "EZ navi walk", a navigational application using built-in GPS. The release will be on Jan. 31.

The software has 2 modes; "simple mode" and "full mode", with new function. The "full mode" supports 3D navigation.

Comparing former navigation screen and new "3D navi". More easy and useful navigation will be probided.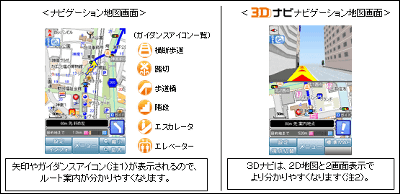 The fee of the navigation is 95 yen for 24 hours. 210 yen or 315 yen for monthly. 315 yen plan will provide "road traffic condition", "train condition", "bus location"

Here's their press release about "EZ navi walk".
(Japanese)New "EZ navi walk" | 2009 | KDDI corp.

Related Post:
Willcom to reveal their latest PHS phone "BAUM" and "WX340K", and other new customer services. - GIGAZINE

Now "E-money ready". Willcom's new phone devices for 2009 spring revealed today. - GIGAZINE

Reviewing Willcom's newest phone device "BAUM" and "WX340" - GIGAZINE

2008 Autumn/Winter model cellular phone of KDDI - GIGAZINE
in Mobile, Posted by darkhorse_log