High-performance low-cost desktop personal computer equipped with dual core CPU appears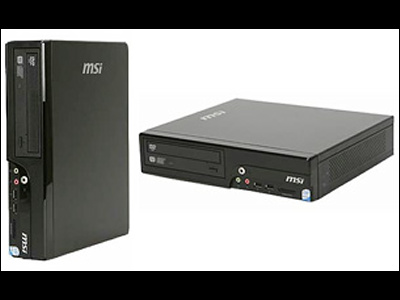 From ASUS which is deploying "EeePC" series last yearLow-priced desktop personal computer "EeeBox"Has been released, it became clear that MSI will release the model "Wind NetTop D130" with a dual core CPU newly.

Despite improved specifications than "EeeBox" due to the dual core CPU, power consumption has been extremely suppressed.

Details are as follows.
MSI Unveils the first "Dual-Core" Mini System, Wind NetTop D130
Double Performance and Energy - Saving

According to this release, MSI who handles motherboards and graphic cards etc. says that it will release "Wind NetTop D130" desktop personal computer with low price.

"Wind NetTop D130" is equipped with Intel's dual core Atom 330 (1.6 GHz), 2 GB memory, Super Multi DVD drive, the operation sound isAlmost the same size as a whisperIt is 30 dB of thing. The maximum power consumption is 35 watts, which is said to be achieving nearly 90% power savings compared to conventional desktop PCs.

Since it also supports HD movie playback and 7.1 ch audio playback, it seems that it is suitable for connecting to a living room LCD TV coupled with power saving and quietness.