A blog naming a famous music producer appeared, somehow taunting Sony's PS 3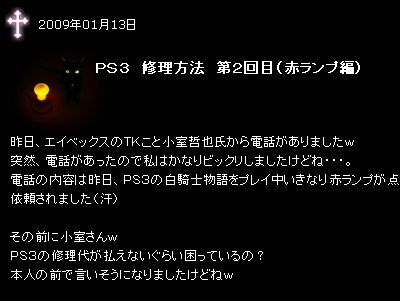 In charge of former Do As Infinity composer, he worked on providing songs to Ayumi Hamasaki, hitomi, Every Little Thing, and now that he is acting as a music producer, "D · A · I"Nagao UniversityAn entry entitled "PS3 of Tetsuya Komuro repaired PS 3" has appeared on blogs who call himself, and suddenly it repeatedly abuses abuses such as "I earn with repair fee" "recall commodity" etc. to Sony's PS3 It is published.

How did it happen?

Details are as follows.
Room of Nagao University: PS3 Repair method 2nd (red lamp version) - livedoor Blog (blog)(Fishery)

According to a blog post naming Daisen Nagao, Avex 's TK and Komuro Tetsuya (editorial note: correctly "Tetsuya Komuro") correctly said "While playing the PS3 White Knight Story, the red lamp suddenly lights up and the body There is a telephone that there is no power supply to start up "and it seems that I was asked for repair. The repair request is stated as follows.


Before that, Ms. Komuro w
Is it hard for PS3 to pay the repair fee?
I was about to say it in front of him, but w
And actually PS3 was repaired, 22 pieces of "solder balls" which caused short circuit from the board came up, and two fuses were short-circuited, and defects such as scratches on the disk occurred I heard he was doing it. Following this, comments like the following are written.


Obviously this is not initial failure w
Sony
The authenticity of the Sony timer was confirmed with this
Because I can not laugh Sony
Do not make the base full of solder ball www
PS clinic earning with repair fee is nice but we want consumers to think that such recall products are not to be made in the future!
If Sony's officials saw this article, it would be a little more company, we would like to make an effort
Also, in response to the question "Which is easier to break down PS3 and Xbox 360" in the comment column "After all, it is PS3" and "Initial type, more than half of acquaintances have died In addition to stating that "w"Entry that PS 3 at home broke down(Fishery)In the following statement.


Replacing the drive for this kind of repair (9,975 yen)
Sony is too bad
Is this a rumored Sony timer? Www
As expected it is not possible to get 60,000 yen from consumers w
This is truly Sony!
I can not laugh (sweat)
Because we invested huge amounts of money on development costs it was not possible to grease up on the slotted gear part!
Would you like to excuse consumers www www
By the way, about this blog,Top page(Fishery)As a result, it seems that the total of 8 entries were only written in April 2008, July, December and January 2009, despite being regarded as Mr. Nagao's blog In the oldest entry, "I went to the studio of Roppongi Hills the other day by making a demo tape, the other day I went to the studio of Roppongi Hills" etc, and other entries and PS3 related entries are completely different in stylistic etc , Unnatural points can be found in many cases.

When Makoto Raikko, a cartoonist, tried against the Shogakkan and tried it,A mysterious blog who claims to be a real manga artist was launchedBut, is this blog really a blog of Daisuke Nagao? If not, I'm worried about for what purpose such blog was made.