"Production I. G Theater Festival" to be able to enjoy Production I. G works on the big screen of the theater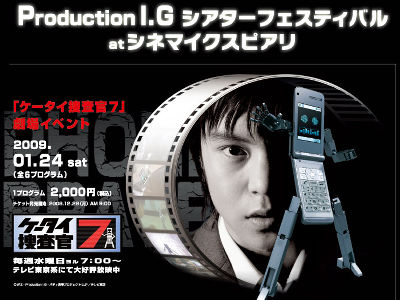 "Production IG Theater Festival at Cinema Ikspiari", an event where you can see many of Production IG's works that produced "Ghost in the Shell" and "Sky Crawlers ~ the sky crawler ~" on the big screen of the theater in January It will be held on Saturday 24th and Sunday 25th. Various theater events were held on the day, Mr. Matsuda Satoshi and Mr. Ishikawa Mitsuhisa of Production I. G will appear in turn.

Details are as below.
Keitai investigator 7: Production I.G Theater Festival at Cinema Ikspiari

"Production I.G Theater Festival at Cinema Ikspiari" held decision!

The work to be screened is "Mobile phone agent 7"Chocolate · Underground"Xxx HOLiC 春 夢 記 記".

"Keitai Investigator 7" will be screened a total of six times from 10: 30-12: 30-, 14: 30-, 16: 30-, 18: 30-, 20: 30- on January 24 (Saturday) The content will be different for each screening. A special guest appears in each, and the screening of the work and talk live are supposed to be performed. The entrance fee is 2000 yen.

"Chocolate · Underground" is preview screening before the theatrical release from January 31 (Saturday), screening from 14:00 on Sunday, January 25. This is an invitation preview, and it seems there is no ticket sale.

"Xxx HOLiC Haru Yoko" will be screened first and the guest stage greetings will be held. Two schedules are scheduled at 18:00 and 19:00 on January 25 (Sunday) at the preliminary screening of the comic attached original animated DVD scheduled to be released on February 17. Admission is 500 yen.

For each event, the tickets are on sale at the Cinema Ikspiari counter and online ticket "My Sheet Reserve".