EM Mobile announces the addition of a new terminal "Dual Diamond" for winter sales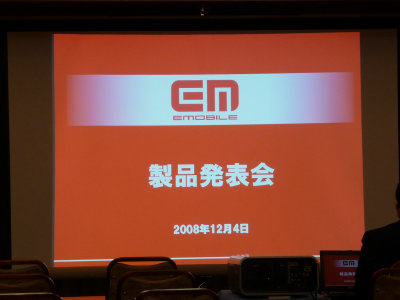 E-Mobile previously in GIGAZINETerminal that introduced the first high-speed communication standard "HSUPA" in JapanWe announced that we announced it for winter sales, but today a new terminal "Dual Diamond (S22HT)" was announced today.

It seems to be a delayed new terminal, but apparently it will be a stylish and easy-to-use smartphone. This time we will deliver it from the venue with real time update.

16:24 Update, add link

Details are as follows.
The delivered material looks like this.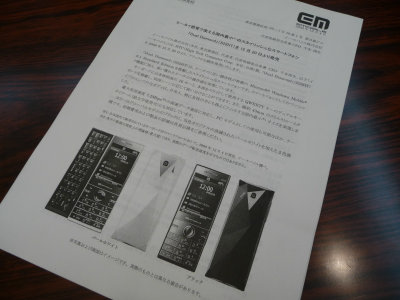 The new terminal seems to be "Dual Diamond". Is it the evolution of Touch Diamond?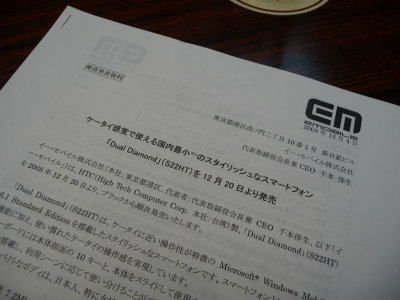 While compact, it has 10 keys and a QWERTY keyboard. Black and e-Mobile original Pearl White model appeared.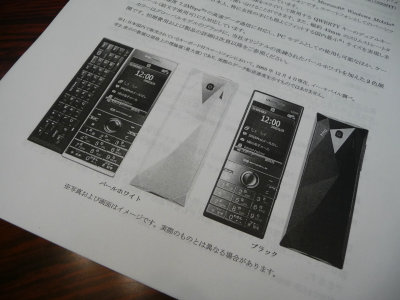 Although it is an anxious spec, it is equipped with 2.4 inch QVGA liquid crystal and 3.2 megapixel camera, user memory 108 MB internal memory, wireless LAN, Bluetooth, MicroSDHC slot, miniUSB interface, adopt Windows Mobile 6.1 Srandard Edition as OS . By adopting a slim body with a width of approximately 43 mm and two kinds of keyboards that is easy to use even for women, it is possible to use like a cell phone, and it also supports HSDPA with a maximum communication speed of 7.2 Mbps.

Beginning December 20 from the black model is scheduled to be released sequentially, the initial cost at EMOBILE store will be 62980 yen in the basic plan, 38980 yen in the new plan.

"Mobile, but still smart" concept.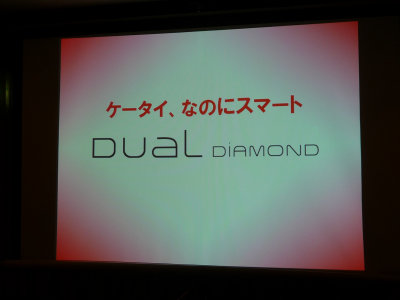 Mr. Akira Abe, Executive Vice President, EMOBILE Corporation, introduced "Dual Diamond".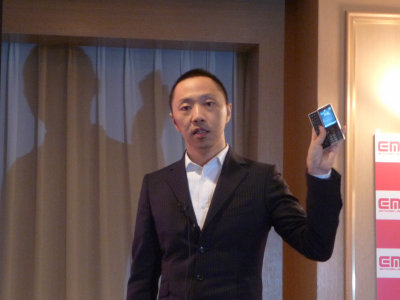 It seems to be the smallest in Japan as a terminal equipped with QWERTY keyboard.



Black model is like this.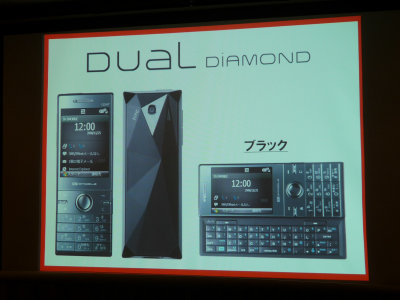 We have adopted an easy-to-read interface for browsing unread mails, and that browsing is comfortable.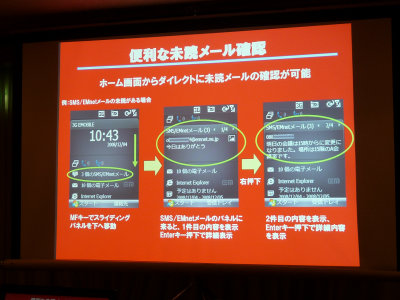 ·Question-and-answer session
Is not GPS installed? Why did you choose a terminal without touch panel?

GPS will be unsupported. Because I wanted something small in size, it was decided not to install a touch panel and instead choose a terminal with a rich keyboard.

2008/12/04 15:27 Add
NEWS | Dual Diamond (S22HT), the smallest domestic * 1 stylish smartphone that can be used with mobile phone feeling released on December 20 | eMobile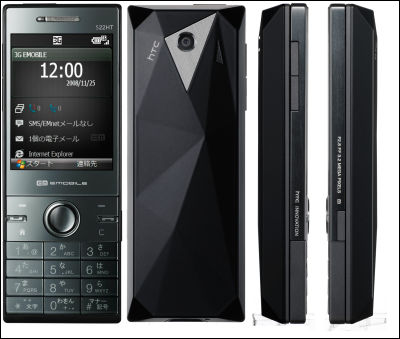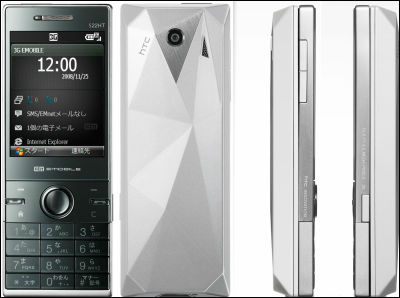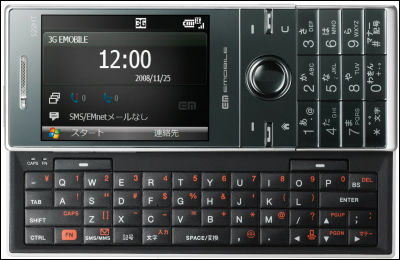 · Next article
EMobile's hidden ball, the smallest smartphone with full keyboard "Dual Diamond" haste photo review - GIGAZINE