Ninety-nine electrical machines under civil rehabilitation proceedings, product stock foreclosure site report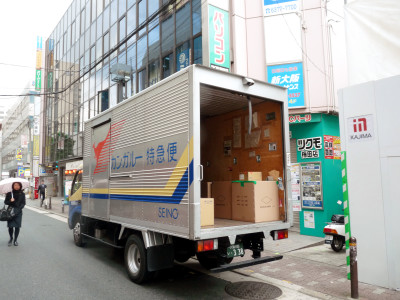 Previously at GIGAZINEKujiku Electric Co., Ltd., a major PC shop, filed a decision to decide to start civil rehabilitation proceedings and received itWe told you that today it has been revealed that foreclosures of product inventory by manufacturers are being carried out.

This time we will deliver the report from Tsukumo Umeda store.

* 15: Since I received a report from 35 ninety-nine electrical machines, I added it

Details are as follows.
Arriving at Tsukumo Umeda store as the rain stopped. The shutter is still closed even after the opening time of 11:30.



A trucking company's truck at the entrance.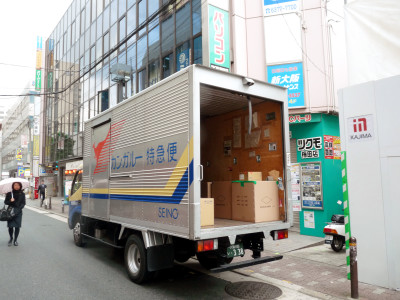 According to the paper stuck on the shutter, the security stock of the NEC lease was set in the product stock of the Ninety-nine Electrical Equipment, so that the collateralized product was seized and the business was temporarily unavailable Thing. In addition, Nikko Electric will arrive from NEC Lease on August 29(PDF file) We received financing for working capital called "asset-based lending" collateralized by product inventoryThat's right.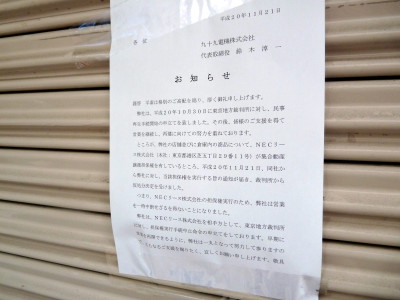 Whether the truck was already preparing to depart, it was already finished loading.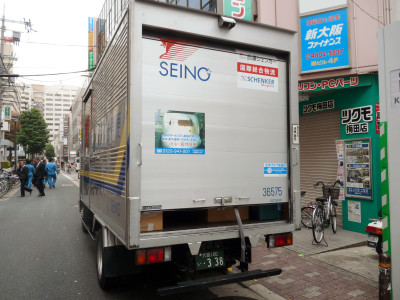 As of 12:00Official siteThe message "Maintenance in progress" is displayed.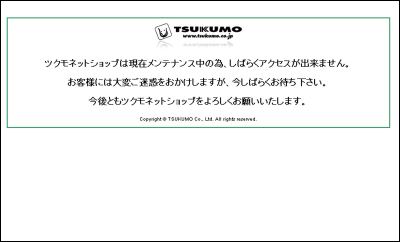 In addition, I tried calling the Tsukumo case kingdom of Akihabara at GIGAZINE editorial department at 11:57 AM on Friday, November 21, 2008, and it was found that the situation that an answering machine flows despite being in business hours It was getting.


I wonder what will happen from now ....

· 15:05 postscript
The official page has been updated. We are forced to temporarily suspend business in order to execute NEC Lease's security interests and we are currently petitioning the Tokyo District Court against an NEC lease against a collusion right procedure proceeding order That's right. Based on this, it is said that stores, sales companies, net shops, and support will temporarily close off from Friday, November 21, 2008 to Tuesday, November 25, 2008.
TSUKUMO net shop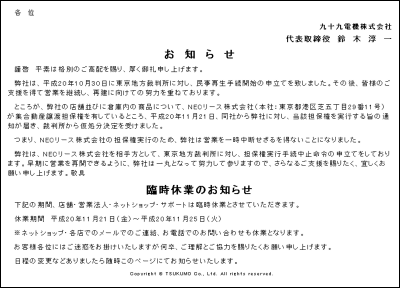 I suppose that the foreclosure was carried out on Friday morning after a large amount of merchandise for the weekend sale arrived and the inventory in the shop became abundant.

· 15:35 postscript
I received a report saying that I have posted a press release from Kuju Electric.

Notice

According to this release, NEC Lease has sent a notice to Kujiku Electric Co. today that it will execute the security interest in the stock of goods, and received a temporary disposition decision from the court.

And with NEC Lease as the opponent, we are petitioning Tokyo District Court for the suspension of execution of security interest procedure, and despite deliberations being held at 5:30 pm today, collateral by NEC Lease Execution of the right (= foreclosure) was done.

In response to this, Kujiku Electric Corporation mentioned that it is conducting transactions with NEC, the major shareholder of NEC Lease, for more than 30 years, and the business partner, users and employees I am sorry that I was forced to cancel business by NEC's affiliated companies, while trying to rebuild as much as possible under the civil rehabilitation law.