I ate 4 kinds of ramen at "Hakata Ichido" which is popular in New York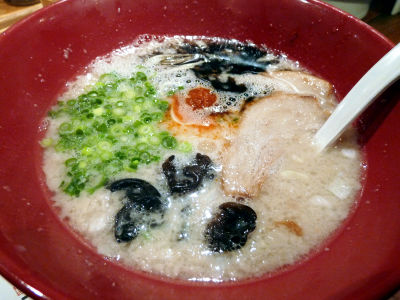 Ramen chain store with head office in Fukuoka city Fukuoka prefecture "Hakata Ippudo". In addition to the Fukuoka area, we have many stores in the Tokyo metropolitan area and the Kansai area, as well as a store in Manhattan, New YorkPopular as "Ramen Dining"That's right.

This time, it was not possible to go to the Daimyo headquarters as expected, but at the Umeda store it is the main part of Ichido "Shiranomasen"Red round Kasane taste",then"Noodle from Ippudo"Extreme pleasureWe ate a total of 4 kinds of ramen.

Details are as below.
Hakata Ippudo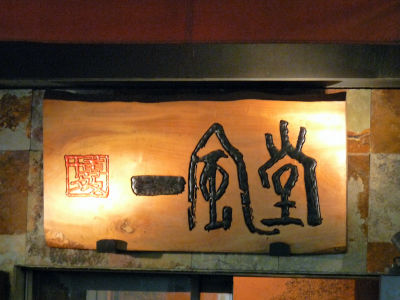 What I visited this timeIchida store in Ichido. Located near the HEP Navio, with the HEP FIVE Ferris wheel on the back.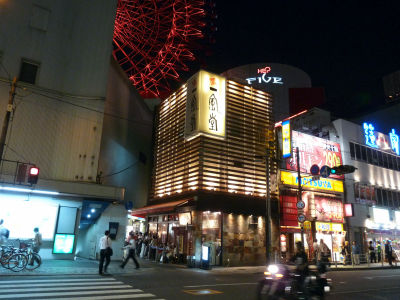 In this map

View Larger Map

A queue was built along the outside wall of the shop and I was taking orders before entering the store. At that time, it was possible to specify the stiffness of the noodles. This time it's all for ordering.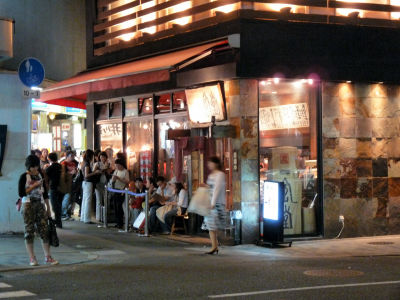 The inside of the shop was divided into a counter seat and a table seat, and this time it was introduced to the counter seat.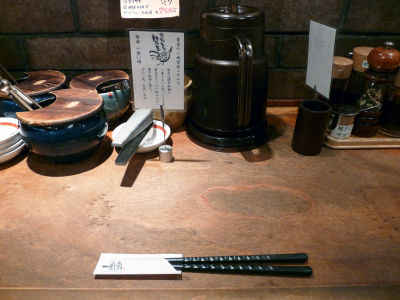 The table is placed on mustard greens, bean sprouts, red ginger. There are also raw garlic and garlic crusher.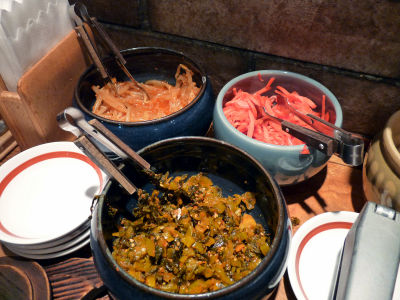 There are also two kinds of ramen noodles and dumplings.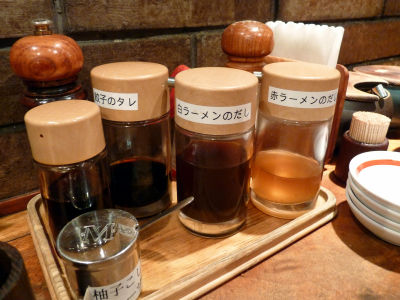 The ramen I ordered arrived. One of the standard menus, "Shiranomasen". A shop clerk who came to pick up an order is also a recommended dish. The most orthodox pork bone ramen, this is the basic.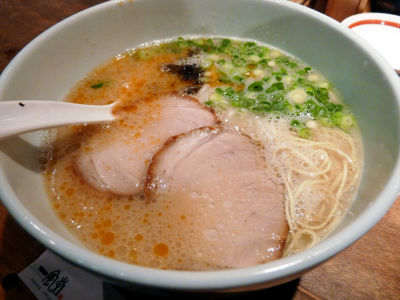 It seems that Hakodako 's love taste seems to be love, and the Tonkotsu soup is entangled with a crispy crispy crisp crust. The red circle and the white circle are tasty seasons that do not arouse odds, but it was a convincing taste that I was always loved.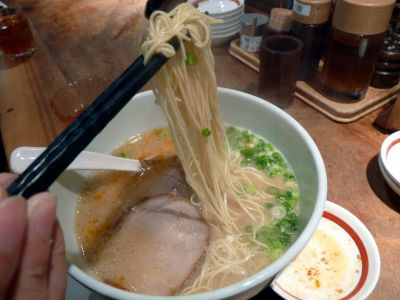 This is one of the old standard menu, "Red round Kasane taste". "Umami jade" that you can adjust the taste while melting little by little in the middle. In short, it is hot miso soup. More strongly roasted perfume is added. This perfume looks like a blackish crumb.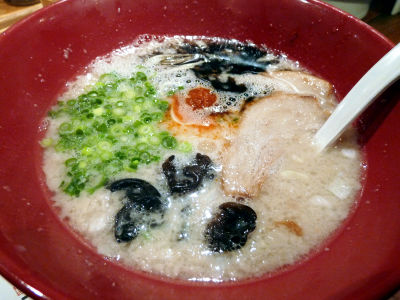 It's a fragrant taste, although Tonkotsu soup is rising.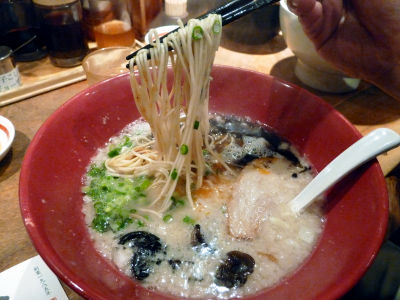 this is"Noodle from Ippudo". It is so-called burden noodles.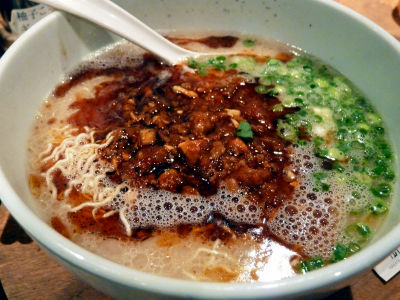 I could specify hotness from ordinary to tiny, and I ordered it in one spicy but it was not so spicy that my tongue was numb. The soup was delicious, but it feels like I lost because of the lack of sushi.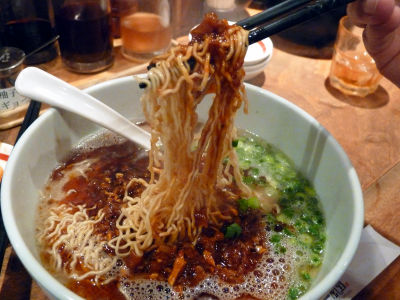 Glue, semisolid eggs, chashu, rice balls come with a set.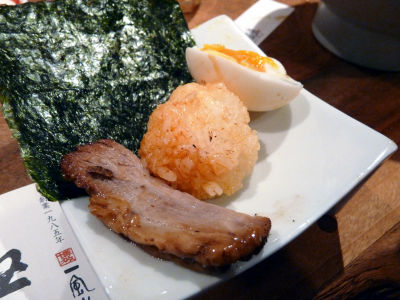 Finally one more ramen is supposed to come, but this kind of thing was placed before ramen.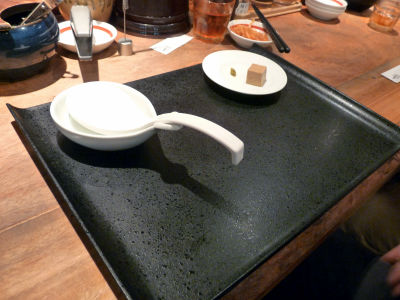 This is a book of how to eat tasty.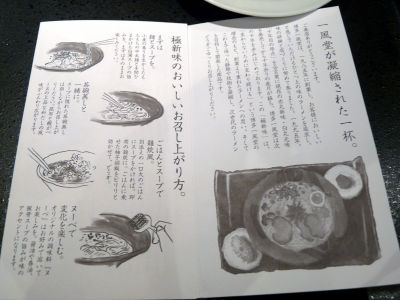 Yuzu pepper used for set rice on the left, nouve (semi-solid soup noodles) to put in right after finishing ramen half-finished.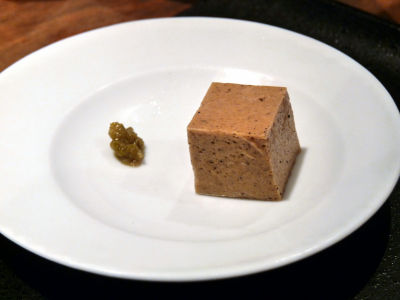 That's why I arrived "Extreme pleasure". Originally it is about 1.3 times the amount of other ramen, but since it ordered a little more, it is about 1.5 times real amount.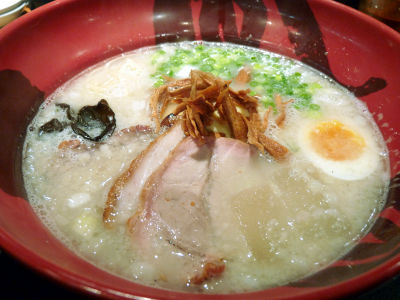 Chawanpotchi is hidden under the burdock fly in the middle of ramen, and it eats while breaking down.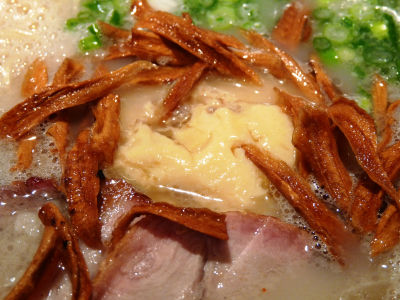 It seems to eat like settled rice with scoop of soup and like ochazuke.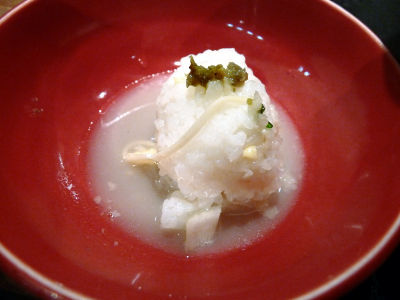 When I finished eating about half, I will dissolve the nouve. Those in the butt melted the nouve, the color is considerably thick compared with the soup. Originally the ultimate new soup is Tonkotsu and Chicken soup, but if you put in a Nouve it will be like a bit of a seasoned rice taste. Although there is a feeling of stuffiness and feeling of satiety because of the large amount of the whole, I got the impression that the taste fell a bit compared to red circles and white circles.



Incidentally, substitute is 150 yen. It seems just right to say a few words before eating.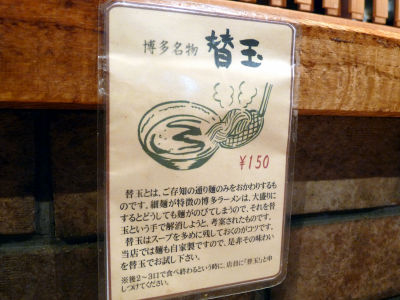 Besides, Hakata Buns is sold for 250 yen.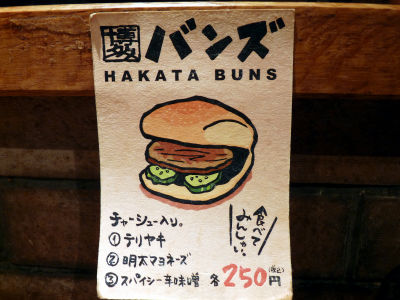 Not cold water or barley tea,Rooibos teaIt was issued.