Ichibodo noodle-free ramen "Shira Maru Tonkotsu 100-year Tofu" filled with tofu instead of noodles is delicious twice at once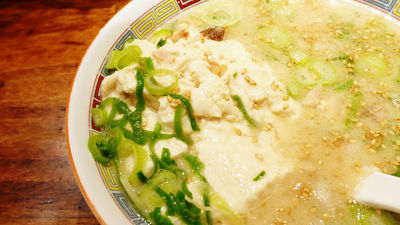 Hakata Ichido originating in Fukuoka is a ramen shop that develops stores not only in Japan but also overseas. That Kazuto is not an important noodle even for elements that make up ramen, but noodles with noodles that put soup in tofu "White circle Tonkotsu 100 years tofuWe are offering it from March 1st. Although it was a ramen shop, it was really interesting that I put tofu instead of noodles so I actually tried it.

【New product】 "Shira Maru Tonkotsu Tofu", sold only for 3 stores! | Hakata Ippudo
http://www.ippudo.com/news/1603_tofu/

I came to Hakata Ichido Ginza store which is one of the stores that is offering "Shira Maru Tonkotsu Tofu".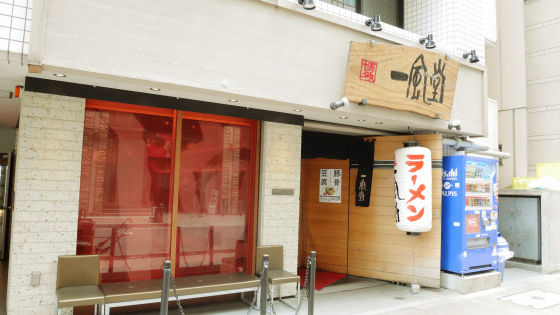 I came around 11:30, but there were many customers in the shop.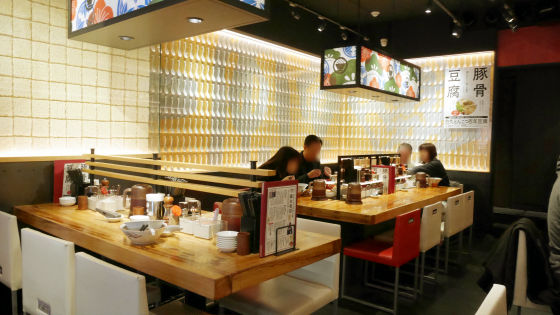 About the seat I ordered "Hakumaru Tonkotsu 100-year Tofu". "Shira Maru Tonkotsu 100-year Tofu" is a 20-meal-only item a day.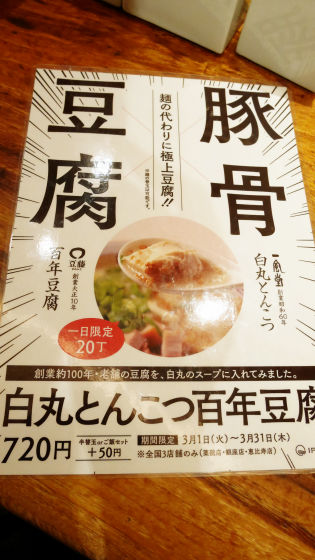 What is included in "Shira Maru Tonkotsu 100-year Tofu" is a new product called Fuukuoka's well-known tofu store "Tofu" of hundred years tofu. Mr. Kato of Mr. Kita, the fourth generation, who brought the new tofu made to Mr. Kawahara who was a founder of the Iwakudo who was indebted from the young age, just putting the soup in the prototype of ramen It is said that "Shira Maru Tonkotsu 100-year Tofu" was born from the point of view.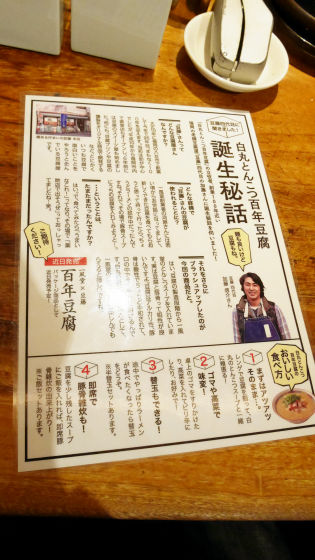 When reading the birth history as Humhum, "Holy red circle Tonkotsu Tofu" has been brought. It looks like a soup of Kazuto no Ramen "white circle" and does not change there.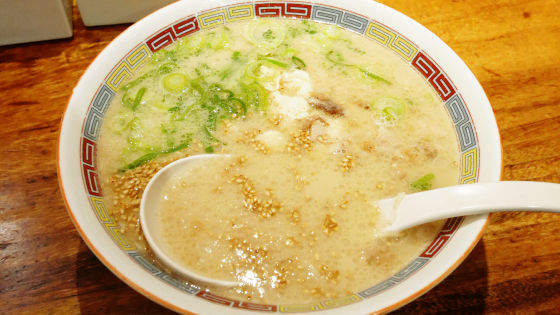 I tried drinking only the soup, but it was a thick but smooth mouthfeel.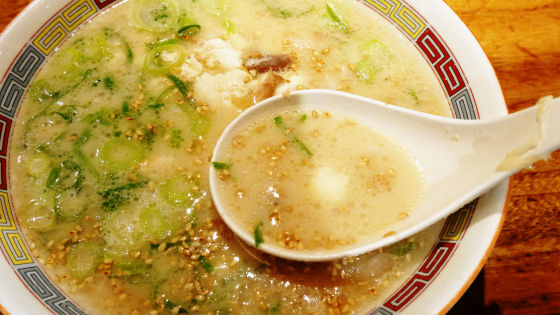 When you took the astragal from the bottom of the vessel, a big tofu appeared. It is quite different from ordinary tofu, it is a little elastic and difficult to crumble.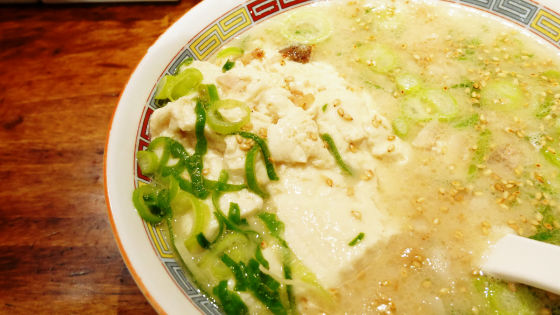 When break down the tofu with the astragalte and put it in the mouth together with the soup, the texture like tofu melts very smoothly and tastes than usual one. The tofu itself has a slight taste. One hundred years tofu uses monotodous pig bone soup from the manufacturing stage, and it is characterized by mellow in the mouth. Feeling like eating a pork bone-based pot by eating it with soup. It is healthier and seems better than ramen as a shark's dish.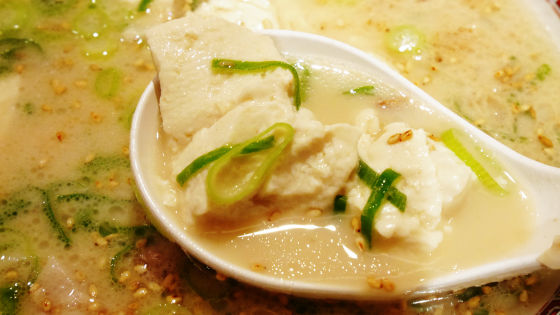 Sesame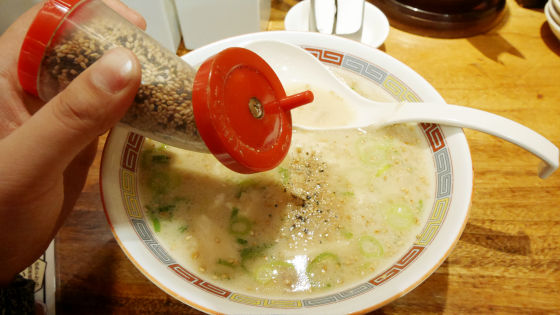 I added vegetables and tried changing the taste.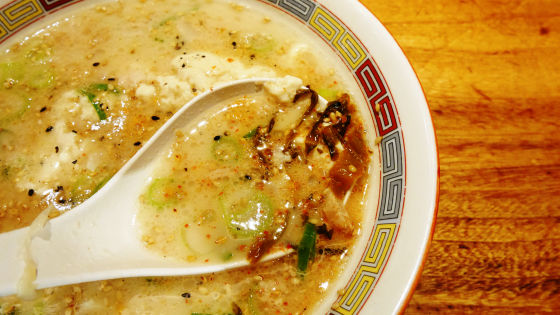 People who like spicy foods are OK even if you put in a cabbage from the beginning because they add spicy vegetables.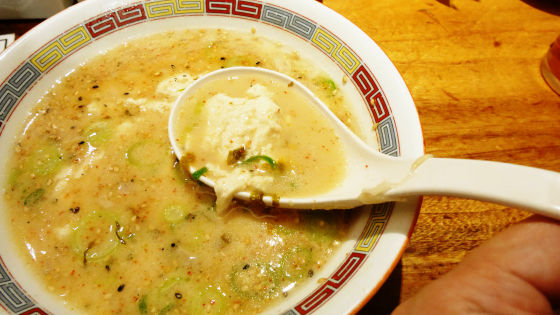 I have finished eating all in about 5 minutes, but it will not be full. I asked the store clerk for a replacement with +50 yen, so I ordered a replacement.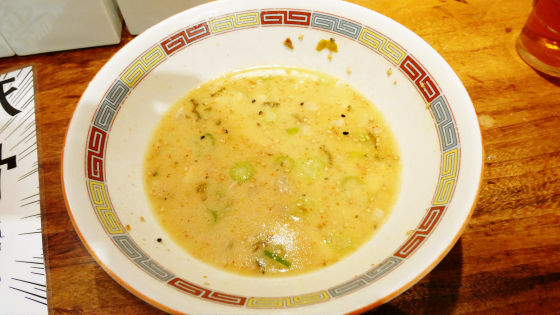 Replacement ball is noodle instead of tofu. However, it is not a single person but a half.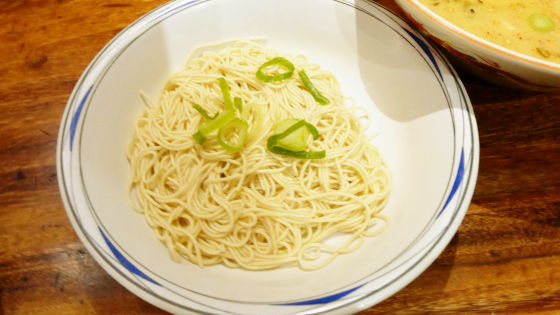 If you put the substitute into the soup, you can eat Kazuto noodles.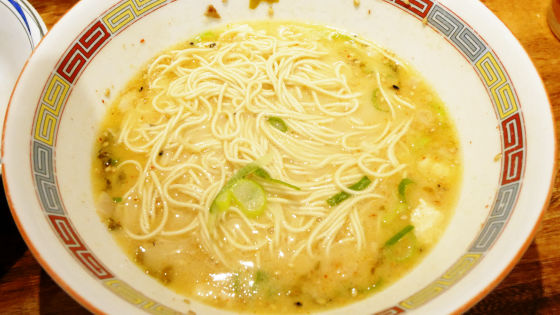 There is a little sense of being able to eat not only tofu but also ramen. It is also possible to put rice in +50 yen instead of substitute to make rice cook.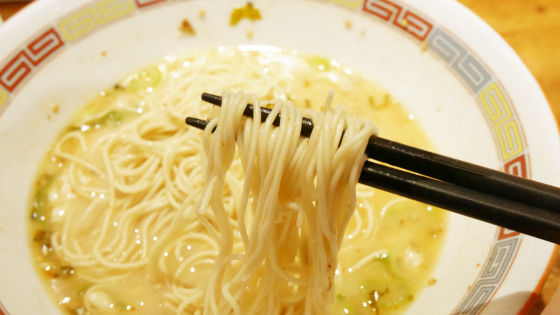 The white circle Tonkotsu Tofu is delicious twice at once by replacing it instead of just eating it. As the price is 720 yen and it is 770 yen even if you set it as a substitute or rice, so if you want to enjoy both tofu and ramen, tofu and rice, you want to eat it by all means. In addition, Hakumaru Tonkotsu 100-year Tofu is offered only at three stores of Kazuto Ebisu store, Ginza store, and Yakushi store, and it is a limited-time offer until 20th of March, 21 per day per store.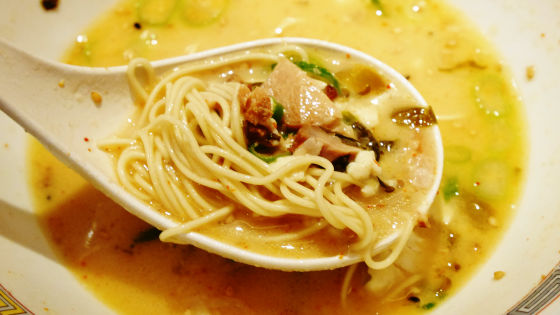 · Additional notes 2016/03/15 9:35
"Shira Maru Tonkotsu 100-year Tofu" increased from 3 stores to 6 stores, and it was decided to be offered at 9 stores in total. Also, the number of offers will be increased from 20 to 40 per day.

[Added 6 stores from 3/15 with popularity !!] "Shira Maru Tonkotsu 100-year Tofu", sold at 9 stores only! | Hakata Ippudo
http://www.ippudo.com/news/1603_tofu/

Ichibodo's "Shira Maru Tonkotsu Tofu" will be available at nine stores below, starting from March 15, 2016 with a limit of 40 daily.
Kanto: Ichibodo Ebisu store / Ippudo Ginza store / Ichigodo Minami Aoyama store / Ippudo Toyosu store / Ichido Honth Aki Millord East store / Kazuhodo Kannai store
Kansai: Ichiyodo Umeda store / Kazdoodo Minoe store
Fukuoka: Ikedo Yakuin Store