DELL released a low-priced laptop computer "Inspiron Mini 9" that costs less than 50,000 yen today, and living water resistant with no fan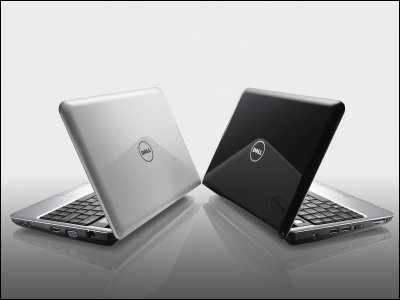 The other day GIGAZINE informed me that DELL will announce a low price laptop computer against Eee PC this week, but finally today, a low price notebook computer "Inspiron Mini 9The official announcement of "was done.

Despite the low price that cuts 50,000 yen in the cheapest model, it has become a waterproof living that protects PC from fanless body and water droplets that emphasize quietness, and it is the first time as a low price laptop for domestic use There is also a lineup of Linux models to become. Moreover, I can customize it as I like.

Details are as follows.
Announcing a stylish mini laptop "Inspiron Mini 9" that you can easily carry
Weight approx. 1 kg, Intel Atom processor, 8.9 inch LCD monitor mounted

According to this release, DELL is to start selling mini laptop "Inspiron Mini 9" from today.

"Inspiron Mini 9" employs Intel's Atom processor N270 (1.6 GHz), 8.9 inch gloss liquid crystal display (1024 × 600), 5-in-1 card reader for CPU, memory and SSD capacity, keyboard, Bluetooth, the presence or absence of a web camera can be customized. It also states that Windows XP SP3 or Ubuntu 8.04 can be selected for the OS. The color is Obsidian · Black and Pearl · White with weight of about 1 kg, battery driving time is 3 hours 40 minutes.

By the way, as an example of the price structure in the online store, "Basic package" which selected Ubuntu 8.04, 512 MB of memory, 4 GB SSD etc. as OS is 49,800 yen, Windows XP Home Edition SP 3, 1 GB memory, 8 GB of The premium package which selected SSD is 50,780 yen.

And "Platinum package" which selected Windows XP Home Edition SP 3, 1 GB memory, 16 GB SSD, 1.3 M Pixel webcam, Bluetooth module etc. will be 64,980 yen.