I tried sightseeing in Japan at "Google Map Street View" overlooking the site photo of the viewpoint taken from the road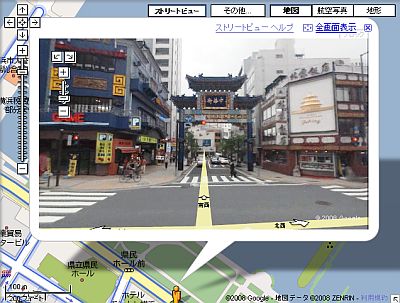 Google MapsCan be seen from the plane view "Street ViewAlthough it is finally the Japanese version "Google Maps Street ViewHas been started. It is possible to see various places besides the metropolitan area.

With the usual maps so far, I did not understand "How do you see that it will get down to the actual site?", But since this "Google Map Street View" can see the local landscape with photos It becomes easy to understand. It may be useful for preliminary examinations, such as traveling and going on business trips to places you have never been.

A sample of how it actually looks is from the following.
Google Maps Street View
http://www.google.co.jp/help/maps/streetview/
* If the following embedded images can not be seen due to access rushing, please click "View with big map" or delete the browser's cache and re-access

Tokyo Tower

View Larger Map

Chinatown in Yokohama

View Larger Map

Tsutenkaku in Osaka

View Larger Map

Clock Tower in Sapporo

View Larger Map

Higashi Honganji Temple in Kyoto

View Larger Map

Hyogo Akashi Kaikyo Bridge

View Larger Map

...... It may be that there is a case that "If you search," things you should not show are reflected ". Who did you find?From here TarekomiI will be happy if you do.