I asked SoftBank Shop if I can book the iPhone anymore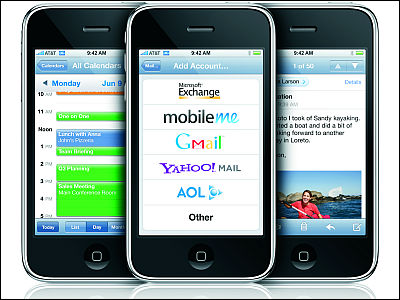 2nd generation iPhone "iPhone 3G" planned to be released from SOFTBANK MOBILE on July 11However, details such as the main unit price and the price plan are undecided, so it can be seen that a major consumer electronics retail store such as Yodobashi camera is canceling acceptance of reservation.

So, I asked the main SoftBank Shop by phone whether I am accepting a reservation. People who are interested in iPhone may want to try it as a reference.

Details are as below.
Softbank Shop confirmed by phone this time is Osaka's "Umeda Central Store", "Nihonbashi Store", "Kyobashi Store", "Namba Walk Store", "Tennoji Store".

· Umeda Central Store
We do not accept reservations, as details of price and price plan of iPhone are undecided.

· Nihonbashi store
I canceled reservation acceptance because reservation exceeded 50 people in one day yesterday. After all, the music player and the mobile phone became one, so the popularity of the young generation is very high.

· Kyobashi store
Although we have accepted reservation, we do not know details of price, contract form, etc., so it is in the form of provisional reservation.

· Namba Walk Store
We do not accept reservations at the moment because we have not received information yet (we do not know whether or not to sell at the store). We will review after the information comes in from tomorrow.

· Tennoji store
Although details etc. are not decided yet, we respond to it in the form of reservation reception once. Since we can not make a promise that you can hand it to the first day on sale definitely, we will contact you as soon as information comes in.

Because there are cases where details such as the main unit price and the price plan are not decided, it seems that correspondence is mixed by SoftBank Shop so if you absolutely want it, you may want to try searching for a store that will accept reservations Hmm.

You can search the nearest SoftBank shop on the following page.

SoftBank Shop Search | SoftBank

Even so, the popularity of the number of reserved people exceeding 50 people in a single day is terrible ....