Finally the price of all models of the iPad was found, the lowest model is 48,800 yen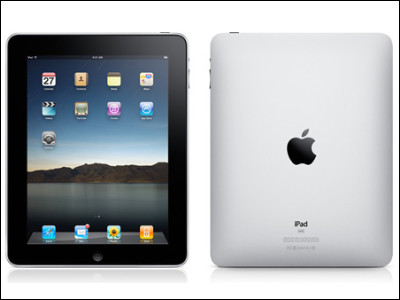 The other dayIPad that Apple officially decided on its release date on May 28However, reservation reception started from today, and the price of all models became clear.

The lowest model in the online Apple Store is 48,800 yen,Sales price of iPad released by SOFTBANK MOBILE on May 8Has been revised.

Details are as below.
IPad - Apple Store (Japan)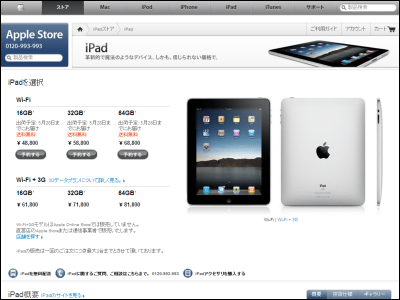 According to the official page of the Apple Store, the price of the iPad Wi-Fi model is16GB model is 48,800 yen,32GB model is 58,800 yen,64GB model is 68,800 yenIt is said that.

In addition, although it is not sold at the online Apple Store, the 3 G compatible model has a price of 61,800 yen for the 16 GB model, 71,800 yen for the 32 GB model, and 80,800 yen for the 64 GB model.

Price list of each model. The 3G model includes the Apple Store in Tokyo, Ginza, Osaka, Shinsaibashi etc.Apple product dealerAnd telecommunications carriers, and you can purchase up to two Wi-Fi models and 3G models for each order.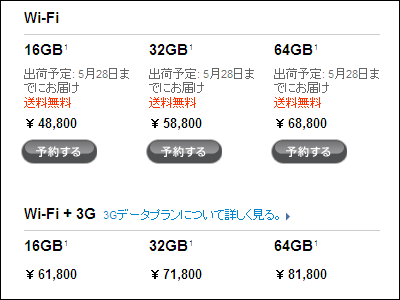 The price at SOFTBANK MOBILE directly operated store is like this. As of May 8, the main price when purchasing the 16 GB version of the Wi-Fi model by bulk payment was supposed to be 48,860 yen, but today price revisions were made, the same selling price as the Apple Store It is.
IPad Sales Price List | SoftBank