Monthly dragon magazine, preliminary announcement to make an emergency serious announcement on Slayers at the February Release issue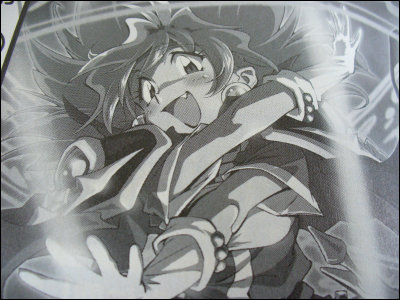 Fujimi Shobo's monthly magazine "Dragon Magazine" is the longest-lived serial work, which has been converted to television animation three times in the past, media mixes such as theater animation and OVA, radio drama, comic books were developedSlayersHowever, it is said that an emergency critical announcement will be held in February.

"Lina also ramped up again in 2008!Although it is said that, what exactly will be announced?

Details are as below.
Dragon magazine April issue notice page released on February 29.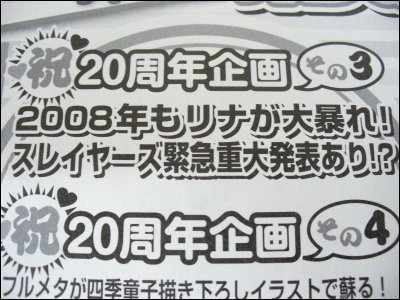 As a dragon magazine 20th anniversary project, an emergency serious announcement will be held.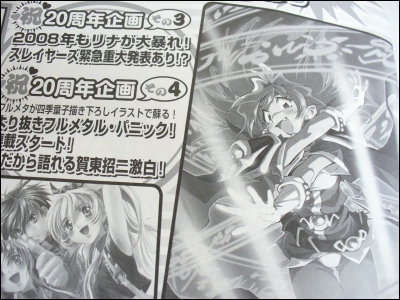 In addition, Slayers continues to serialize as a long-lived serial work, such as "Shirai Bullet" released in January 19, "Shiraiyasupesharu" in short edition became the 30th bullet.
Silk Bullet: Bunko: Kamisaka I | Kadokawa Shoten · Kadokawa Group

In addition, from April it seems that there is a story saying that the TV animation "Slayers" will be rebroadcasted on TV Tokyo series, but when I contacted TV Tokyo on the phone, "We have not received the guide that rebroadcasting will be done" It was a reply. Is it really a rebroadcast?

· Next article
Slayers decided to make a completely new TV animation, no cast change - GIGAZINE

New animation slayers new work in 11 years, titled "Slayers REVOLUTION" decided - GIGAZINE

Cast of the new animation "Slayers REVOLUTION" for the first time in 11 years, finally officially released - GIGAZINE