16 GB SDHC card appears with 10,000 yen break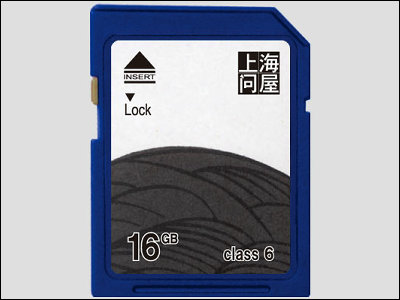 Evergreen Corporation launched the 16 GB SHDC memory card, which is less than 10,000 yen including tax.

People who want to take pictures and movies with a digital camera, the other dayLow-cost mini-note "EeePC" that delivered a photo review at GIGAZINEIt may be good for recording media etc.

Details are as below.
Shanghai wholesale store - head office [shipping from 1/29] Shanghai wholesaler original SDHC card 16GB high-speed version (Class 6) DNF-SDH16C6 [me]

According to this page, 16GB original SDHC card in Shanghai wholesaler operated by Evergreen is sold at 9999 yen including tax. This is currently a major price comparison site "Price .comIn the middle of being soldThe cheapest 16GB modelIt is cheaper than it.

In addition, the transfer speed corresponds to class 6, it achieves a writing speed of 6 MB per second, and also has a 5 year warranty and compatibility guarantee etc.

Incidentally4GB model is the cheapest price per gigabyteHowever, the total capacity of 16 GB per piece may be attractive.