Net service "Dipper" for doing SEO diagnosis and specific advice for free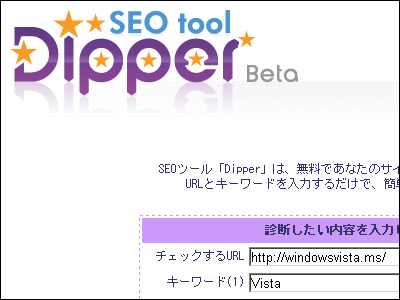 Just enter the address and keyword (you can enter up to 3 at the same time) of the site you want to examine and press the diagnosis button to do SEO diagnosis and further give specific advice on what to do.

As diagnostic contents, ranking of target keywords in natural search · number of search results of target keywords · Google page rank · presence / absence of Yahoo! directory registration · number of linked links · number of indexes · frequency of appearance of target keywords · site structure · source · It is a domain acquisition date, and it is fairly substantial.

Actual usage is as follows.
SEO diagnostic tool Dipper β (dipper) - Septeni-
http://dipper.septeni.co.jp/

After entering the address and keyword you want to examine, click "Diagnose"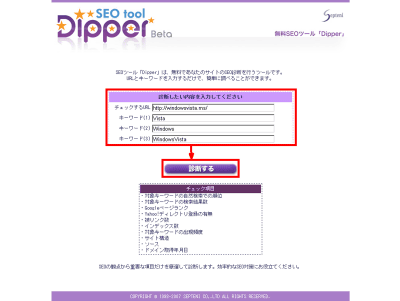 After a while such evaluation will be displayed automatically




It may be quite useful as it not only shows the results but also gives advice.