Interview with the Mainichi Shimbun Digital Media Bureau, which operates "Everyday jp"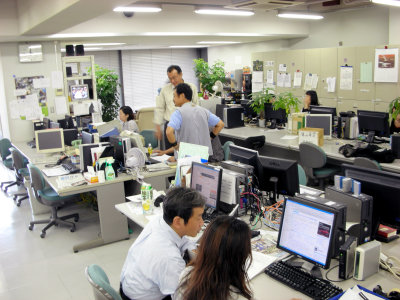 Last month at GIGAZINE, the Mainichi Newspaper's new comprehensive information site "Everyday jpAt the recitalIt has been underwrittenWe talked about it, but we succeeded in interviewing people in "every day jp", including the part that we could not ask in question and answer at that time.

Listen to the reasons why various things, including difficulties to answer, such as reasons why we stopped the alliance with MSN, various circumstances surrounding the current newspaper company, taboos about the press, why we made blogger seats at the presentation meeting Saw.

Details are as follows.
The nearest station "Mainichi Shimbun's" Take Bridge "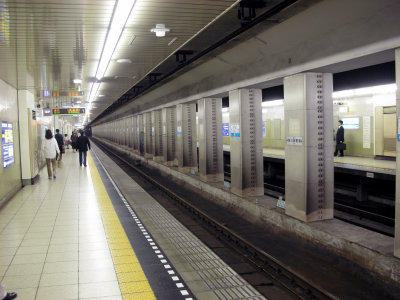 It says "every day newspaper before" properly.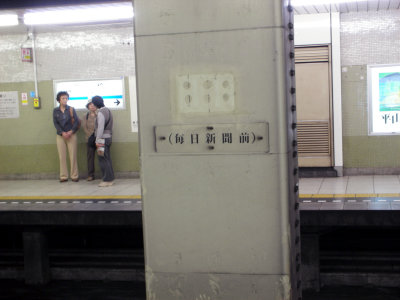 There are many street advertisements from the Mainichi Newspaper. The catchphrase "I want you to be a laughter instead of a gunshot" in this country's sky is a campaign related to the "News coverage of mayor Nagasaki mayor" got a Newspaper Association Award in 2007.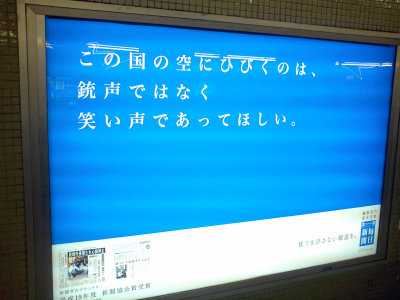 This is co-hosted by The Mainichi Newspaper CompanyNews Current Affairs Certification ExaminationIt's advertisement.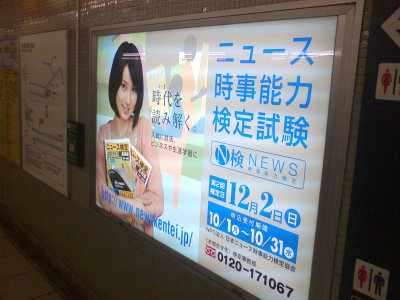 And "Digital Media Bureau" which manages jp every day.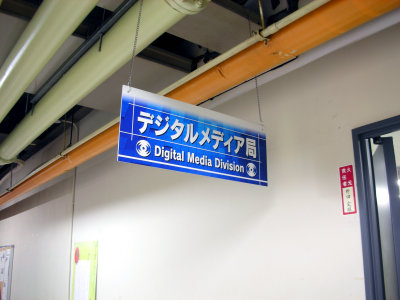 This time I've talked about Mr. Akihiko Isoo, Deputy Director and Editorial Board, Digital Media Bureau, Mainichi Newspapers, and Mr. Masashi Hibino of G Director of Digital Media Bureau Marketing.

◆ About "net reign" which could not be heard at the recital

First of all, according to the previous notice, I asked questions from questions that I could not hear at the recital.

GIGAZINE (hereinafter abbreviated as G):
The Mainichi Shimbun continues to emphasize only the negative part of the Internet endlessly from the aspect of New Year 's Day 2007, endlessly emphasizing only the negative part of the Internet, and the interview material policy with conclusion with not only the Internet but also the existing media There has been a problem or it has been said that the serialization of such deflection articles is problematic, but at this jp every day, what kind of response to criticism so far Do you show attitudes and policies and establish interactivity on the net? I would like to answer including what type of readership is assumed.

Isoo:
I was at the editorial office until the end of September and moved from here in October, but "Net reign" is a series on the page, I do not mean to say that it is totally different from jp digital media stations everyday . Because it is the same newspaper company. However, even at the same newspaper publisher, the weekly magazines such as the Mainichi Shimbun newspaper and the publishing department that publish "Sunday Daily" also differ slightly.

Also, since the newspaper companies are not all the same idea, there are various ideas in the editorial office concerning the planning of the net reign. I do not think that I picked up the negative part from one to ten, but since I took up Mr. Nishimura 's interview with the administrator of a suddenly 2channel and Mr. Solderuff, some of the Internet world You tried to capture a challenge like a beat.

As a body at the editorial office, if you dare defend, the newspaper company has not taken up the fact that the slanderous part of the net is still a bit overwhelming. "2 chan does not have anything to do with us". Conversely, taking up 2 chan on the Mainichi Newspaper means that 2 chances have started to become a non-negligible existence. Of course there are pros and cons with regard to how to pick up and cutting.

Also, there is something called the Mainichi Newspaper site from the front of MSN everyday, and since it has been updated by the Digital Media Bureau, it will change drastically with the launch of "Everyday jp" on October 1 I think that there is no such thing. But there are things that we are going to focus on openness and interactivity more than ever.

◆ How did you get involved with MSN?

G:
The Mainichi Shimbun initially worked with Microsoft's MSN, but what was this trigger? Also, from which side did you talk about talking about hands?

Hibino:
I started "MSN Everyday Interactive" in April 2004, but until then I did not have any relationship. However, the story that it is better not to have a news site alone but a hand crossed up has come up, becoming a form of compromise from both companies, and a tie-up has been realized.

Do you feel a sense of crisis in the "newspaper collapse"?

G:
In the September 22 issue of the weekly diamond "Newspaper collapseAn article with the title "was written, and attracted attention also on the net, but how much do you think the newspaper is actually pinching right now? Or are you thinking that it is actually a chance rather than a pinch?

Isoo:
I think it is a pinch, I am. There are editing departments in the newspaper company, there is a digital media department, there is a publishing office, there is a business headquarters ... .... It consists of various fields, but the paper medium is sluggish. Advertising revenue is also ceasing even if you think that the economy has recovered. Although the cutting edge of weekly diamonds is too strict, I still feel a sense of crisis. But thinking that there is a chance when pinching, I will actively capture opportunities.

G:
Which one is your opportunity?

Isoo:
Although it may be misunderstood if it says so much, I am planning to take care of "trust". I am also seeing 2 chan and Wikipedia, but as I surf the web, there are plenty of information.

In such a world, the newspaper company is eating meal with information, that is, as money has been received, as information pros who can gain information, "The information that the Mainichi Shimbun sends is reliable, It is useful, convenient, and may change the world. " So, if you put effort into such a place, even if paper readers decrease, I think that you can see it on the net news. And as a company with a history of 135 years, if you continue to disseminate information by emphasizing the Internet and young people about what you want to know while cherishing the paper medium, it is still a pinch, I believe that the newspaper company will not collapse.

◆ Is "everyday jp" open?

G:
At the press conference frequently the word "trust" comes out frequently, it feels like a sentence that the newspaper has done so far to actually send reliable information, but at the same time the reporter For another phrase "open" that came out at the interview, "Trust is not only to be trusted by people but also to trust peopleEven though there is an opinion saying, every day jp exercises to the reader with a specific plan specifically "Do you trust people every day and are open?"

Isoo:
First of all, as the policy of the Mainichi Shimbun company, or in fact, when I was in danger of bankruptcy thirty years ago, I received support from various industries such as the labor industry and the business world, but from that time on It was decided to become an "open newspaper" to the reader. There is a feeling that we want to humbly listen to various opinions, and we invite Yanagida Kunio etc. as "paper ombudsman" which is actually the third party committee.

Hibino:
And on that extension, I would like to take the concept of "open newspaper" on the website as well and make it an easy-to-use site with reference to opinions of various people. Among them, I would like to create an environment that can collaborate with bloggers I have never had before, and I would like to provide new tools based on the user's point of view, including distribution of blog parts and RSS.

Isoo:
However, although there is an idea as to whether it can actually open to that extent, the Sankei Shimbun company's reader who can make a blog readers "IzaThere is an open thing like "I do not believe that we are cutting edge. I am thinking to do as much as possible.

About quoting articles

G:
Is there anything to be careful about quoting jp articles every day with blogs?

Hibino:
Regarding quotation, you can link every day to jp and quote a part of the article. However, there are problems of correction and deletion of articles, privacy issues as well. Considering that the incident is changing in real time, it is troubled if it is pasted with full-text copy & paste, and it is completed there without corrections.

Isoo:
For example, if a person who was reported as a "suspect" when arrested is deemed innocent in a trial, the parties may be asked to make corrections, and of course there are copyright issues as well.

To tell the truth, I am doing a blog at the editorial office. And I copied the "reporter's eyes" that I wrote 10 years ago and cited the whole sentence, where I got a protest from people from the Digital Media Bureau. It is operating as severe as that.

G:
Some of the Web 2.0 services are caching screenshots and a part of the main text, but what do you think about these about everyday?

Hibino:
Although it overlaps with the problem as before, correction and deletion of the article are not reflected, so I am in trouble if there is a problem of privacy. As a result of consultation within our company, there was consultation from the parties etc, actually, as a result of Google and Yahoo! You may be contacted to have the cache deleted.

G:
What matters is that "the synchronicity of information", that is.

Hibino:
I agree. Since there is also a place where it overlaps with reliability again, I would like to cope properly as a newspaper company.

Isoo:
However, as a side that uses information, it is convenient that it has a function called cache, so I will not deny and think that it is good. However, there are problems like Hibino mentioned earlier.

G:
In other words, would you like us to use it in a common sense range?

Hibino:
I see.

◆ Why was "blogger seat" possible?

G:
At the press conference we prepared bloggers' seats individually, but where is this the idea that came out? Do you have anything that you referred to?

Hibino:
I heard the opinions of various people beforehand and listened to the fact that our reporters actually prepared something called "blogger seats" at a press conference, and then we decided to do it . I got a criticism than I expected ... ....

Isoo:
To be honest, there is somewhat unexpected place. However, I did not feel like discrimination or distinction at all, and rather I wanted to show a posture saying "every day jp will cherish bloggers." But I will reconsider from now on.

Hibino:
I'd like to study how to accompany the bloggers, including those on blogger seats, from now on.

◆ Is the blog "coverage" or "journalism"?

G:
Blogs in Japan are dominated by blogs, but journalist blogs, so-called existing media that can not be reported, or blogs that have analyzed more deeply are increasing, As everyday as jp, do you think that these political blogs and amateur journalists should be said to be equal positions as "news reports" and "journalism" like the Mainichi Shimbun and everyday jp? Or do you think that it is a downgrade that has lower reliability than existing media such as newspapers and television?

Isoo:
I think that it is not yet in the era when blogging as a news report or journalism. However, there are blogs that will be helpful even though there are no sense of incongruity even if they are enclosed (as news reports or journalism). As I mentioned earlier greatly "Newspaper companies are eyes of information", each blog has good fields, and some commentaries are amazing, so in a sense it is a newspaper publishing company I think that it is a precious existence becoming a competitor of rival. Still feeling a sense of incompatibility to blogging as blogging or journalism in one.

◆ About the press club

G:
What do you think about the press club's future?

Isoo:
"The press club is closed" and it has been beaten up, and it has improved considerably in recent years. Korea has integrated reporters club (so-called "Consolidation of press roomI did), but I think that it would be a form in which the government can handle information.

I think that the press club should be more open. But what is difficult is whether to put a reporter in a reporters club like a party party paper, for example. Now the news agency affiliated with the newspaper association is the center and gradually it is becoming possible for outside people to attend the press conference as an observer, but livedoor newsPJ NewsYaOh Mai newsIt seems that it will not be easy for reporters belonging to, for example, "Welcome home".

Personally, I think that the press club will not go away. Instead, I think that it is better to go towards more people to participate. But at a press conference by the Minister, if a blogger sits down and is asked, I think that there is also a place called "Please wait a bit" for people of the old media. On the contrary, the side that will hold a press conference is also not easy. Now we have live door PJ news, oh my news,JanJanThere are various ways of thinking about each side participating in the press club and the side holding a press conference as to whether or not to accept participation in the press conference of Internet news such as Internet news, but I think that it will gradually change.

Is there taboo in the news report

G:
There is taboo in the report and it is whisperingly mentored on the net, and Wikipedia also has "Taboo in coverage"There are items as it is, but think that such a taboo does not actually exist in places like the Internet, does jp break the taboo everyday, or will you still see a taboo? Is it?

Isoo:
Every day jp "News Select"When"Entertainment", And"Lifestyle"The news select is about the same as the one on the paper medium covered by the editorial office concerning" news select ". So Taboo is not only daily jp but also the issue of the Mainichi Newspaper as a whole.

I do not say "no taboo", but there are things that I can not write any more. Sunday There are things that it is difficult to put on the paper surface even if you can write it on a daily basis. I think that the story that everyday jp and the mainichi newspaper handles are different in that sense. However, as I mentioned earlier, there are things that are difficult to write, but as the whole Mainichi Shimbun as a whole I try not to taboo on the taboo.

G:
Is it because of "openness" relationship?

Isoo:
Actually, when I was in Nagoya, I was arrested on suspicion of an automobile maker employee headquartered in Aichi Prefecture was arsoning a car. Although it divided on the place where company name was put on and the place not put on, the Mainichi newspaper issued real name on social side. So it is trying to do with a posture including "Sponsored" and "bad is bad".

Hibino:
Even when we are affiliated with MSN, we wrote a number of articles on Microsoft 's "Windows" malfunction, but again no complaints came.

G:
Also, social bookmark "Yahoo! Bookmark"Although all links have a registration link to"Hatena BookmarkDo you have any reasons for choosing Yahoo! Bookmarks instead of other company social bookmarks?

Hibino:
In cooperation with various companies this time, I was allowed to collaborate with Yahoo!, so I started with "Yahoo! Bookmark". There is a talk which is ongoing, so there is a possibility that it will increase in the future.

◆ MSN daily interactively "Limitation of the right to organize"

G:
At the press conference he answered that he felt "the limits of the right to organize", but what exactly was the example of what "limits of the right to organize" was felt?

Hibino:
Although there is a section where the word "right to organize" is walking alone, the problem of design was very great first. When I was affiliated with MSN, the design was basically the same as the other corners of MSN, and I was creating pages according to the rules prepared by MSN, but I would like to put a lot of images etc. I could not do it freely, and in terms of collaboration with outside sites, I could not do it because it was positioned as MSN's site to the last.

And when I started jp every day, I set up two categories of "entertainment" and "lifestyle", but this was not done before. Some of MSN has contents equivalent to "entertainment" and "lifestyle", because it batters. So, it was only a news site that I could manage previously.

Isoo:
Every day jp thinks that it is "Mainichi Shimbun's comprehensive information site", the previous MSN daily interactive is "the news site co-operated by Mainichi Shimbun and Microsoft". Although there was an aspect that we had a considerable access earlier because we were affiliated with Mr. Microsoft, because it is possible to increase freedom, including appealing to readers, if we made it to our site, we have "daily jp" It's up to you.

G:
"About the whole site, I got advice from famous bloggers and net journalists called alpha bloggersIt is reported that, from whom did you receive advice? What is the standard for blogger selection at that time?

Isoo:
"I got advice" is not somewhat accurate, but I asked bloggers, "What do you think if you give an invitation letter to a blogger at a press conference?" Etc, using various twists and the like, I have received advice.

It is the same as listening to the voice of each reader by saying "Please criticize more and more" "Please let me hear your opinion", I think that opinion of people sensitive to information on the Internet is important I will. Specifically, someone is hard to complain, but we are intermittently seeking talks to people over two orders of magnitude.

G:
At the press conference venue, CM, "AnywayYahoo! newsThere will be no dialog to say "Will it be possible to overtake" Yahoo! News "by PV number? Or impossible?

Hibino:
We also have Yahoo! I am delivering it to the news and I have not thought about overtaking, but since I think that there are many things to learn from the way to show the site such as related articles and graphs, I am allowed to refer to it.

◆ Future of newspaper news site

G:
Newspaper-related news site, such as the appearance of news site hosted by Kyodo news agency, Asahi + Yomiuri + Establishment of new news website by Nikkei, new news site developed by partnership with MSN of San Francisco and Microsoft, such as washing blood with blood Is it a war, do you have a winning number?

Isoo:
Asahi Shimbun, Yomiuri Shimbun, Nikkei Shimbun, president of the three companies did a press conference to jointly create a portal site, but even after making a portal siteAsahi.comYaYOMIURI ONLINE,NIKKEI NETIt remains as it is. And the Yomiuri Shimbun is Yahoo! I will offer articles to you.

Then I guess what the new portal site of these three companies is. I was told that it would be possible to read all the editorials, but I think the interview of those three companies is rather the main problem with cooperation of the sales network and printing laboratories.

It seems that news websites of newspaper companies are going to be quite a fierce battle from now onwards, and since various movements have come out, I think that attention is also high. Among them, we are not trying to lose. I am thinking how to make jp easier to read compared to everything every day. Although there are also solid news in some cases, there are also solid news, but while it makes it easier for younger people to read it, on the other hand it is now becoming possible to use personal computers even for elderly people, so keep an eye on that as well I will continue. And since I do it, I think I will win.

Behind the scenes of "Everyday jp"

G:
How many reporters do you have in jp every day? How many people will total if you include other than reporters?

Isoo:
Please think about 30 people. This is the number of reporters who are in the digital media station, including journalists and reporters writing articles in English. Including sales etc. will be about 110 people. Besides that, the editorial office has nearly 2000 reporters nationwide. Their manuscripts are primarily for paper media, but a considerable part of it comes to the user's eyes through jp every day.

G:
What is the reporter's general day schedule like?

Isoo:
Some people work at a different schedule at all, so some people stay till midnight. Also, since the website is organized around the clock, one person is always in the company at all times to respond when a disaster such as an earthquake occurs. And because it is a newspaper publisher, we have beds for overnight stay.

◆ "The web on the web is amazing?

G:
Boasting of the editorial department, how about another appealing point that you will not lose?

Isoo:
Clearly different from MSN Everyday Interactive, it is divided into three categories, "News Select", "Entertainment", and "Lifestyle", and then you have color-coded on it. I am confident that I made it easy to see and easy to use. Actually "I got better than before" I got a rating.

Hibino:
"Entertainment" is a place specializing in manga, animation and games "Easy WebYou may have taken in. There are 2 or 3 independent reporters in the "Mangan web", but I think that there is not much else.

G:
Episodes that struggled with writing articles, interviews, legendary episodes etc?

Hibino:
In the case of the "Easy Web" above, reporters made booths in Comike, "Easy Broad"We are distributing tabloid paper called" They are pursuing one subculture moving in Japan while blending into Comiket visitors who are doing various cosplays, which is quite different from the readers of the so-called general newspaper.

This is Broad Broad.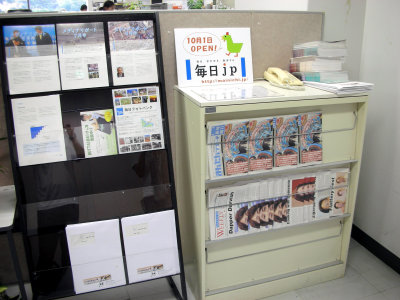 ◆ How to walk "everyday jp"

G:
Are there any tips on browsing everyday (such as how to read like this)?

Hibino:
I have introduced categories into three and organized genre classification, but I want you to use it.

Isoo:
Either way we will set up a section titled "How to walk jp every day" and I will explain the method of browsing the site that is friendly to beginners who just started using a computer.

G:
I see. Thank you very much.

So, despite being a quite fast-running interview of a real real hour, I was able to answer almost all questions. Although it says what kind of thought, there is only what has been continued until now, and I got the impression that regarding information media in the future we are thinking more thoroughly than television media.

That's why the next interview is a TV station. Such expectation.