Hitachi fully withdraws from home PC production and development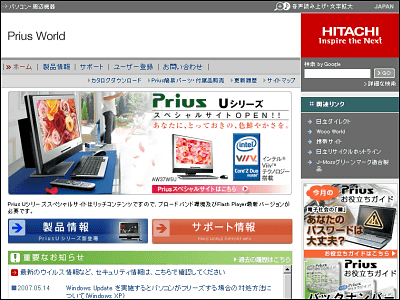 It is said that Hitachi will withdraw completely from PC production. Currently, production of professional PCs is fully entrusted to Hewlett-Packard, but it is said that we will stop producing the remaining household PC and new development. As domestic manufacturers are declining their competitiveness in the face of excessive competition, it seems that it is difficult to secure profitability.

Details are as follows.
NIKKEI NET (Nikkei Net): Hitachi withdrew personal computer production · Household development also stopped development

NHK News Hitachi PC business shrinks sharply

In Japan, all 9 major electric machinery companies are handling mobile phones and 8 companies are handling PCs, so intense competition is developing in the market. As domestic manufacturers are inferior in scale and cost competitiveness compared to overseas major companies, it seems that the profitability of the business is sluggish.

Recently,Sanyo Electric Transferred Mobile Phone Business to KyoceraIt is also a place where the story to be gathered is gathered, and from now on large electric machinery, large movements may come out more and more.