Interview with Mr. ShoK who is producing single person fighting game "MONSTER"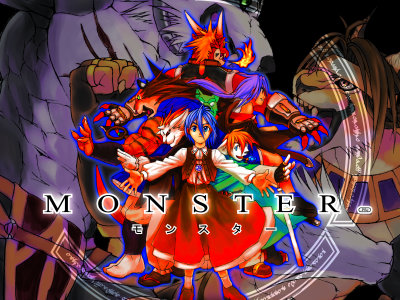 It is a 2D fighting game where "Street fighter" and "THE KING OF FIGHTERS" series etc. once wrestled arcade,As seen in SNK's bankruptcy in 2001, It seems to be the "winter age" now where representatives of the times are not born.

And now, not only the game company to break down the situation, "Higurashi no Naku Koro niLike amateurs produced at their own expenseDoujin gameThe move is going to make it get excited from it.

This time"MONSTERShoK who is making a fighting game of the same person called Fighting Fighting Game called Fighting Fighting Game by Mr. ShoK, from the reason that he began working as a fighting fighting game, the circumstances that made it possible to place a test stand in the game center, I heard various stories.

Details are as follows.
What game is "MONSTER"?

The title screen is simple.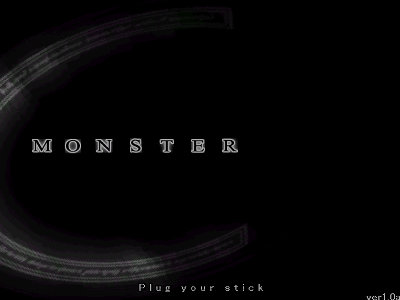 Package illustration.characterThere are ten people including hidden characters.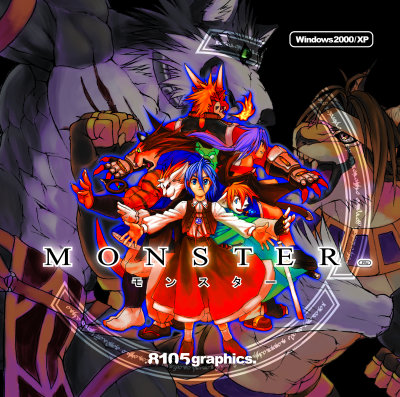 Character selection screen. This is a character called "Furu gun Midori" and "Othello".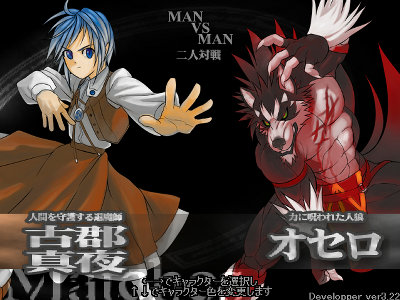 This is a girl with wings "Sherry" and a blue dog "Aleksandr". On the character selection screen, you can change the color of the character, and you can select three of "Attack priority mode" "Stability emphasis mode" "Mobility emphasis mode".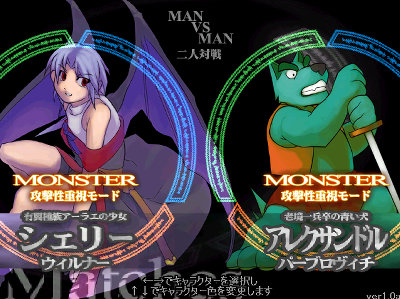 Battle scene.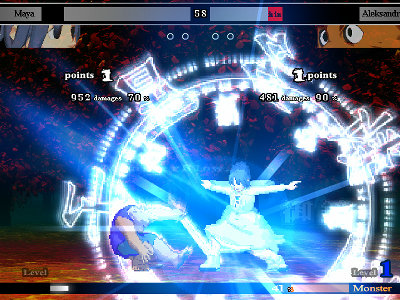 It used a special moving technique. The face of the character will be a big picture.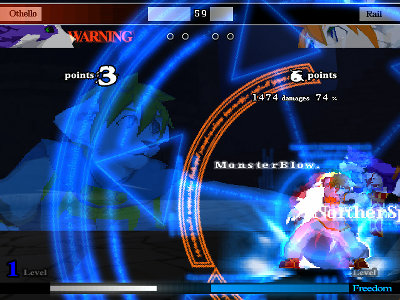 When "certain condition" is satisfied "Power BreakWhen you get into the state, the one who pushed and defeated becomes unprotected for a certain time.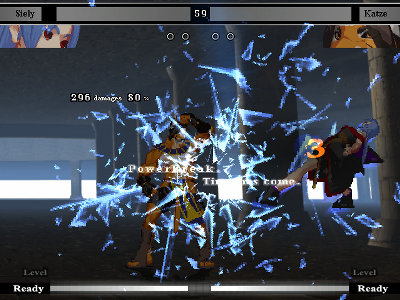 This is a demonstration movie.


◆ How did you start making "MONSTER"

GIGAZINE (hereinafter abbreviated as G):
How did you start making fighting game "MONSTER"?

ShoK (hereinafter abbreviated as S):
During junior high school days when I started fighting games "THE KING OF FIGHTERS"97, 98" in mainstream, it was very popular. At the time I was excited myself because it was a very good game, but the trend of fighting games and the tendency of characters changed, the fighting game started to decline as the number of works received by arcade users decreased, and I also got to the game center Opportunities to carry your feet have decreased.

So once again, I thought that it would be good if I had a fighting game that I wanted to do, which is why I decided to start making games.

◆ Production is done by one person

G:
Is production made by one person?

S:
The actual work such as game system and contents, adjustment, illustration, graphics, sound is one person, but the staff of the character draft and voice actor etc. are properly different.

G:
Is he really working with almost one person (laugh) Do not dare to dare to prepare all the characters for themselves, why are there any reasons to ask another person for the original draft character?

S:
One of the concepts on game creation was "I want to actually move characters that have never moved". From that circumstance, we receive one character from each of our friends.

◆ The road to setting up the platform

G:
By the way, it is said that a test station is currently being placed at the game center called Nakano TRF, but what is the way to this place?

S:
We began working on game production in 2003-2004. We released "trial version" through sales and official website in the second half of 2005 at the event. From there I tried and tried several improvements, and it was about the summer of 2006 that I settled down to the present shape. And in the winter of 2006 it was actually released as a product. In the summer, there were many titles such as 3D actions that other circles were issued, so I shifted the timing (laugh)

After releasing for a while it was only to be able to make a communication match with the net, after that I got a story from an acquaintance and I will put it on Ms. Nakano TRF and I will reach to the present. Mr. Nakano TRF is a game center that actively adopts new attempts and has installed it in the form of a test stand that does not incur a cash receipt. If you stop by nearby, please feel free to use it.

The test stand is placed "Nakano TRF"Is"Mandarake Nakano storeIt is near of ".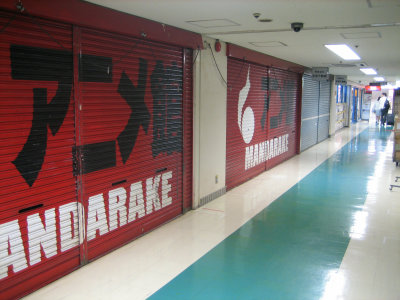 This is what it's like inside the store.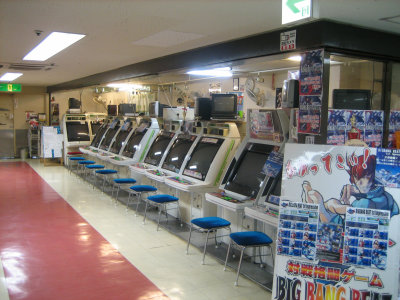 This is the test stand. You can try out every Wednesday and play is free.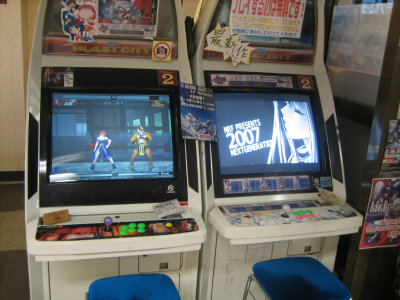 Actually running in arcade.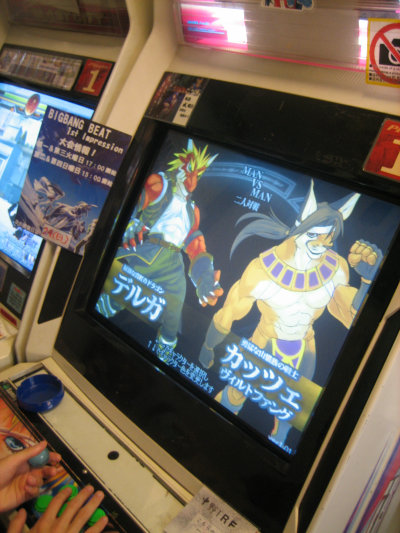 ◆ Movement to boost fighting games from coterie side

G:
It seems to be called "fighting game winter time" now, but how is the approach from the game center side and coterie side like like Nakano TRF like is like?

S:
In addition to Mr. Nakano TRF, it seems that even the game center in Kansai also has a test station for doujin game.

In short, the game to be placed in the game center until now has been limited to commercial things, but in the background that is still said to be "the fighting game winter era", the fighting game being produced is a game The importance of selling on the consumer rather than the arcade, such as the revenue such as the revolution of the fun rather than the fun, so that it seems that the element which seems to be interesting was actually lost when playing at the game center actually I have a feeling.

And for the same person, because elements like being (like turning rate and sales) that they like to play games are strong, as a game center, for example, setting up a test stand to make the game center itself more exciting than money Is not it carried out? In addition, there are also people from industry related to such staff members, so there seem to be opportunities for coterie game makers to meet such people.

G:
In other words, depending on circumstances, the establishment of the test stand, etc. triggered the path to commercialization in some cases?

S:
I see.

G:
What is the current situation of doujin game production?

S:The level of the overall work has improved. I think that the development environment itself such as game production tools has been improved greatly, I think that the development is easier than before, and that the improvement of technology is contradictory.

◆ Strengths of "MONSTER"

G:
What is the strength of "MONSTER" compared to other fellow fighting games?

S:
Actually, the system of "MONSTER" game originally is not a system created for this game alone, it is a system which can comprehensively produce action games. So, besides fighting games, you can also create shooting games and action games like Rockman. You do not have to tamper with the program itself at all, you can cover the title screen, menus, graphics and sound just by operating the script.

G:
In other words, it is a very versatile system.

S:
That's right. Also, the former companion fighting games had little communication battle function. Users of volunteers made a tool to add a communication battle function to the game, and using it to play communication battle in the form of informal, but MONSTER officially releases the communication battle function at an early stage Supported.

Communication fighting standby screen. Users who are confident in their arms will turn on "penalties", and the heroes of Hayatayama will challenge the game.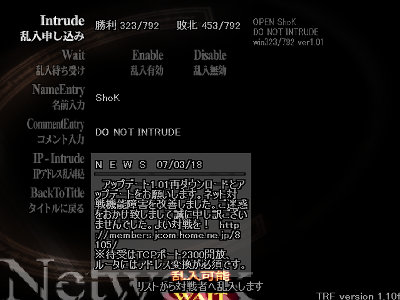 ◆ How is the production done?

G:
What is the average schedule of the day?

S:
It depends on the work of the day, but mostly I am working from morning to waking up in the daytime until sleeping. So I do not have much leisure time to read manga or play a game. When there is a greeting to the gaming center etc., I leave time accordingly and go to make sure it is in time.

G:
How many staffs are there?

S:
One person (laugh) By the way, there were six people who offered the character, and the voice actor who says a voice to the character is five people including me.

G:
The number of voice actors is insufficient for the total number of characters 10 people, but is it that there is one person two roles?

S:
I agree. Most voice actors are playing two roles.

G:
How is lunch, dinner, snack at rest?

S:
I am going to buy it at a supermarket or a convenience store nearby each time. Because you can change your mood by going out.

◆ Legendary episode and others in making "MONSTER"

G:
Are there merits in creating "MONSTER" as a doujin game?

S:
I think that it is not only inside, but since doujin game is an amateur production, there is a risk that support will not go hand in hand compared to commercial. However, even after releasing at the same time, there are also popularization of the Internet, it is also merit that it is easy to make various attempts such as patch correction.

The other thing is to be motivated at that time. I think that it is an advantage that it is easier to advance music and pictures by mood and try reviewing the contents of the game.

G:
Do you have any difficult episodes or legendary episodes in making MONSTER?

S:
Even now I am struggling, but as I mentioned earlier, MONSTER is a system that can comprehensively create action games. So, in order to make the system body, in the usual case it will be made while watching the actual movement, after making a specification sheet with a large volume of paper, it will be a whole year to a year and a half I've decided to continue to write programs that do not work at all as much as I do. And it was impressed when it was completed and actually moved.

G:
When have you been involved with the program itself?

S:
I began to touch my computer around the fourth grade of elementary school, and the program started from that time. On PC 9801, I was making RPG using BASIC.

G:
Did you make games from elementary school?

S:
I agree. It was something that was not a wealthy elementary school student who can purchase a lot of games so much (lol), and sometimes I get tired of the few games I have, I also liked work originally.

◆ What is the future of "MONSTER"?

G:
What do you think about the future of "MONSTER"?

S:
We are now working as a testing platform at Nakano TRF, but as MONSTER is still in a state of incompleteness, it is not in perfect condition, so we are thinking about fixing and adding most of it.

Specifically, I am planning to implement the unimplemented "scenario mode" and make the game system easier to understand. In addition to this, I am rebuilding the character's dot picture etc. to improve the appearance of the game screen itself.

A dot picture that this is being rebuilt now. It seems that there is a possibility that it changes as it is under development.



G:
Are you going to increase staff in the future or start a game studio?

S:
I myself am not so good at coordinating with people, so I am planning to do what I want to do as far as I can. Therefore, there is no idea that "Let's increase staff" or "Let me take a leading position and work as a community by collaborating with somewhere".

However, I am planning to provide technology to another team as an engineer at this time, and I am also looking at the stance of making a good game under the director.

G:
Please read this article and give one word to those who thought about making fighting games.

S:
I think that fighting game production takes the most time in 2D games, so if you think about raising efficiency as much as possible, it may ultimately be realized. Good luck.

G:
Thank you very much.