"Singing warrior Gundam SEED SCORE" where anime characters will score karaoke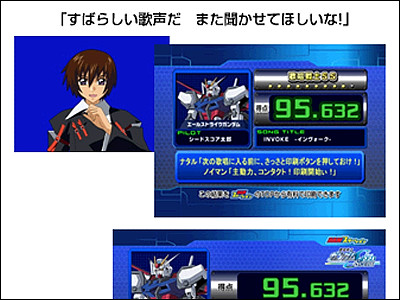 At the Karaoke "DAM" developed by Dai-ichisho Commercial Co., Ltd., we have added "DAM Station", a broadband information terminal that offers music and karaoke content services, as "Singing warrior Gundam SEED SCOREIt seems to appear.

The character appearing in "Mobile Suit Gundam SEED" has various benefits such as scoring karaoke with original voice and original video.

Details are as follows.
Industry's first animated character karaoke scoring!
Character scoring, speaking, Gundam karaoke battle
The long-awaited "Singing Soldier Gundam SEED SCORE" appears in "DAM station" contents

According to this release, "Singing Soldier Gundam SEED SCORE" seems to be karaoke scoring content motif based on the world view of "Mobile Suit Gundam SEED", the biggest hit movie of the recent Gundam series.

For each mobile suits selected before singing, the original movie newly created with Sunrise cooperation starts, enjoying the production of the cute popular character "Hell" while singing / scoring, after the singing original character appearance character Evaluation comment by voice is obtained.

The score and title (rank) are displayed on the scoring result screen, and printout is also possible. In addition to being able to compete with the participants nationwide in the title and ranking, there are also original goods gifts for users who have outstanding achievements, separating the period every month. The scheduled start date is October 1st, the corresponding model is "DAM station" installed in broadband cyber DAM (DAM - G100 / G100F).

It seems that someone who fills the DAM karaoke seems to come out.