"Evangelion New Theatrical Version: Preface" Trailer 2nd Release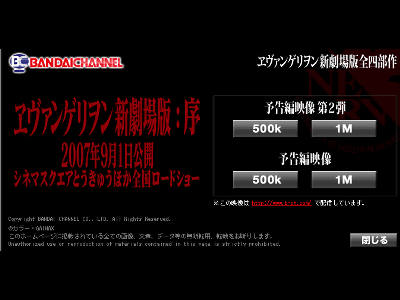 It will be released nationwide from September 1, 2007 "Evangelion New Theatrical Version: PrefaceThe trailer movie 2nd bullet has been released.

We plan to release a single CD on August 29New theme song Utada Hikaru sings "Beautiful World"As you can see, you can enjoy images with much higher quality than the TV version.

Details are as follows.
Evangelion New Theatrical Version Free Tuner Corner
http://freemv.b-ch.com/view/eva/tr_01.html

Although it seems to be controversial as to whether the song and the video match, it is thought that there are pros and cons, but the face of the character, the landscape of the town, the apostle (the enemy appearing in Evangelion) etc. are drawn in detail, and inevitably It is becoming a picture with high expectation. This might be nice.

Although it is the second trailer movie, it is released on August 4 (Saturday) at the theaters scheduled for screening "Evangelion New Theatrical Version: Introduction" nationwide. It seems to be impressive when you look at the big screen.