Sony released "PSP - 3000" on October 16, and the latest works of several new services and popular series also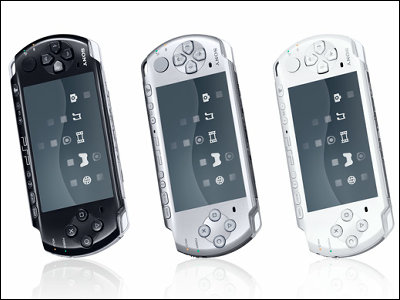 Sony previously in GIGAZINETo release the "PSP-3000" with the best class LCD and microphoneWe announced that today the release date and price were announced.

In addition to launching a new service using online at the time of the appearance of the PSP - 3000, also released a model bundled with new software for popular series such as "Final Fantasy" and "Mobile Suit Gundam" It is said that it is done, and significant leverage is done toward the end-of-year sales battle.

Details are as follows.
PlayStation.com (Japan) | Notice | PSP "Playstation Portable" (PSP - 3000) Release date determined

According to this release, Sony will release "PSP - 3000" from October 16 at a price of 19,800 yen including tax. And "Value pack" which included 4GB Memory Stick Pro Duo, special pouch, hand strap, cloth etc will be released at 24,800 yen.

And according to the launch of "PSP - 3000", "Accessory pack" set with accessories is 3800 yen, large capacity "Battery pack (2200 mAh)" is 5500 yen, charging and image output is easily set by setting PSP We can release "Cradle" at 4800 yen, "Cradle & D Terminal Cable" at 6500 yen, and "Pouch" with motif of "PSP-3000" at 1,800 yen at the same time.

Also, as a bundled version with the new titles of the popular series, on November 20 (Thursday), "Mobile Suit Gundam Gundam VS. Gundam" will be 24,840 yen, "Patapon 2 Donchaka ♪" will be on November 27 (Thursday) "DISSIDIA FINAL FANTASY (Dissidia Final Fantasy)" will be released on 25th December (Thurs) at 25,890 yen.

It is planned to start a download service in autumn that allows users to access the PlayStation Store directly from the PSP and purchase game contents etc., in accordance with the release of "PSP - 3000", and PS3 Popular title "Personalized Issue" PSP version "Masutoichi Issho Portable" and so on will be offered. Incidentally, PSP - 1000, PSP - 2000 can also be used for upgrading system software.

In addition, PSP users are planning to start a free online service that allows PSP users to play match-up game in ad-hoc mode via the network via PS3, and Capcom's popular title "Monster Hunter Portable 2nd GIt will be able to enjoy cooperation, battle play and so on etc.

Is it possible to watch 'Toro Station' with 'Personalized Portable'? It is a very worrisome place.