2 million ID registrants of Nico Nico Douga, premium members exceed 54,000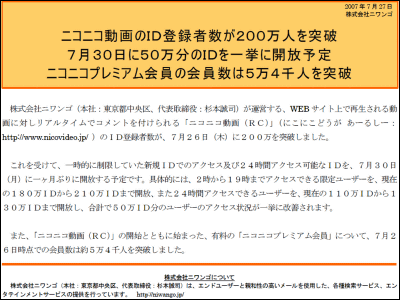 You can attach a comment to the movie played on the web site "Nico Nico Douga (RC)According to the company announced by Niwango Inc., on July 26 (Thursday), the number of registrants of NicoNico videos has exceeded 2 million. In response to this, I will temporarily restrict the access with the new ID, etc. for the first time in a month.

In addition, it seems that the number of members of the paid service "Nikoniko Premium" has surpassed 54,000 people, so simply thinking from the usage fee of 525 yen per month, it is calculated as sales of 28.35 million yen per month.

Details are as follows.
(PDF file)Niconico video ID subscribers exceeded 2 million people
We plan to release 500,000 minutes of ID at a stroke on July 30
Niconiko premium membership number exceeded 54,000 people

According to this release, the number of ID registrants of Nico Nico Douga (RC) broke through 2 million on July 26 (Thursday). And, in response to this, limited users who can access from 2 o'clock to 19 o'clock which had been temporarily restricted so far will be released from the current 1.8 million ID to 2.10 thousand ID from July 30, 24 hours Accessible users are said to be released from current 1.1 million ID to 1.3 million ID. As a result, the access situation of the total of 500,000 ID users is improved at once.

In addition, regarding the paid service "Nikoniko Premium" started on June 17, the number of members exceeds approximately 54,000, and it seems that it means that 54,000 paying members have been collected in about 40 days .

This is outrageous momentum ....