Niwango, YouTube Regulations Avoid Nico Nico Douga Movie Posting Site Started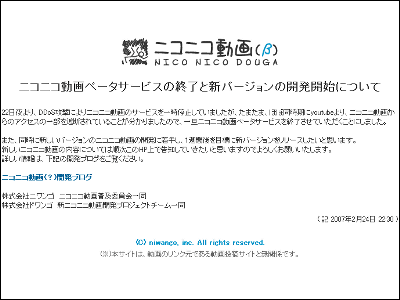 Where the service was stopped on receiving DDoS attacks from more than 3000 units on the evening of 22nd,I found out that access is restricted from YouTube and ended the beta serviceAlthough it is a Nico Nico Douga, it seems that a related company of Dwango offering services "Niwango" will open a video upload site on its own for the release of a new version of Nico Nico video scheduled for one week later.

In addition, when I attempted an interview by telephone earlier, only the announcement that "Today's business has ended, the opening hours of tomorrow is from 10 am to 6 pm" has only flowed. I should be calling you during business hours ....

Is it still out of business hours until the new version is released?

Details are as follows.
Niwango, video posting site to start · Internet within 1 week - latest news: IT-PLUS

According to this article, Dwango's subsidiary, Niwango, will prepare a video posting site on its own and will start a new video posting site in early March so that it can deal with the increase in usage.

According to Niwango publicity, the reason that access was restricted from YouTube is "It may be due to too much access via Nico Nico Douga", and as a result of an increase in traffic volume due to an increase in the use of Nikoniko movies To deal with it, it seems that we decided to establish a video posting site at our company.

There is also an article that attempted to telephone interview with a spokesperson of Dwango. Again it is mentioned that starting a video service at your company.

Nico Nico Douga (β) stops the service, listens to the truth to the person in charge

According to this article, we are planning to contact YouTube regarding access restrictions from YouTube, which is a major problem in resuming, but it does not seem to know what will happen.

And, as a function of the planned new version of Nico Nico Douga, in addition to incorporating "issue ID", "bookmark function", "tag function", I will make a mechanism to limit the load.

Official announcement on February 7(PDF file) that it had breached 20 million page views a day, so when considering that the number of movies will be played back, it is necessary to say that a mechanism to reduce the amount of transfer and load is necessary Is that correct?