Nico Nico Douga wants to determine the new version name, ten thousand testers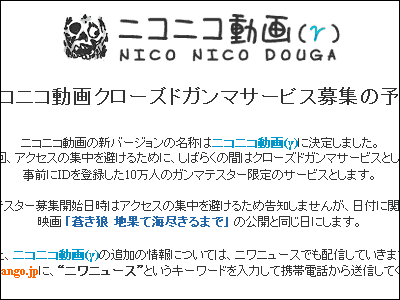 As I reported the other dayAlthough Nico Nico animation which ended the beta service after it turned out that access was regulated from YouTube and stopped the service by stopping the service by receiving the DDoS attack from 3000 units or more, the name of the new version to be restarted is "Nico Nico Dougo It seems he decided to a movie (γ).

And as a closed gamma service for a while in order to avoid concentration of access, it will be limited service of 100,000 gamma testers that registered ID in advance.

Details are as follows.
Nico Nico Douga (γ) | Nico Nico Douga Movie Closed Gamma Service Wanted Announcement

According to this release, although we do not announce the date and time of recruitment of gamma testers to avoid concentration of access, regarding the date, it will be the same March 3 (Saturday) as the movie "until the end of the sea wolves and the sea" And that.

The additional information on Nico Nico Douga is said to be delivered even by "Niwa News" which Niwango is carrying out. You can input the keyword "Niwa News" on m @ niwango.jp and send it from the mobile phone That's right.