"ALARMD Internet Alarm Clock" to make YouTube an alarm clock


It is a fairly powerful net service that makes YouTube and designated MP3 files etc. alarm clock through browser. Of course, there is no need to use membership registration etc. for free. If you just want to use it as an alarm clock simply access the page via the browser and set the time you want the alarm clock to sound. Fine customization such as time display format and color is also possible.

A laptop computer or a desktop computer quickly changes to an alarm clock in a blink of an eye.

Usage is as follows.
The following is "ALARMD Internet Alarm Clock" which turns YouTube into an alarm clock.

ALARMD Internet Alarm Clock
http://www.zachleat.com/Projects/alarmd/

The author's blog is below.

Zachleat.com {web} >> Wake up to YouTube on my Internet Alarm Clock

To set the time to sound the alarm clock Click "Add Alarm" at the bottom left




Enter time




Choosing the sound that will become the alarm clock from the list is complete.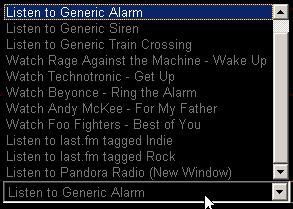 Also, click "Add" next to the list to use your favorite YouTube movie when waking up




After that you can complete the YouTube address here. When designating an address, it is not the address of the page but "http://www.youtube.com/v/It is important to note that you need to enter the original source address of those starting with '.




For examplehttp://jp.youtube.com/watch?v=T6ND98FyHZEIfhttp://www.youtube.com/v/T6ND98FyHZEIt will be the address used for the alarm clock.

It is also possible to change color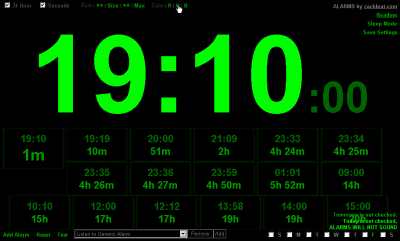 It also feels like a blue LED clock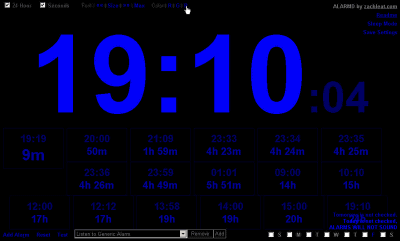 In addition, if you use a browser that does not show any extra things such as a tool bar when you display full screen like Opera it will be as follows, it may be fairly practical.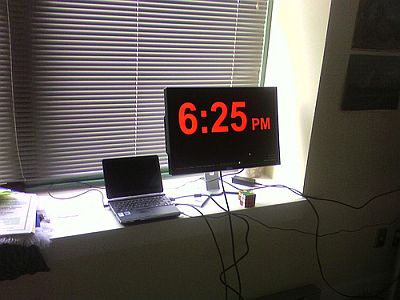 Firefox seems to be similar in full screen condition if you use the following plugin.

FullerScreen :: Firefox Add-ons