Meisei releases 'Ippei-Chan's night shop's fried noodle curry taste'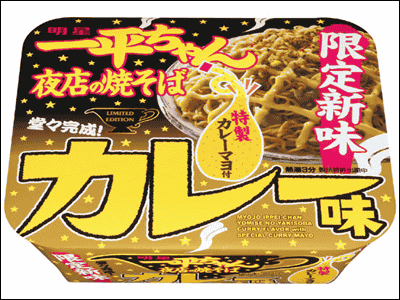 As Akashi Foods Limited New Year of Cup Yakizoba "Ippei-chan", "New Year's Shop Ikuya Shoken Curry Flavor" of "Enchanted Curry Taste" to be finished with Special Curry Mayo will be released nationwide from Monday, April 9 It is said to be. The price is 155 yen without tax.

Curry flavored fried noodle is quite rare, is not it?

Details are as follows.
Akashi Foods, Cup Yakisoba "Akeba Ippei Chan Night Shop's Yakisoba Curry Taste" released

According to this release "Characteristics of Akashi Ippei-chan's night shop's fried noodle curry taste" are as follows.

Noodles: Slightly narrowed, flavored flavorful fried fish that fits well for curry flavor.

Source: Based on pork, curry sauce with garlic, curry powder, turmeric, seasoning oil melted with spice flavor.

Special curry Mayo: Curry powder is kneaded in, sour and spicy sense is new Ippei special curry Mayo.

Quickly:cabbage.

Sprinkle: Sprinkle with curry flavored flakes, baked bread crumbs, curry powder, Parmesan cheese, fried garlic, coarse ground black pepper, Aosha etc together.

It is said that the specialty curry Mayo is finished "enchanting curry taste", but what is the taste of curry flavored fried noodles in the first place is anxious.