Recruitment of depression trial participants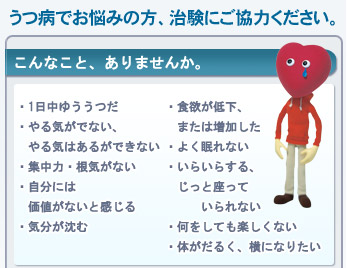 Shionogi Pharmaceutical is looking for 'depression trial participants'. If more than 4 items are applicable in the following items, it seems there is a possibility that you can participate in depression trials, so why invite those interested in it?

· It's a whole day
· I'm not motivated, I am motivated but I can not
· Concentration, perseverance free
· I feel that I am not worth
· Feeling sinking
· Decreased appetite or increased
· I can not sleep well.
· I feel annoyed, I can not sit still
· No matter what you do, it's not fun
· I want to lie down and lie down.

The recruitment site is as follows.
Recruitment of depression trial participants
http://www.77utu.net/

There is also a self-diagnosis test on the site. Shionogi Pharmaceutical will bear burdens other than consultation fee and transportation expenses.

The drug of this trial seems to have already been on sale abroad under the trade name "Cymbalta (Cymbalta)".

·Related Links
ITmedia News: Stress and depression attacking technicians, cause and remedy are

Yahoo survey, otaku self-admit female is less stressful?
in Note, Posted by darkhorse_log