Nissin Spa Spa King's Napolitan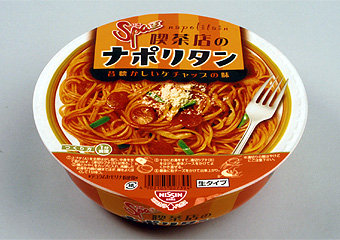 Release on June 5th (Monday). 200 yen as a tax.

Perhaps the King of this Spa should be sweet, as it has a catchphrase called Napolitan, a sweet retro cafe. When I say sweet spaghetti, I remember sprinket of shredded meal in school lunch, how much is it different? I have never ordered spaghetti at a coffee shop before then, is not it so different ... ...Spaghetti in -1 min! Sweet retro cafe Napolitan -
Cup containing raw type spaghetti
"Nissin Spa Spa King's Napolitan"
Information on new release

The "Nissin Spa Spa Wang Cafe Napolitan" to be released this time is a product developed by sticking to the unique world view of Napolitan spaghetti as a "cafe." Adopted ingredients such as sausage, green pepper, onion and powdered cheese for sweet sauce with ketchup flavor with cooked vegetables. It certainly feels like orthodox.
In addition, it finished to a slightly soft texture, and it was delicious to eat at a coffee shop and he pursued a taste of nostalgia napolitan somewhere .... Although it is doubtful that whether it is soft at school is a school lunch ....

But, well, it is a person who is damn personally thinking that it seems delicious is more like softening than stiffness personally, so I will buy this once and plan to try it.