A variety of free services useful for deciding page coloring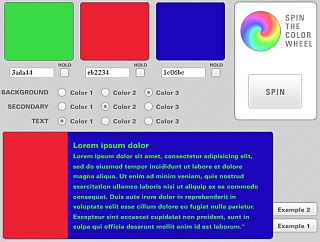 First of all, from "Color Wheel" for those who want to think about coloring without thinking anything.

Color Wheel - ver 2.0.1
http://www.webwhirlers.com/colors/spinwheel.asp

If you click on "SPIN", the color scheme will change automatically automatically one after another, so it's super simple specification that you only need to find a favorite. Each color scheme is assigned to a background, text color, etc., and can be swapped by pressing a check mark. Also, if you check "HOLD", you can prevent that color from changing even if you press "SPIN", so if you find a color you like fix it and fix the next color and replace it ... If you do, you can generate as many color patterns as you like.

Also, besides "Example 1", if you press "Example 2" you can see examples of use with different page layouts, so you can understand intuitively that the atmosphere will be different even with the same color scheme.
There are many other similar services, but basically it is okay if you hold down the following.

HTML Color Code Combination Chooser
http://www.siteprocentral.com/html_color_code.html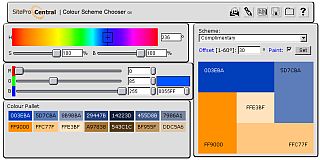 By designating the center color, it is easy to construct a color layout with approximate colors and complementary colors. After deciding the basic color, I feel that it will make a gang to fit it accordingly.

[Ws] Color Scheme Generator 2
http://wellstyled.com/tools/colorscheme2/index-en.html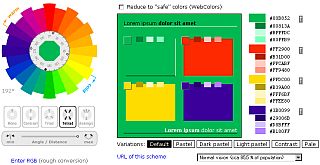 Colle is also similar feeling, but color range can be specified more visual. In addition, you can change pastel color etc by pressing a button such as "Pastel" from the generated color combination.

VisiBone Webmaster's Color Lab:
http://www.visibone.com/colorlab/big.html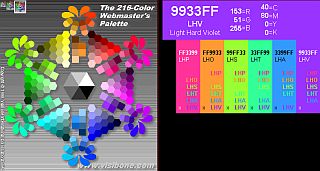 It is intended for those who master the color composition to some extent, to explore the combination by clicking on the color. For those who want to decide the color combination perfectly.

Color Palette Generator
http://www.degraeve.com/color-palette/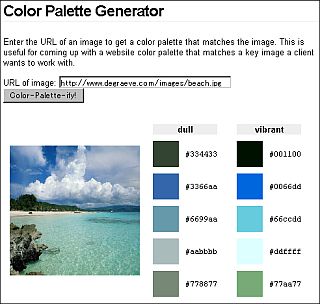 It is an unusual thing to decompose the color elements used in the specified image and display the color palette that matches the image.

Since there are many other things, it is fun to look for the most useful one.

http://colormixers.com/mixers/cmr/
http://www.ficml.org/jemimap/style/color/wheel.html
http://www.colormatch.dk/
http://www.meyerweb.com/eric/tools/color-blend/
http://www.colorschemer.com/online.html
http://www.easyrgb.com/harmonies.php
http://color.sharewonders.com/
http://colorblender.com/
http://www.colorcombos.com/
http://www.defencemechanism.com/color/

In addition, commentary on color terms appearing at each siteThis siteIt is detailed.