"ITunes Agent" to make iTunes available to MP3 players other than iPod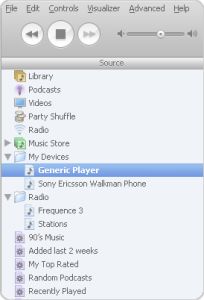 ITunes can only work with iPod, but then it's too sad ... So it's amazing free software developed. For example, you can connect Sony Ericsson MP3 playback compatible mobile phone to your computer and manage playlists in iTunes. It is a monster software.ITunes Agent

Preinstallation of ".Net Framework 2.0" is required for startup. It is resident in the task tray and monitors whether it is connected or not, it seems to be configured to automatically synchronize contents by exporting contents as iTunes playlists when newly connected. Add new songs in iTunes and click "Syncronize device" to start syncing. It is an extremely simple and effective idea.

click here to download
http://ita.sourceforge.net/download.html

Is it the problem that I feel Winamp is easier to use than iTunes for me ...