Why is the 'End Poem' that flows after clearing 'Minecraft' public domain?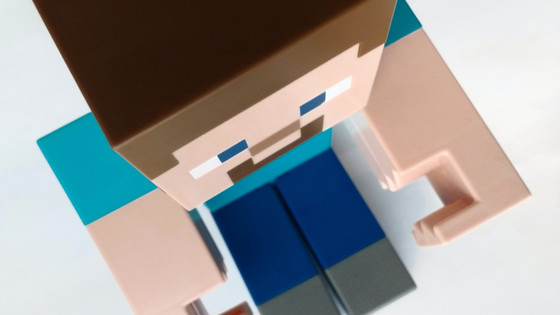 The world's best-selling game `` Minecraft '' is a sandbox game where you can freely arrange blocks to enjoy architecture, create tools and spend a survival life, but `` a different thing that can be reached by collecting certain items You can reach the ending by defeating the dragons in the world. The sentence that flows in this ending is very popular with fans and is called '
End Poem
'. Julian Gough, the author of this Endpoem, has announced that it is now part of the public domain.
I wrote a story for a friend - by Julian Gough
https://theeggandtherock.substack.com/p/i-wrote-a-story-for-a-friend
Minecraft's bizarre end poem never owned by Mojang or Microsoft, writer claims | Eurogamer.net
https://www.eurogamer.net/minecrafts-bizarre-end-poem-never-owned-by-mojang-or-microsoft-writer-claims
Minecraft is a game whose official version was first released in 2011, developed by game creator Notch
Marcus Persson
and Swedish game development company
Mojang Studios
. Later in 2014, Microsoft acquired Mojang Studio for $ 2.5 billion (about 268 billion yen at that rate), and Minecraft is Microsoft's IP.
Microsoft acquired 'Minecraft' developer for 268 billion yen, what is the background? -GIGAZINE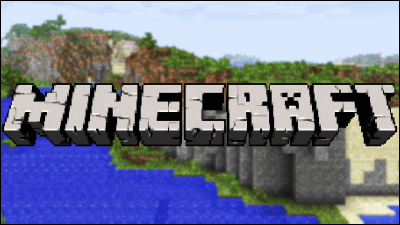 End poems have been known as the only story piece in Minecraft since the Mojang Studio days. According to Mr. Goff, he decided to write the end poem on the recommendation of Mr. Persson, who read Mr. Goff's short story '
The iHole
' via Twitter. After negotiations, Mojang Studio's CEO Karl Manne (at that time) paid 20,000 euros (about 2.15 million yen at the rate at that time) for the work.
After that, Mojnag Studio sent Mr. Goff a contract asking him to transfer the copyright of End Poem. However, Mr. Goff never signed this contract.
And when Microsoft acquired Mojang Studio in 2014, a contract was sent again asking Mr. Goff to transfer the copyright of End Poem.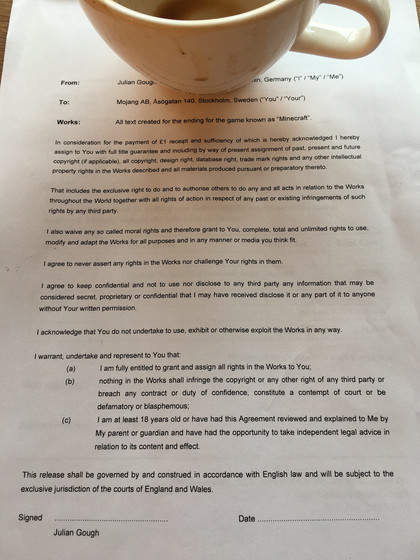 Mr. Goff, who learned of Microsoft's acquisition of Mojang Studio, said, ``I wrote an end poem for a friend, but Mr. Makne and Mr. Persson did not treat me as a friend.I am hurt. " commented.

Mr. Goff said he did not sign this second contract. ``For various reasons, I have never signed a contract to waive the rights to the story I wrote, all of which I hold,'' Goff said.

But much of it comes down to the fact that, for various reasons (read the extremely long post!), I never signed a contract giving away any rights to my story. They are all retained by me.

— Julian Gough (@juliangough) December 7, 2022


After that, it seems that Mr. Goff and Mr. Makne exchanged quite violently by e-mail, but in the end the copyright of End Poem remained with Mr. Goff.

Goff commented on making the End Poem into the public domain, saying it 'liberates the End Poem from the corporate economy that has been unlawfully bound since 2014.' You can play with poetry and no one can stop it.Technically and legally I had the copyright, but I give up that right.That ending is what the universe does. It's written, it's the property of the universe, which means it's not anyone's, it's all of us.

in Game, Posted by log1i_yk