TSMC announced a plan to build a 3 nm semiconductor factory in Arizona, and Apple's CEO Tim Cook stated that `` Apple silicon will be manufactured in Arizona ''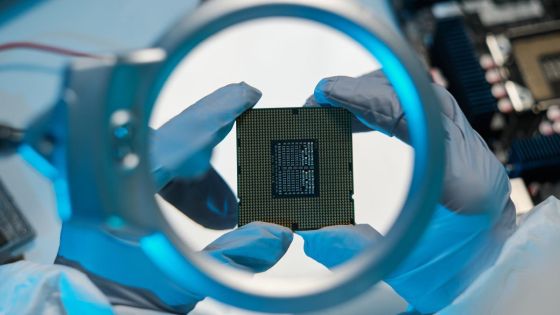 TSMC, the world's largest semiconductor foundry, is building a new semiconductor factory in Arizona, USA. In a new event held by TSMC, Apple's CEO Tim Cook said, 'Apple will be the biggest customer of the factory under construction in Arizona.' In addition, it is also clear that TSMC is proceeding with a second factory construction plan in Arizona.

TSMC Announces Updates for TSMC Arizona
https://pr.tsmc.com/japanese/news/2977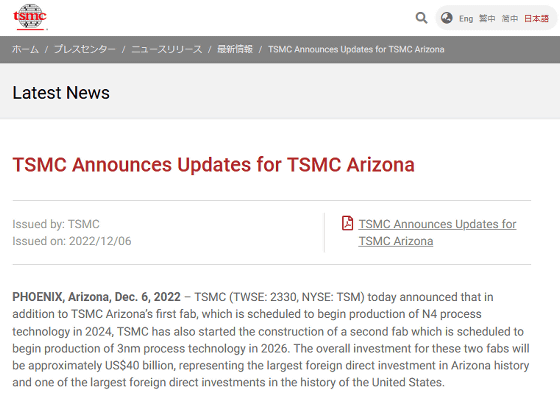 Tim Cook says Apple will use chips built in the US at Arizona factory
https://www.cnbc.com/2022/12/06/tim-cook-says-apple-will-use-chips-built-in-the-us-at-arizona-factory.html

TSMC is a foundry that undertakes chip production for major technology companies such as Apple, AMD, and NVIDIA, and is building semiconductor factories in Kumamoto Prefecture, Japan and Arizona, USA . Newly, TSMC announced that it is building a second factory in Arizona. The second factory will be equipped with state-of-the-art semiconductor manufacturing equipment, and plans to mass-produce 3nm process semiconductors.

With the construction of the second factory, TSMC's investment in Arizona has ballooned to $ 40 billion (about 5.5 trillion yen). This will break the record for foreign direct investment in Arizona. In addition, TSMC appeals that if two factories are in operation, Arizona alone can manufacture more than 600,000 silicon wafers annually.

Apple CEO Tim Cook, AMD CEO Lisa Su, and NVIDIA CEO Jen Sun Huang also participated as guests at the event hosted by TSMC. 'The stamp will be stamped.I am proud to be the largest customer of the factory that TSMC is building in Arizona, ''he said, producing chips designed by Apple at TSMC's Arizona factory. I made it clear that it was planned. In addition, CEO Sue has announced that he plans to produce chips at TSMC's Arizona factory.

Apple silicon unlocks a new level of performance for our users. And soon, many of these chips can be stamped "Made in America." The opening of TSMC's plant in Arizona marks a new era of advanced manufacturing in the US — and we are proud to become the site's largest customer.pic.twitter.com/rBoiEUwZaX

— Tim Cook (@tim_cook) December 6, 2022