It turned out that the number of GPU shipments was the lowest in the past 10 years, is it due to purchase restraints waiting for next-generation products and changes in mining specifications?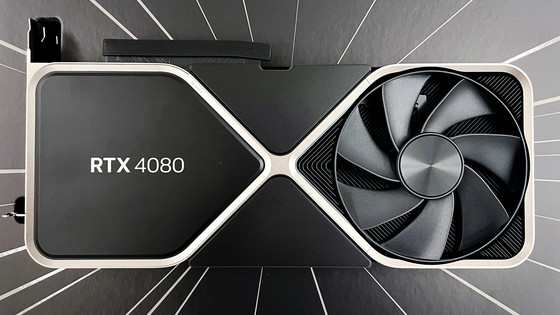 With PC OEMs sourcing less CPUs, gamers holding back on buying existing graphics cards while waiting for next-gen products, and
a major Ethereum update that effectively eliminates GPU mining,
Q3 2022 (July-September) integrated and discrete GPU shipments plummeted to their lowest level in a decade, research firm Jon Peddie Research announced.
GPU Q3'22 biggest quarter-to-quarter drop since the 2009 recession | Jon Peddie Research
https://www.jonpeddie.com/press-releases/q322-biggest-qtr-to-qtr-drop-since-the-2009-recession
GPU Market Nosedives, Sales Lowest In a Decade | Tom's Hardware
https://www.tomshardware.com/news/gpu-market-nosedives-sales-lowest-in-a-decade
According to Jon Peddie Research, the global GPU market shipped 75.5 million units in Q3 2022, down 25.1% year-on-year and down 10.5% quarter-on-quarter. Among them, sales for desktop PCs decreased by 15.43% and those for notebook PCs decreased by 30%, which was the largest decline since the 2009 recession.
Below is a bar graph showing the GPU manufacturer's share in the third quarter of 2021 (the same period of the previous year), the second quarter of 2022 (the previous term), and the third quarter of 2022. Compared to the previous quarter, Intel increased its market share slightly, while NVIDIA and AMD decreased their market share. Jon Peddie Research believes that AMD's market share has been greatly reduced, especially since it announced that it will release the next-generation GPU
Radeon RX 7900 series
in December 2022, which is causing gamers to refrain from buying. increase.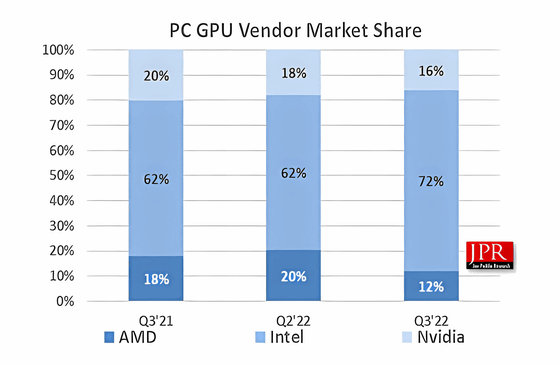 The total number of CPU shipments (red line) in the third quarter of 2022 is showing a decrease both year-on-year and quarter-on-quarter. Among them, CPU for desktop PC was 62% and CPU for notebook PC was 38%. The decrease in CPU shipments is believed to be due to PC OEM manufacturers reducing CPU purchases, as
global PC shipments decreased by 15% year-on-year
. .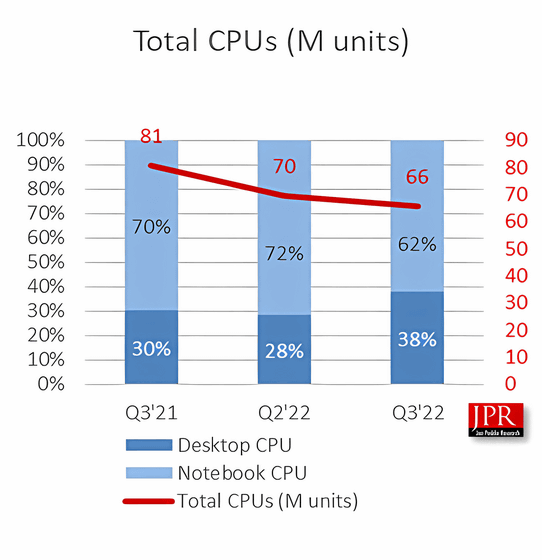 'For GPU and PC suppliers, the third quarter of 2022 is typically the busiest time of the year, and suppliers are driving the market toward lower sales in the second quarter,' said Jon Peddie, president of Jon Peddie Research. Despite this, the results were well below their expectations.'

According to Peddie, any company has stopped cryptocurrency mining, headwinds due to China's Corona Zero regulation, sanctions by the United States, the situation due to user concentration in purchasing due to the new coronavirus epidemic, and AMD's existing products that announced next-generation GPUs. Reasons include the Osborne effect of refraining from buying, inflation and graphic board price increases, and a reduction in excess inventory. In addition, President Peddie says that while shipments will decrease in the fourth quarter of 2022, the average selling price will rise and supply will increase, so there is no need to worry about the GPU market shrinking.