It is reported that Twitter is considering asking for 3000 yen per month to maintain the official mark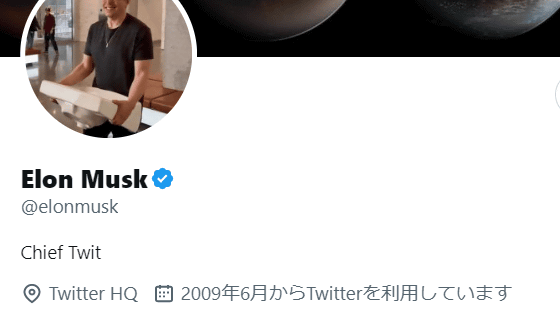 Twitter, which is also used by celebrities and major companies, has an ' authenticated badge ' to distinguish between genuine and non-genuine ones. Platformer reported that Twitter is considering incorporating this certified badge, also known as the 'official mark', into a paid service of $ 20 (about 3000 yen) per month.

Elon's first big move: pay to remain verified on Twitter
https://www.platformer.news/p/elons-first-big-move-pay-to-remain

Twitter to start charging $20 per month for verification - The Verge
https://www.theverge.com/2022/10/30/23431931/twitter-paid-verification-elon-musk-blue-monthly-subscription

In the first big move by Elon Musk, who bought Twitter, Twitter plans to require users with verified badges to pay $20 a month to keep their badges. Platformer reported.

According to sources, as one of the measures to make Twitter Blue, Twitter's paid subscription service, a more expensive service, it seems that it is being considered to charge the maintenance of the 'authenticated badge'. Twitter has also prepared a higher $ 19.99 (about 3000 yen) plan for Twitter Blue, which is different from the current monthly $ 4.99 (about 740 yen) plan. It seems that they are considering changing the specification so that the is stripped. In addition, Twitter employees who are working on creating a new plan for Twitter Blue have set the deadline for feature creation to 'November 7' and 'will be fired if they do not make it in time' .

About a year has passed since Twitter's paid subscription service Twitter Blue appeared, but advertising revenue still accounts for most of the company's revenue. However, Musk plans to increase revenue from this paid subscription and grow it to account for half of Twitter's overall revenue.

Upon acquiring Twitter, Mr. Mask suspended the acquisition plan based on the survey results that about 20% of Twitter's active accounts are spam and fake accounts . After that, Mr. Mask eventually acquired Twitter, but after the acquisition was completed, he tweeted that ``the whole verification process has been improved,'' and that there was some improvement in the account verification process. suggests.

The whole verification process is being revamped right now

— Elon Musk (@elonmusk) October 30, 2022


Only a few days have passed since Mr. Mask acquired Twitter, but he is already working on some reforms. With the help of Mr. Musk's electric car maker Tesla engineers, it is planned to analyze Twitter's code and dismiss middle managers and engineers who do not contribute to the company's code creation. This mass layoff is scheduled to take place in the first week of November 2022, and managers are already preparing a list of employees to be laid off.

Tesla engineers are evaluating code written by Twitter staff - GIGAZINE