A mountain of gold coins equivalent to 40 million yen is discovered from under the floor of the kitchen of a general household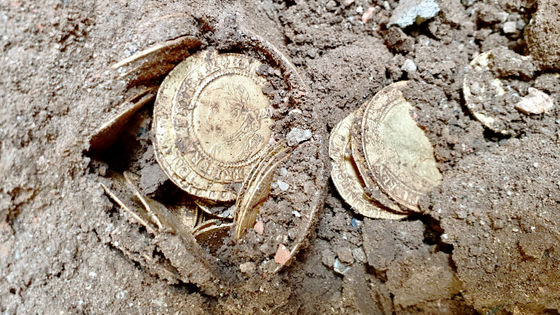 by Spink & Son

Various treasures have been found so far, such as the pottery found in the kitchen of a British private house, which was
found
to be a treasure of China's Qing dynasty worth 200 million yen. I found a gold coin.
Coins worth up to $290,000 found under kitchen floorboards - CNN Style
https://edition.cnn.com/style/article/gold-coins-england-kitchen-intl-scli/index.html
UK Couple Finds Rare Gold Coins During Home Renovations | Smart News| Smithsonian Magazine
https://www.smithsonianmag.com/smart-news/uk-couple-finds-rare-gold-coins-during-home-renovations-180980709/
Archaeology news: Couple makes 'truly unexpected' find of £250k rare gold coins in kitchen | Science | News | Express.co.uk
https://www.express.co.uk/news/science/1663074/archaeology-news-truly-unexpected-250k-gold-coins-ellerby-north-yorkshire-spink-son
This time, a large amount of 17th century British gold coins were discovered in a house in Elby, North Yorkshire, located in northern England. In July 2019, when a couple living in this house was doing renovation work, they found
salt
-glazed pottery buried under the floor of the kitchen.
There were 264 gold coins in a container about the size of a soft drink can.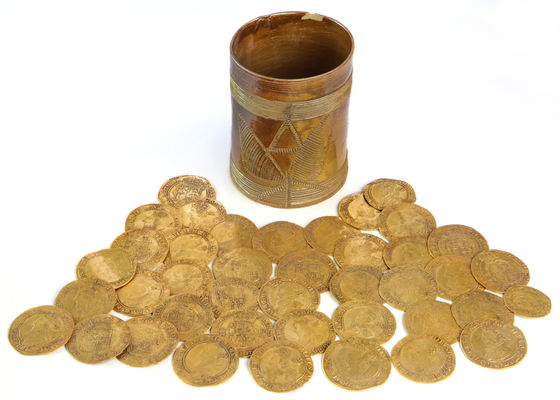 by Spink & Son

According to Spink & Son, the auction house that sells gold coins, the coins date from 1610 to 1727, with the oldest dating to the time of
James I
, who famously laid the foundations for the
divine right
of kings. About.
The rarest of these is the
George I
gold coin issued in 1720. Originally, the portrait of George I should have been engraved on the surface, but both sides are reversed, a very rare error. It's a coin. Spink & Son estimates that this one piece alone is worth £4000 (about 660,000 yen). There was also an error coin with the name of
Charles II
spelled in Latin misspelled.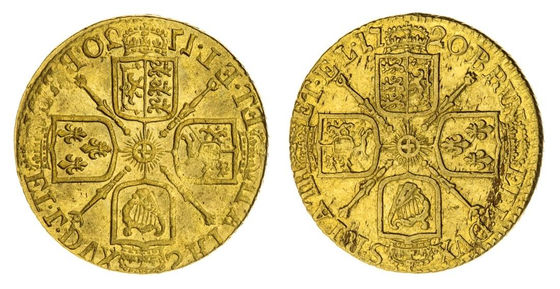 by Spink & Son

If the auction is held, it is estimated that it will total 250,000 pounds (about 41 million yen), but this gold coin, which is considered to be the largest scale collection in British history, is worth more than the price.

It is not possible to sell off archaeologically valuable items without permission, but when Spink & Son took legal action with the British authorities, the newest gold coin was not yet 300 years old, so all but one It was recognized as the property of the discoverer couple, and it was said that it was possible to put it up for auction. One of them is a rare Brazilian gold coin that was circulating in England in the 1720s and will be stored in a British museum.

Gregory Edmund of Spink & Son said, 'It is not normally thought that British gold coins of this size can be auctioned at once.'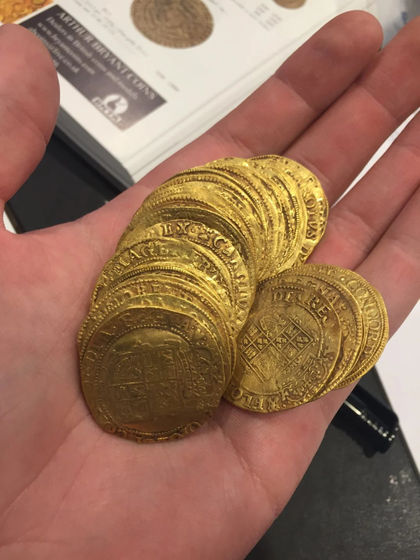 by Spink & Son / Gregory Edmund

The original owner of this coin is believed to be Joseph and Sarah, a married couple of the Fernley-Maisters who made a fortune in the trade of timber, coal and iron ore. The Fernley-Meister family prospered in trading the natural resources of the Baltic nations and produced generations of politicians, but the family's downfall after the deaths of Joseph and Sarah left this coin in oblivion. I wonder if it was.

Mr Edmund said, 'Having hidden in the ground many gold coins minted before the English Civil War , the couple apparently had no confidence in the then-new Bank of England 'banknotes', i.e. paper money, even gold coins of the time. The biggest mystery is why it was not collected even though it was easy to find under the floor, but in any case, it's a ridiculous piggy bank.

in Note, Posted by log1l_ks