Roblox, who failed to enter China, was revealed to be wary of hacking and government censorship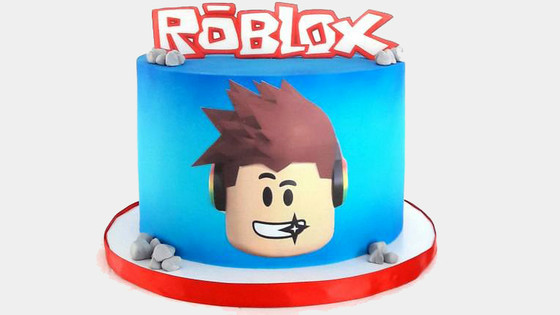 by
Sweet-Tooth Cakes and Cupcakes
Roblox, a service that allows you to create and share games, was wary of Chinese government censorship and server hacking when entering China, reports based on internal materials leaked from IT news site Motherboard. ..
Revealed: Documents Show How Roblox Planned to Bend to Chinese Censorship
https://www.vice.com/en/article/wxndpx/revealed-documents-show-how-roblox-planned-to-bend-to-chinese-censorship
According to Motherboard, among the files obtained by a group of hackers who tried to blackmail Roblox, there was Roblox presentation material for deployment in China in 2017. Motherboard has obtained and
published
this internal material.
At the time of the internal presentation, no Chinese companies have been decided to partner with, and Roblox is considering Tencent or Netease. As a result, Roblox
announced a partnership with Tencent
in 2019.
In 2021, Roblox launched 'LuoBuLeSi', a service for China. Roblox had to operate Roblox in partnership with Chinese game company Tencent, and also had to host user data on servers in China under Chinese law. According to Roblox, even if you set up a server in the country, it will take another 8 to 9 months for government review.
Roblox is an internal document created before signing a contract with Tencent, assuming that partner Tencent may try to hack Roblox or Tencent may copy the game and make its own version. was doing. The document states, 'Hacking is believed to have already begun. It is possible that the contents will be revealed by a partner after the contract is signed.'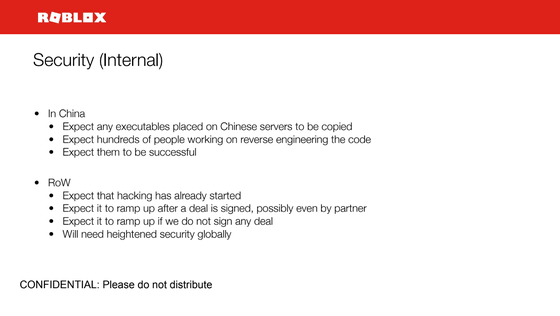 Roblox also envisions that code placed on servers in China may be reverse engineered by hundreds of people, saying, 'We will need enhanced security globally.' Stated.

In addition, in the
presentation material
given to Roblox from the Tencent side, in order to comply with Chinese law, the map created in the game 'acknowledges the claim of the Chinese government, respects the integrity of the country, Taiwan 'Do not misrepresent China's territory, such as making it part of China's territory.' 'Do not display images or names of national leaders.'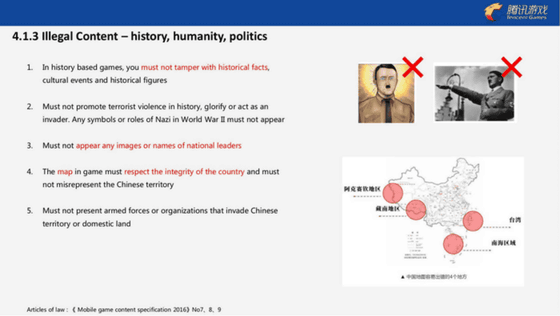 Roblox, which also has social media capabilities, must also be censored by the Chinese government and must have its own operator. 'Like games, all catalog items must be approved by China,' Roblox said. However, it is said that there are sufficient benefits to partnering with such government censorship know-how.

The Chinese version of Roblox, released in July 2021, was closed in December 2021. 'We're making the necessary investments in the data architecture and working towards a restart,' Roblox said, but didn't reveal the reason for the closure until the end. After the closure of Roblox, Roblox has refunded all players and confirmed that all players can no longer log in.

A Roblox spokeswoman told Motherboard, 'As is often the case with companies entering new markets, we consider and plan for risks and opportunities. Roblox's policy is local, including China. It's about complying with the law, 'he said, and plans to provide players with free avatars and in-game currency when the service resumes in China.