AMD's 'Zen 4' CPU will improve IPC by up to 10% and 'RDNA 3' GPU will improve watt performance by 50%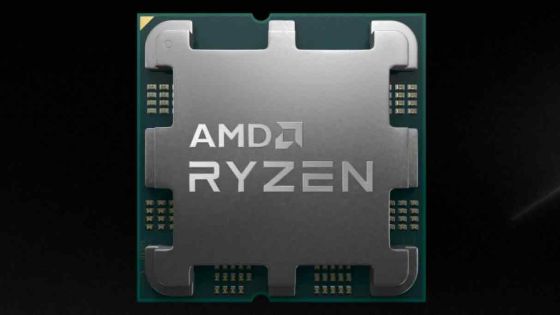 AMD held an investor event ' Financial Analyst Day ' on Thursday, June 9, 2022. At the event, additional information on the CPU architecture 'Zen 4' and an overview of the GPU architecture 'RDNA 3' were announced.

Financial Analyst Day :: Advanced Micro Devices, Inc. (AMD)

https://ir.amd.com/news-events/financial-analyst-day
AMD Zen Architecture Roadmap: Zen 5 in 2024 With All-New Microarchitecture
https://www.anandtech.com/show/17439/amd-zen-architecture-roadmap-zen-5-in-2024-with-allnew-microarchitecture
◆ Zen 4 & Zen 5
In May 2022, AMD
announced
the next-generation CPU 'Ryzen 7000 series' that adopted the Zen 4 architecture. In the announcement in May, it was revealed that the 'Ryzen 7000 series' will be produced by TSMC's 5nm process and that it is compatible with DDR5 & PCIe 5.0, but in this announcement it is a CPU that newly adopts Zen 4 It has been revealed that the IPC (Instruction Per Cycle) will be improved by 8 to 10% compared to the previous generation Zen 3 CPU. In addition, Zen 4 has been shown to improve single-threaded performance by more than 15%, including an extended instruction set for AI and AVX-512.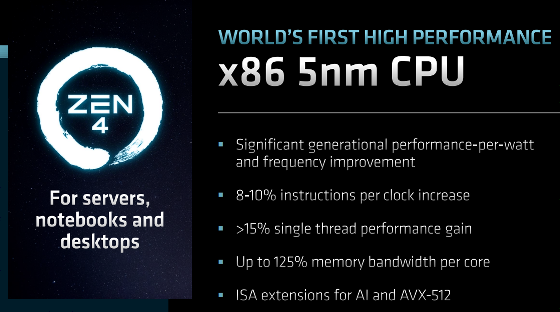 In addition, AMD has announced that it plans to launch a Zen 5 CPU in 2024. The published slide says 'a whole new microarchitecture', foretelling improvements in performance and efficiency and the addition of features for AI.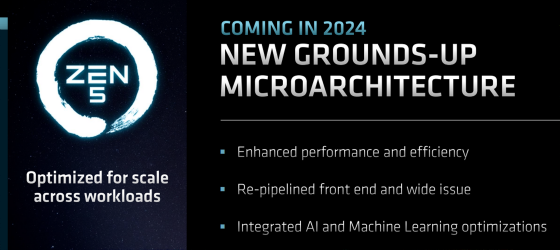 The CPU core roadmap shown by AMD is below. In 2022, 'Zen 4', 'Zen 4 with
3D V-Cache
' and 'Zen 4c' are scheduled to appear, and in 2024, 'Zen 5', 'Zen 5 with 3D V-Cache' and 'Zen 5c' Is scheduled to appear. In addition, the Zen 4 series will be produced on the 5nm and 4nm processes, and the Zen 5 series will be produced on the 4nm and 3nm processes.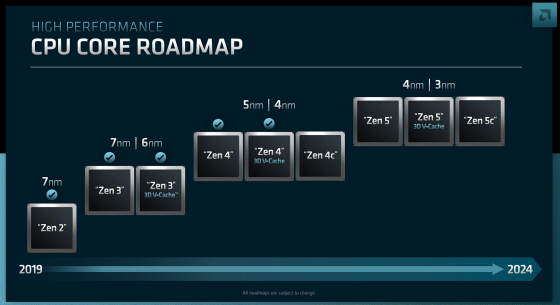 ◆ RDNA 3
Information on the GPU architecture 'RDNA 3' was also released on Financial Analyst Day. RDNA 3 is scheduled to improve efficiency per power by 50% or more compared to RDNA 2, and will be produced by the 5nm process.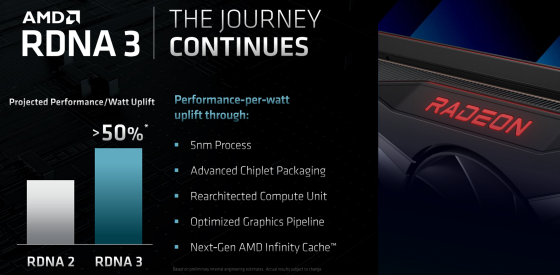 The GPU architecture roadmap is below. RDNA 3 is scheduled to appear in 2022, and RDNA 4 that adopts a process miniaturized from 5 nm is scheduled to appear in 2024.