All systems offline in Palermo, the capital of Sicily, different from the Italian attack by threat actor Killnet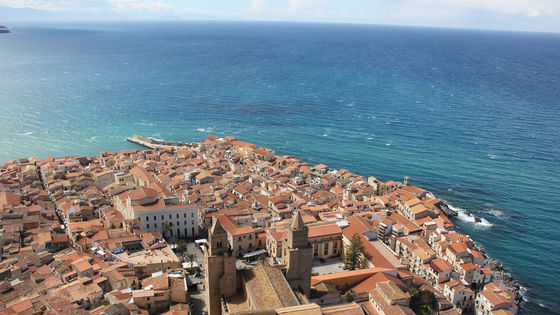 In Palermo, the capital of Sicily in southern Italy, it has been reported that there was a cyber attack on the city's computer system and the whole was offline. As a result, the issuance of certificates has been suspended, and tickets for museums and the Massimo Theater cannot be reserved, causing confusion not only for local residents but also for tourists.

Attacco hacker al Comune di Palermo, rete ancora in tilt: si comunica coi fax --Giornale di Sicilia

https://palermo.gds.it/articoli/cronaca/2022/06/05/attacco-hacker-al-comune-di-palermo-sistema-ancora-in-tilt-comunicazioni-con-i-fax-eacc0bd7- 6a04-4a32-ad4d-1115a99dc2b6 /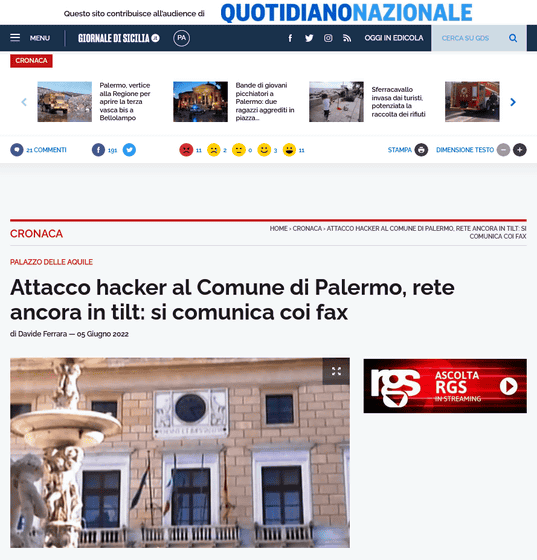 Italian city of Palermo shuts down all systems to fend off cyberattack

https://www.bleepingcomputer.com/news/security/italian-city-of-palermo-shuts-down-all-systems-to-fend-off-cyberattack/
The attack was carried out from around 6 am local time on June 2, 2022, and the network system including the city website, the city police operation center, the video surveillance management system, etc. was affected. As a precautionary measure, the entire system is offline, and although experts are working on it, the problem has not been resolved as of June 6, and it seems that the exchanges between each institution are being carried out by fax.
In May 2022, pro-Russian threat actor
Killnet
declared a cyber attack targeting Italian government offices, judicial authorities, media, companies, etc., and the Senate and the Ministry of Defense sites were actually attacked. I am.
Russian Killnet cyber attacks begin on Italian-linked businesses | IT PRO
https://www.itpro.co.uk/security/cyber-warfare/367859/russian-killnet-cyber-attacks-begin-on-italian-linked-businesses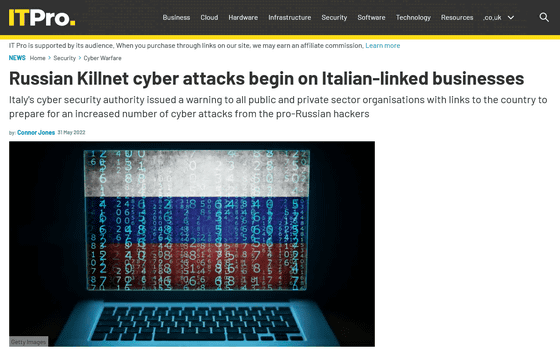 However, this cyber attack is likely to be due to ransomware rather than a DDoS attack and is believed to be unrelated to Killnet.