Business owners and managers also tend to use weak or crappy passwords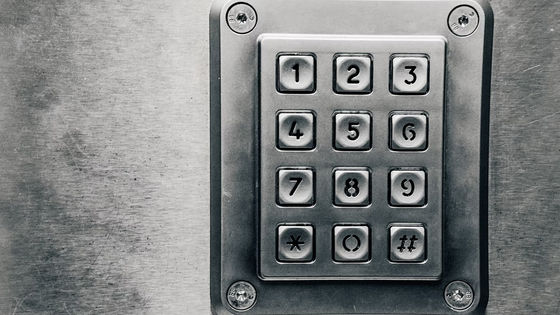 Passwords should be made and used as
secure as
possible so that they cannot be used by others, but in reality, passwords that are easy to remember, such as '123456' and 'qwerty', are used. This trend has been found to be the same for business owners and managers who should be dealing with information that should be sensitive to security.
Top Passwords Used By Business Executives | NordPass
https://nordpass.com/business-executive-passwords/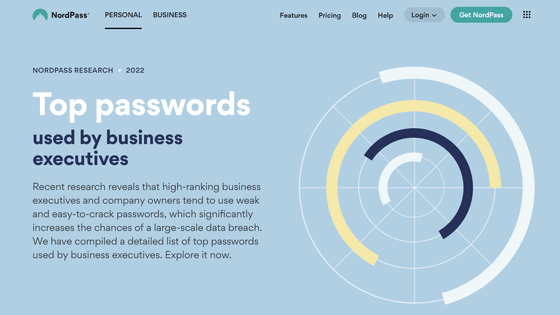 The passwords most used by CEOs are startlingly dumb | PC Gamer
https://www.pcgamer.com/the-passwords-most-used-by-ceos-are-startlingly-dumb/

This was revealed by NordPass , a security company that deals with password managers and others.

According to the data, there were 220,405 cases of using the password '123456', which is almost insecure, and 64,594 cases of using '123456789' even among managers and managers.

There are many cases where the name is used for the password, and 100,534 cases of 'Tiffany', 33,699 cases of 'Charlie', 10,647 cases of 'Michael', and 10,472 cases of 'Jordan' were confirmed. I did.

In some cases, the names of creatures were used as passwords, with 'Dragon' (11,926 cases) and 'monkey' (11,675 cases) digging into the top.

The order of the 1st to 50th CEO cases is like this.


| Ranking | password | Number of uses |
| --- | --- | --- |
| 1 | 123456 | 29,401 |
| 2 | password password | 22,511 |
| 3 | 12345 | 11,867 |
| Four | 123456789 | 10,988 |
| Five | qwerty | 9,738 |
| 6 | 1234 | 6,520 |
| 7 | qwerty123 | 6,446 |
| 8 | 1q2w3e | 5,809 |
| 9 | 111111 | 5,487 |
| Ten | 1 2 3 4 5 6 7 8 | 5,099 |
| 11 11 | info info | 4,942 |
| 12 | DEFAULT | 4,451 |
| 13 | 1q2w3e4r5t | 4,330 |
| 14 | Password | 4,238 |
| 15 | 1234567 | 3,479 |
| 16 16 | one two three | 3,404 |
| 17 17 | infoinfo | 3,214 |
| 18 18 | 123123 | 3,055 |
| 19 19 | 1234567890 | 2,553 |
| 20 | welcome | 2,376 |
| twenty one | abc123 | 2,302 |
| twenty two | 123321 | 2,027 |
| twenty three | 654321 | 2,025 |
| twenty four | 0 | 1,956 |
| twenty five | qwe123 | 1,944 |
| 26 | 7777777 | 1,905 |
| 27 | test | 1,880 |
| 28 28 | password1 | 1,775 |
| 29 | 1q2w3e4r | 1,733 |
| 30 | 666666 | 1,727 |
| 31 | Switzerland | 1,653 |
| 32 | 1111 | 1,648 |
| 33 33 | 555555 | 1,598 |
| 34 | aaaaaa | 1,595 |
| 35 | asdfgh | 1,562 |
| 36 | qwertyuiop | 1,519 |
| 37 37 | test123 | 1,513 |
| 38 | 11111111 | 1,499 |
| 39 39 | 222222 | 1,465 |
| 40 | 1111111 | 1,373 |
| 41 41 | 1qaz2wsx | 1,361 |
| 42 | qazwsx | 1,350 |
| 43 | SKIFFY | 1,310 |
| 44 | 11111 | 1,277 |
| 45 45 | 123qwe | 1,269 |
| 46 | Willkommen | 1,236 |
| 47 47 | temppass | 1,183 |
| 48 | 112233 | 1,149 |
| 49 | 121212 | 1,115 |
| 50 | 777777 | 1,099 |