Google's parent company Alphabet announces financial results, YouTube stalls signs of slowing growth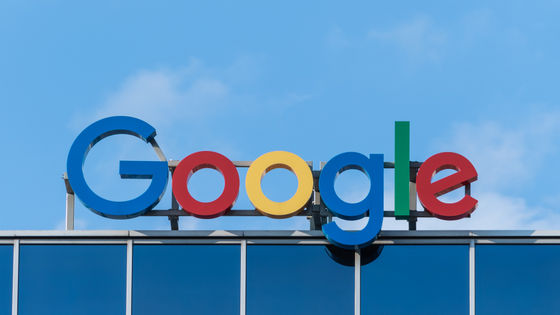 On April 26, 2022, Google's parent company Alphabet announced its financial results for the first quarter of 2022 (January-March 2022). As a result, although total revenue increased from the
previous quarter
when advertising revenue increased by 33% year-on-year, the growth rate fell due to the slowdown of YouTube revenue and expenses. understand.
Alphabet Investor Relations --Investor Relations --Alphabet
https://abc.xyz/investor/
Google's Q1 Earnings Are In – But What Was The Miss?
https://www.searchenginejournal.com/google-earnings-q1-2022/447587/
App Store and Google Play growth flat in Q1 2022, says study | AppleInsider
https://appleinsider.com/articles/22/04/26/app-store-and-google-play-growth-flat-in-q1-2022-says-study
Alphabet announces $ 70 billion buyback
https://www.cnbc.com/2022/04/26/alphabet-announces-70-billion-buyback.html
The following is an overview of the financial results for the first quarter of 2022 announced by Alphabet. Total revenue for the current fiscal year exceeded 68 billion dollars (about 8.67 trillion yen), an increase of 23% from the same period of the previous year. However, the growth rate has decreased by 11 points from 34% in the previous year when consumer information needs peaked due to the pandemic.



In this financial report, it is pointed out that YouTube's earnings are sluggish. Bloomberg reporter Mark Bergen said that YouTube advertising revenue was $ 6.87 billion this quarter, saying, 'YouTube advertising revenue increased by only 14.4% this quarter, analysts. Is it much lower than expected? Is it due to Apple's advertising restrictions or is it intensifying competition with Tik Tok? '

YouTube's ad intake only went up 14.4% this past quarter, over $ 500 million shy of analyst expectations.

Could be Apple's ad crackdown, TikTok competition or _____

— Mark Bergen (@mhbergen) April 26, 2022


In its earnings report, Alphabet and Google CEO Sundar Pichai said, 'This quarter, we are contributing to people and businesses, especially as the search and cloud businesses grow strongly and digital transformation progresses. Will also invest in superior products and services to provide opportunities to partners and communities around the world. '

Google Play, which is solidifying its ground in the oligopolistic app market, is also struggling. In the first quarter of 2022, Google Play reportedly had 28.3 billion app downloads and Apple's App Store had 8.5 billion app downloads, each with only 1% growth over the same period last year. ..

According to a survey by market research firm Sensor Tower Store Intelligence , App Store revenue increased 5.8% year-on-year to $ 21.8 billion (about 2.78 trillion yen), while Google Play decreased 8.5% 107. It was 100 million dollars (about 1.365 trillion yen).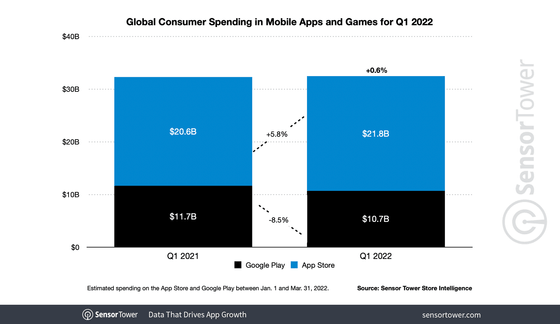 In response to these changes, Alphabet announced on the 26th that its board of directors has approved a $ 70 billion share buyback . This is well above the $ 50 billion in 2021 and the $ 25 billion in 2019.

Regarding this share buyback, CNBC of the news media said, 'It will significantly accelerate Alphabet's strategy of returning capital to shareholders by buying back shares.'