Google recorded record revenue, net income increased 40% compared to the same period last year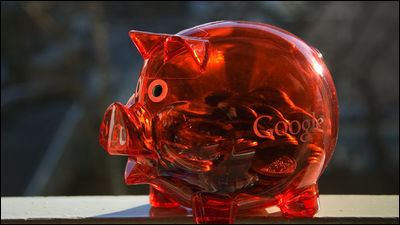 ByToru Watanabe

Google announced the fourth quarter financial results. Revenue recorded a record high of $ 18.1 billion (about 2.14 trillion yen), an increase of about 15% from 16.86 billion dollars (about 2 trillion yen) in the same period last year.

Google Inc. Announces Fourth Quarter and Fiscal Year 2014 Results - Investor Relations - Google
http://investor.google.com/earnings/2014/Q4_google_earnings.html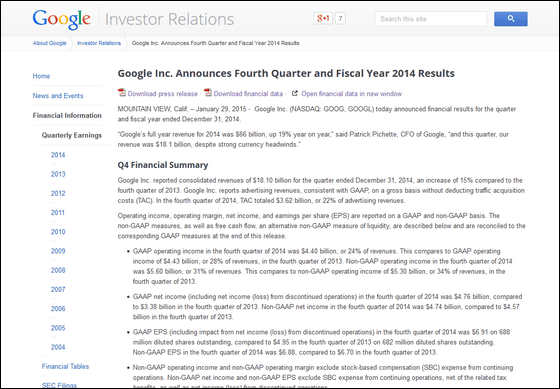 Google pulls in $ 4.76 billion in net income in the last quarter of 2014 | The Verge
http://www.theverge.com/2015/1/29/7947699/google-q4-2014-earnings

The fourth quarter ended 2014 report was made and it is revealed that Google recorded record sales in the quarter. In addition, net income is 4.76 billion dollars (about 560 billion yen), which is a 40% increase compared to the same period last year. Compared to the same period last year, we saw significant growth both in net sales and net income, but this seems to be less than financial analysts' expectations.

Graphs of Google's quarterly sales (blue) and net income (red) are graphs below.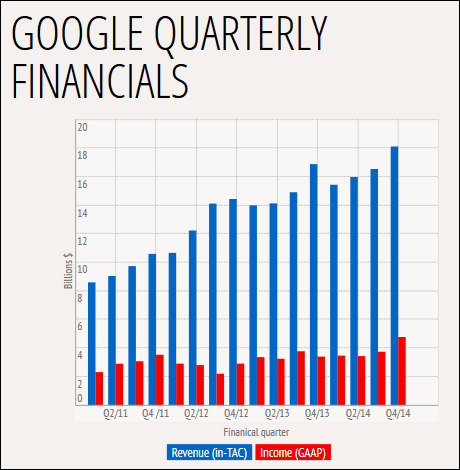 As usual, Google's advertising industry is by far the biggest source of revenue, with advertising revenues accounting for 89% of total sales. However, Google's Patrick Pichette CFO emphasizes that sales other than advertising revenue have grown to $ 2 billion (about 240 billion yen) in the quarter, "The growth of the Google Play Store is particularly remarkable" I am talking.

In addition, YouTube sales have doubled compared with the same period last year, and the time users watch movies on YouTube also seems to be 50% longer than in the same period last year. As Google aims to increase sales in mobile advertising, YouTube may be playing a major role, The Verge says.


ByLubright

Besides, Google sells Motorola to Lenovo, reducing the number of full-time employees by about 2,000 from the end of the third quarter, and also has earned income of $ 740 million (about 87.6 billion yen) I am clarifying.

Pichette CFO also reveals that sales of smartphone "Nexus 6", which is a new flagship model by Google, are going well, and he says that inventory is not catching up especially in Japan.
in Note, Posted by logu_ii