Ukraine demands cancellation of '.ru' domain and suspension of IP address to keep Russia out of the internet


In order to stop Russia's military invasion of Ukraine, each country is trying to impose various sanctions on Russia in cooperation , exclusion from the International Interbank Communications Association (SWIFT) , suspension of semiconductor sales by Intel and AMD, sales of Apple products And measures such as stopping the distribution of apps are being taken one after another. Meanwhile, Ukraine demanded the cancellation of Russia's country code top-level domain , the ' .ru ' domain, and the suspension of IPv4 and IPv6 in order to exclude Russia from the Internet.

Ukraine Pushes to Unplug Russia from the Internet --Rolling Stone
https://www.rollingstone.com/politics/politics-news/ukraine-icann-russia-internet-runet-disconnection-1314278/

Ukraine asks for Russia to be kicked off the internet | ZDNet
https://www.zdnet.com/article/ukraine-asks-for-russia-to-be-kicked-off-the-internet/

Security experts say Ukraine's request to shut down Russian domains could hurt civilians
https://www.cyberscoop.com/icann-ukraine-request-russia-domains-takedown/

In order to prevent the spread of Russian propaganda in the invasion of Ukraine, SNS companies such as Facebook perform strict fact checks on Russian media, Netflix refuses to distribute Russian state broadcasts , YouTube eliminates Russian news media I am trying to do something like that.

YouTube announces the exclusion of two Russian news media companies, IT companies are also eliminated one after another --GIGAZINE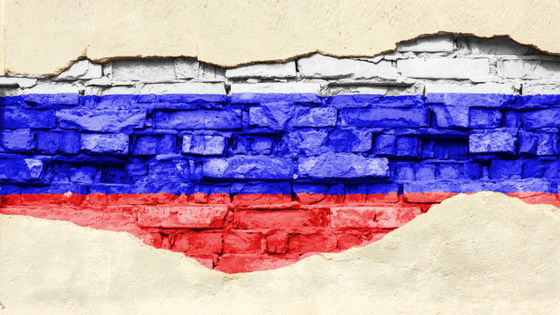 In addition, Ukraine has given ICANN , a non-profit organization that assigns domain names and IP addresses, and operates the Domain Name System (DNS) root server system, to the Russian country code top-level domain '.ru' and '. It was reported that they requested the cancellation of ' .рф' and '.su ' assigned to the Soviet Union.

Andrii Nabok, ICANN's representative in Ukraine, said in an email to ICANN, 'Russia's brutal war crimes have become possible mainly because Russian propaganda agencies continue to disseminate false information and hate speech. This is because they used a website that encouraged violence and concealed the truth about the war with Ukraine. ' It revokes the certificate and requires that the Russian DNS root server be shut down. This email was signed by Deputy Prime Minister Mikhail Fedorov, who is also the Minister of Digital Transformation of Ukraine.

In addition, Mr. Nabok withdrew the right of all Russians to use IPv4 and IPv6 to RIPE NCC , which has jurisdiction over Europe, the Middle East and Central Asia, among the regional Internet registries that manage the allocation and registration of IPv4 and IPv6. He also made a request to block the DNS root server. 'All of these measures help users gather trusted information from different domains and prevent propaganda and information leaks,' Nabok said in an email. 'We seriously consider such measures and as soon as possible. Please do it. Please help us to save the lives of our country. '

Leaders and politicians in many countries have expressed solidarity with Ukraine and are cooperating with sanctions on Russia, but experts have denied measures such as revoking the domain and suspending the use of IP addresses. Voice is rising. 'As an important infrastructure operator, my sympathy (for Ukraine),' said Bill Woodcock , director of Packet Clearing House (PCH) , an international organization for operational support and security for important Internet infrastructure such as DNS. Regardless, I want to say 'stop'. '

Not yet posted to the ICANN correspondence page, but this is a heck of an ask on the part of #Ukraine . As a critical infrastructure operator, my approach is to say 'heck no' regardless of my sympathies. Https: // t. co / O1rtpjKEES

— Bill Woodcock (@woodyatpch) March 1, 2022


DNS isn't just about browsing websites, it's about everything that runs on the Internet, such as Slack and email, and decommissioning IP addresses or blocking DNS servers can have devastating consequences. Woodcock points out that these effects do more damage to civilians than military and politicians, making them vulnerable to man-in-the-middle attacks that steal bank credentials and passwords.

Taken together, these three actions would have the effect of making Russian civilian Internet users much more vulnerable to man-in-the-middle attacks, such as are used to compromise banking credentials and web site passwords.

— Bill Woodcock (@woodyatpch) March 1, 2022


He also argued that if civilians could not use the Internet, they would not be able to get international news and perspectives, and only the propaganda of the Russian government would reach them. It also states that it does not meet the purpose of reducing.

In the short-term, this is a bad plan because it would cut the Russian man-on-the-street off from international news and perspectives, leaving them with only what the Russian government chooses to tell them. That's not a great way to decrease Russian public support for the war.

— Bill Woodcock (@woodyatpch) March 1, 2022


In response to these Woodcock tweets, ICANN's former chairman Paul Twomey also said, 'I fully agree with this analysis. Continuing to operate the protocol layer in Russia means that the website will be viewed in Russia. It's the best way to ensure that people have a variety of views. '

I completely agree with this analysis. Keeping the protocol layer operating in Russia is the best way to ensure that sites carrying diverse views to Russian audiences are effective.

— Paul Twomey (@PaulDTwomey) March 1, 2022


'The best way to reduce Russian support for this conflict is to allow people in Russia to communicate freely about the conflict,' Woodcock told Rolling Stone, a foreign media outlet. I don't want you to take on the role of managing sovereign communications. '

Erich Schweighofer, chief administrator of ICANN's European Commission, said in an email that he supported Ukraine but could not respond to measures such as domain cancellation. 'Excluding Russia from the Internet does not help support civil society because of democratic change. Although ICANN is a neutral platform and does not take a specific position in conflict. , Allowing each country to take actions such as blocking traffic from certain countries. '

In addition, although RIPE NCC did not name Russia by name in a statement released on March 1, it has a policy of not taking measures such as suspending the use of IP addresses and blocking DNS root servers in response to conflicts. It is clearly stated. The RIPE NCC said, 'It is extremely important that the RIPE NCC maintain a neutral position against political conflicts, international conflicts, wars, etc. This ensures that all responsible persons for providing Internet services are equal. It is guaranteed to be treated by. '

[ripe-list] RIPE NCC Executive Board Resolution on Provision of Critical Services ripe-list — RIPE Network Coordination Center
https://www.ripe.net/ripe/mail/archives/ripe-list/2022-March/002462.html

・ Continued
ICANN rejects Ukraine's request to 'separate Russia from the Internet'-GIGAZINE