Battlefield 2042 collects over 30,000 unpopular reviews and becomes one of the worst-reputed games in Steam history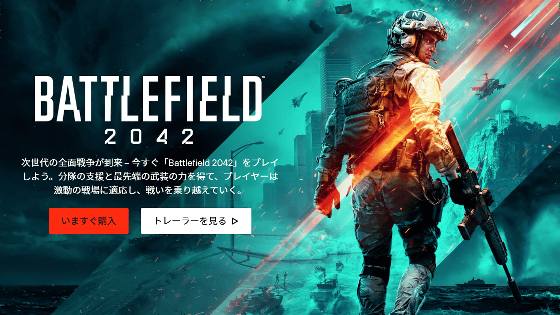 The latest title in the popular FPS game 'Battlefield' series, '
Battlefield 2042,
' was released on November 19, 2021 (Friday). However, due to dissatisfaction with the game system and behavior, a large number of unpopular reviews have been posted on Steam, and at the time of writing the article, more than 30,000 unpopular reviews have been gathered.
Steam: Battlefield ™ 2042
https://store.steampowered.com/app/1517290/Battlefield_2042/
Battlefield 2042 Is Now One Of The Worst WESTERN Games In Steam History
https://kotaku.com/battlefield-2042-is-now-one-of-the-worst-reviewed-games-1848099213
Battlefield 2042 is an online FPS game set in the near future that has received a lot of attention because it is the latest in a popular series, and at the time of writing, it was at the
top of Steam's top-selling game list
.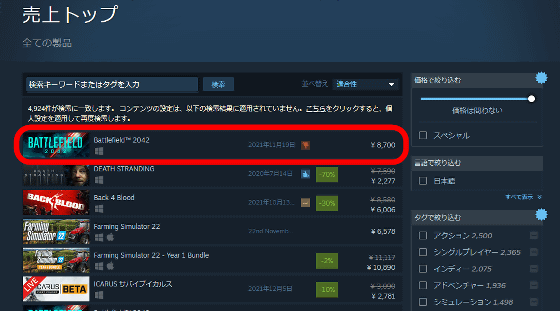 However, from the users who actually played Battlefield 2042, 'the behavior of hovercraft is strange', 'there are few customization elements compared to the previous Battlefield series', 'the type of gadgets and vehicles for infantry compared to the previous Battlefield'
There are complaints
such as 'less.' In the movie attached to the tweet below, you can see the hovercraft from Battlefield 2042 running on the outer wall of the building.
Ok. I'll give it to them. Battlefield 2042's gravity-defying hovercraft is the future of warfare. # BF2042 pic.twitter.com/63LKAoqx6O

— Synrage (@SynrageGaming) November 14, 2021


The game sales platform Steam has been complaining about this situation. When I actually checked the sales page of Battlefield 2042 on Steam, it was rated as 'slightly unpopular' at the time of writing the article.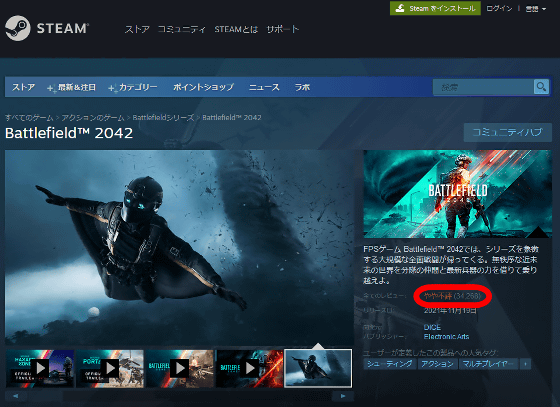 Furthermore, if you check the breakdown of the reviews, you can see that the number of 'favorable' is 10,382 and the number of 'unpopular' is 30,965, which is about three times as many as the popular.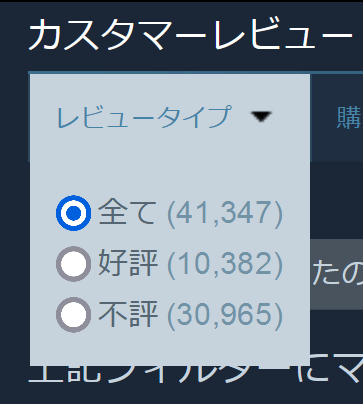 When limited to reviews within Japan, the overall rating was 'very unpopular.'




In addition, if you view the games in 'lowest rating' order on Steam 250, which summarizes information about games sold on Steam, Battlefield 2042 is the 8th lowest-rated game in the world at the time of writing. You can see that it is said.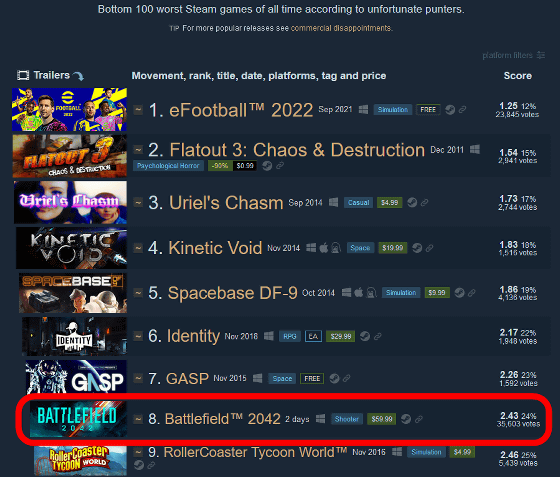 Game-related media Kotaku said of the large number of unpopular reviews of Battlefield 2042: 'I feel that Battlefield 2042 shouldn't have shipped in 2021. Probably a major update within a few months. With multiple distributions, Battlefield 2042's reviews will improve, but for now, Battlefield 2042 is one of the lowest rated games. '

In addition, on the official website of Battlefield 2042, on Wednesday, November 17, 2021 before the official release, 'We plan to publish more information on future corrections, balance changes, and comfort over the next few weeks. We are planning to release two more updates in the next 30 days. '

Battlefield 2042 Update # 1
https://www.ea.com/ja-jp/games/battlefield/battlefield-2042/news/battlefield-2042-update-notes-1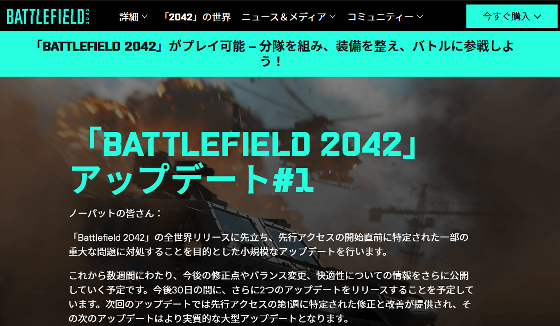 in Game, Posted by log1o_hf