Microsoft's 'Surface Duo 2' overseas review summary, the one and only two-screen smartphone also has a lot of harsh evaluation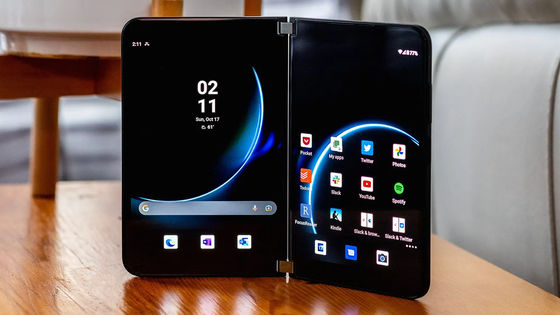 On September 22, 2021, Microsoft announced the 'Surface Duo 2 ', the next-generation model of the two-screen mobile terminal '
Surface Duo.'
Since the release date of Surface Duo 2 in the United States is October 21, many reviews have appeared from the media that got Surface Duo 2 at once, so I will summarize these and search for the true evaluation of Surface Duo 2. Saw.
Surface Duo 2 – Productive Dual Screen Mobile – Microsoft Store
https://www.microsoft.com/ja-jp/d/surface-duo-2/9408KGXP4XJL
Surface Duo 2 is an Android device equipped with two high-resolution touch screens. The size of one display is 5.8 inches (1344 x 1892 pixels), and the total screen size of the two displays is 8.3 inches, which is a tablet-class screen size. It is 5G compatible and has a fingerprint authentication sensor on the power button part, and as the main camera is a triple lens camera, it covers various functions installed in the latest smartphones.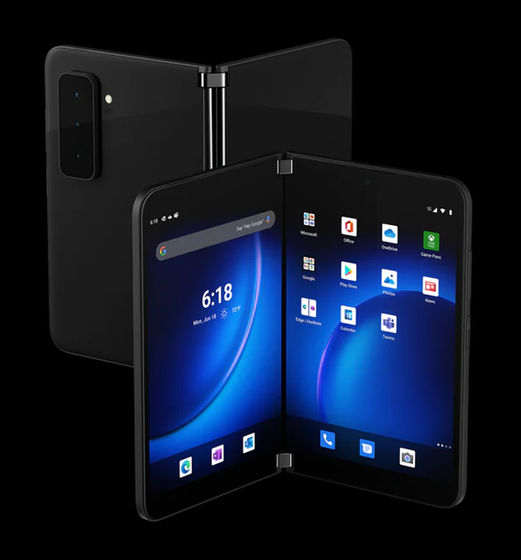 The Verge, who published a review of such a Surface Duo 2, said, 'Microsoft's second attempt as a foldable smartphone has fixed many of the problems that the first had, but not all. 'Folding smartphones are still in their infancy, and companies are still unable to find the best way (for their folding smartphones to work properly).'

Microsoft Surface Duo 2 review: Duo-over or strike two? --The Verge

https://www.theverge.com/22738082/microsoft-surface-duo-2-review-folding-phone-dual-screen-multitasking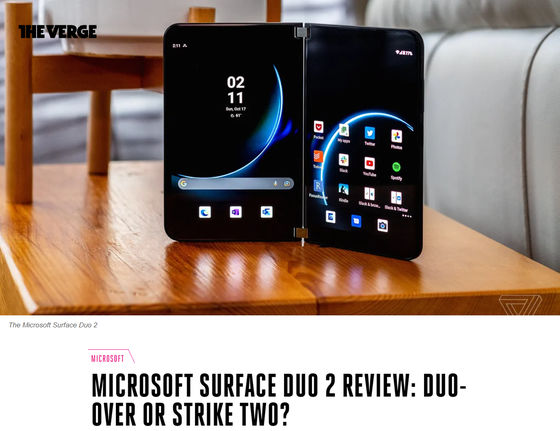 The Verge lacks 'high-performance camera', '5G connection', 'wireless charging function', 'NFC', 'latest processor', etc. for Surface Duo, which is the previous model of Surface Duo 2, and 'a bug that frequently occurs in software' Also pointed out that it was a problem. On the other hand, the Surface Duo 2 is equipped with the latest processors and cameras, has a sophisticated design, has a larger battery, and also supports 5G and NFC.
The Verge cites 'a stunningly advanced design' as a particular advantage, stating that 'it will almost certainly be eye-catching when used in public.' Unlike Samsung's foldable smartphones, the Surface Duo 2 isn't designed to combine two displays into one. The two displays are hinged together, which says, 'It's very smooth and solid, you can hold the display at any angle, and you can easily switch between two-screen and one-screen.' Gives high praise. Also, although it is a two-screen terminal, the point is that the main body is very thin. However, he also complains that he may get his finger caught in the hinge part.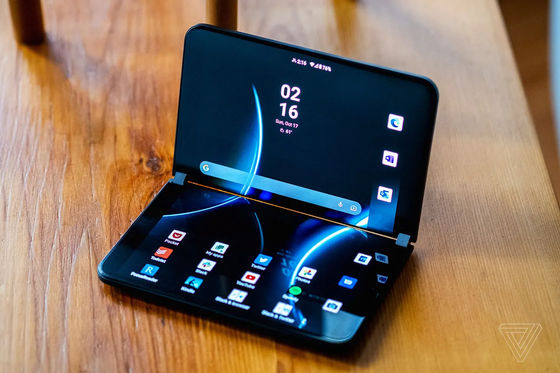 Because the Surface Duo 2 is larger than a regular smartphone, The Verge says, 'It's hard to fit in your pocket, it's too wide to reach your thumb when you use it in full screen.' 'In fact, the Galaxy Z Fold 3 is compact. It was easier to use. '

The dedicated stylus pen, Slim Pen 2, works best with Microsoft apps such as OneNote and StickyNotes, making it easy to take notes on one screen and browse the web on the other. Regarding the multitasking capabilities of the Surface Duo 2, The Verge said, 'Surface Duo 2 has some frustration with the hardware, but there are also some cool points. The Surface Duo 2 has two screens. Compared to the split screen mode of other terminals and iPads, it is overwhelmingly convenient to launch two apps at the same time. ' I am.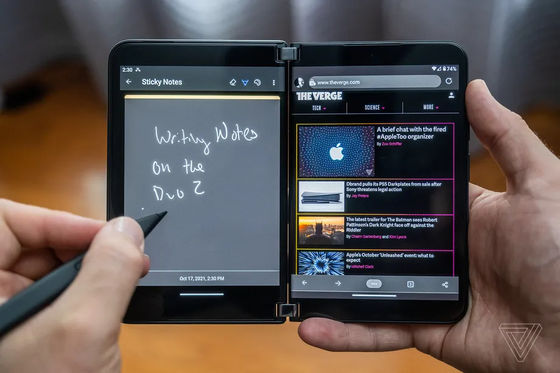 The main camera on the Surface Duo 2 has evolved into a triple-lens camera, but the Verge said, 'I don't have much to say about the camera. I can't take pictures without opening the phone completely, with one hand. It's very annoying when trying to shoot. Also, the camera often looks for focus, the image is taken slowly, and it's generally not easy to use. '' The image quality is low, the picture is too sharp and flat, and the light is low. The image is noisy and the details are subtle. It's certainly a complete camera upgrade from the Surface Duo's perspective, but the Surface Duo 2's camera is barely competitive compared to smartphones in the same price range. I criticize it.



Surface Duo has adopted Android 10 and had many bugs. Even at the time of writing the article, there are still many bugs when using Android 10 on two screens, and 'I still feel incomplete,' said The Verge. It seems that many software bugs were found in Surface Duo 2, 'When I talked with the person who was in charge of reviewing Surface Duo 2 in other media, almost everyone had the same experience as me. I also said.

PCWorld has four advantages of Surface Duo 2, 'dual screen experience is exemplary', 'photos taken during the day are amazing', 'excellent battery life', 'great performance', and 'unbelievable' as disadvantages. Moderately expensive (starting at $ 1499.99) '' Thick when folded, surprisingly heavy when opened '' Dual display design makes photography cumbersome '' Camera is not suitable for portrait photography in the dark '' Bug There are many '. 'Microsoft still believes in the potential of a two-screen smartphone-tablet hybrid. The product is approaching Microsoft's vision, but it's still far from perfect. Wait for Surface Duo 3. We are looking forward to the next model instead of the Surface Duo 2.

Microsoft Surface Duo 2 review: Better, but still buggy | PCWorld

https://www.pcworld.com/article/545199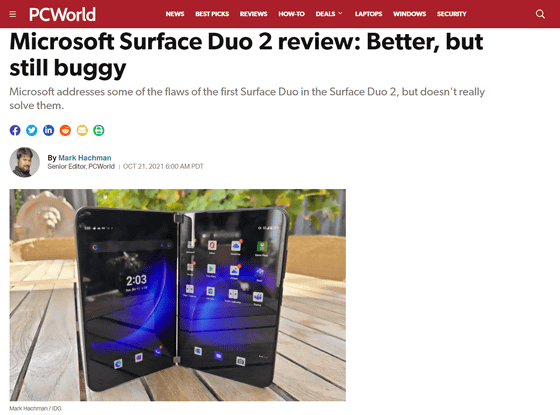 While evaluating the appearance design of the Surface Duo 2 as 'the most beautiful smartphone I have ever used,' XDA said, 'Since there is no display on the outside, you need to open the terminal every time you use it, and even if it is closed, the display It's more difficult than a device like the Galaxy Z Fold 3 that can use it. '
Microsoft Surface Duo 2 review: A productivity powerhouse
https://www.xda-developers.com/microsoft-surface-duo-2-review/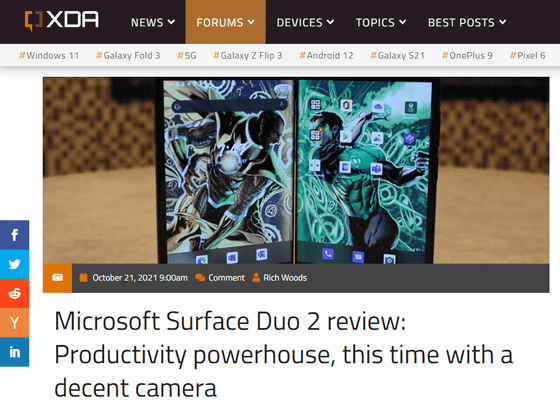 XDA also points out that not all applications are optimized for the Surface Duo 2 dual-screen specification. You can force any app to appear on both screens, but ...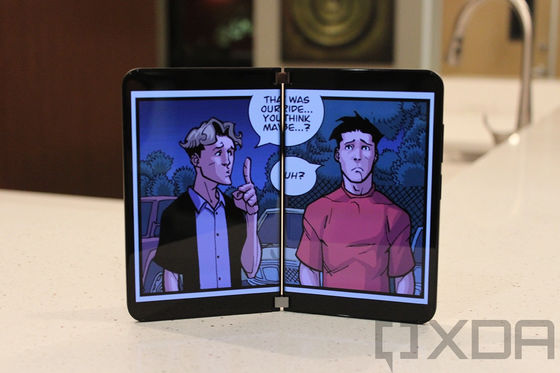 It is said that there are few optimized applications for split display of applications on two screens as shown below. Amazon's Kindle app is optimized for dual screen display, and you can display content on dual screen like turning a book as shown below.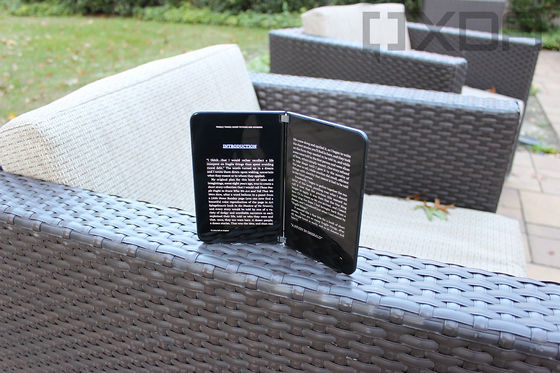 In addition, XDA said, 'Microsoft can not trust software updates. Android 12 has just been released, but Android 11 is not available on Surface Duo at the time of writing the article,' said Surface Duo 2 with Android 11 I am wondering if I should buy it.

'Microsoft has proven that it can create a decent foldable smartphone after the failure of its predecessor, but there's still room for improvement,' Laptop Mag said of the Microsoft Surface Duo 2. The advantages of Microsoft Surface Duo 2 are 'fun multitasking function', 'triple lens camera', 'new glance bar', 'ultra-thin housing', and the disadvantages are 'too expensive' and 'too many bugs'. 'Camera app' is listed.

Microsoft Surface Duo 2 review | Laptop Mag

https://www.laptopmag.com/reviews/microsoft-surface-duo-2-review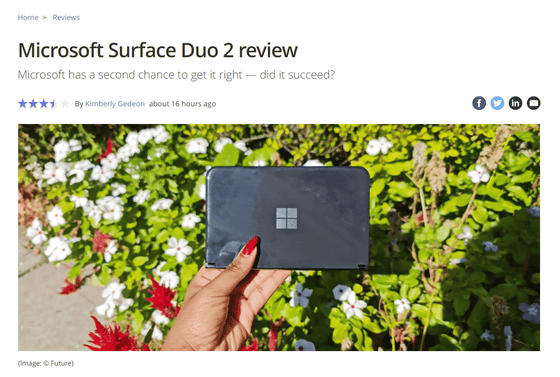 MobileSyrup prefaces that 'I have only used it for a few hours after getting it,' but the display that supports a 90Hz refresh rate has very smooth scrolling, clear text display, and vivid colors. However, it seems that he encountered multiple software-derived bugs even after using it for only a few hours.
Microsoft Surface Duo 2 hands-on: Holding potential – MobileSyrup
https://mobilesyrup.com/2021/10/21/microsoft-surface-duo-2-hands-on/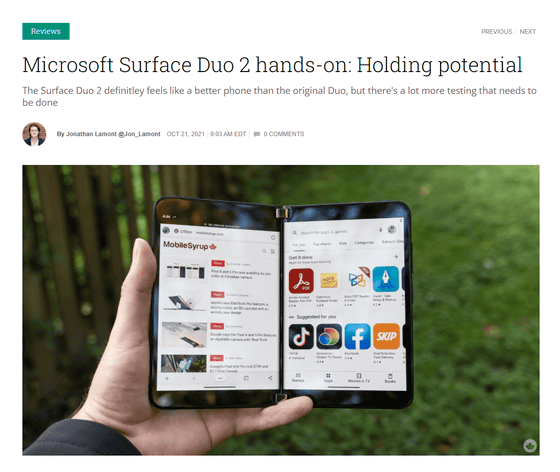 In addition, when the terminal is closed due to the unevenness of the main camera, it tries to damage the back panel and warns that 'Please do not hold it too hard'.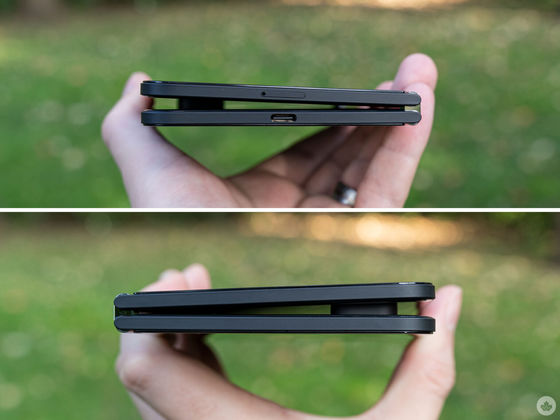 Engadget cites two strengths of Surface Duo 2: 'thin and solid hardware' and 'durable hinges', while its weaknesses are 'frustratingly inconsistent and buggy software', 'poor camera app' and 'poor camera app'. I mentioned four points: 'expensive' and 'the terminal has a fever'. In addition, Engadget evaluates Surface Duo 2 as '63 points' out of 100 points.

Surface Duo 2 review: Microsoft's second dual-screen hybrid is a letdown | Engadget
https://www.engadget.com/microsoft-surface-duo-2-review-camera-sample-specs-glance-bar-130004036.html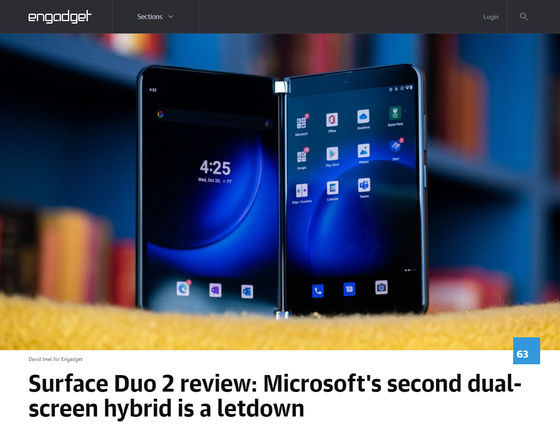 PC Mag cites three advantages of Surface Duo 2: 'unique multitasking ability', 'sharp screen', and 'solid 4G & 5G communication', and disadvantages are 'camera that is bad for the price', 'battery life', and 'unpredictable software'. We gave 3 points of 'Bug' and gave the overall evaluation '3.5 points' out of 5 points.

Microsoft Surface Duo 2 Review | PCMag
https://www.pcmag.com/reviews/microsoft-surface-duo-2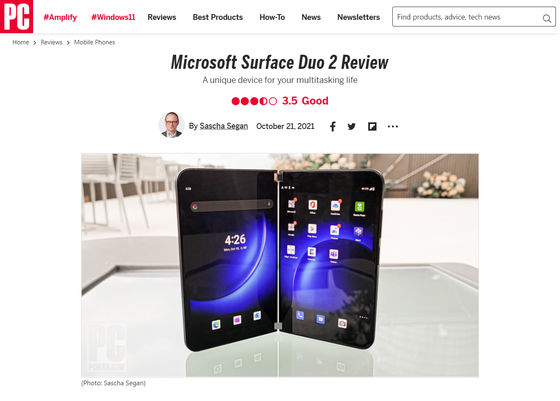 Digital Trends has the advantages of Surface Duo 2 Review: 'upgraded camera', 'aspect ratio suitable for reading and multitasking', 'mostly fixed software', 'specs equivalent to the first-class flagship machine' Five 'excellent multitasking functions' are listed, and three disadvantages are 'poor camera performance in low light', 'difficult to hold when shooting with a camera', and 'some software bugs remain'. I gave it and evaluated it as '3.5 points' out of 5 points.

Microsoft Surface Duo 2 Review: A Great Second Impression | Digital Trends
https://www.digitaltrends.com/mobile/microsoft-surface-duo-2-review/