Facebook launches digital wallet 'Novi' that allows instant international remittance for free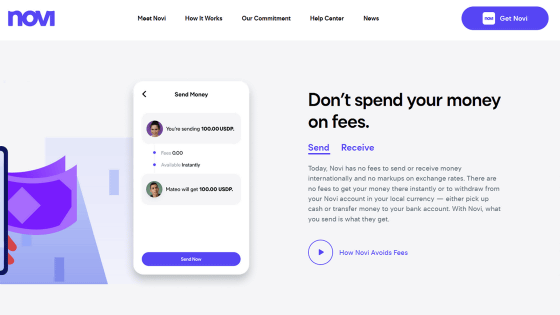 On October 19, 2021, Facebook announced that it would pilot the Novi digital wallet, which allows instant international money transfers for free. Novi is the United States of encryption assets Exchange ·
Coinbase
affiliated with, price to work with US Dollar
stable coin
is a
Pax Dollar (USDP)
By using, and which enables the immediate remittance at zero commission That is.
Say goodbye to delays and fees and say ???? to Novi — currently rolling out in Guatemala and most of the United States on the Apple App Store and Google Play Store. Check back here for the latest updates on availability, or visit https: //t.co/STs3PiQnvv pic.twitter.com/ESoavo5nym

— Novi (@novi) October 19, 2021


International Money Transfers & Remittances | Novi
https://www.novi.com/

Coinbase to power crypto custody for Facebook's Novi | by Coinbase | Oct, 2021 | The Coinbase Blog
https://blog.coinbase.com/coinbase-to-power-crypto-custody-for-facebooks-novi-90dc8d3f5830

Facebook's Novi digital wallet finally launches ... without Diem cryptocurrency --The Verge
https://www.theverge.com/2021/10/19/22734487/facebook-novi-digital-wallet-pilot-program-payments-diem-cryptocurrency

Facebook has announced that it will pilot its own digital wallet, Novi, in Guatemala, South America and most of the United States. Novi says it can send and withdraw money using local currency without being affected by international remittance fees or exchange rate fluctuations. In addition, Novi users will use an ID with a face photo issued by the government, and it will be confirmed that all users who sign up are themselves.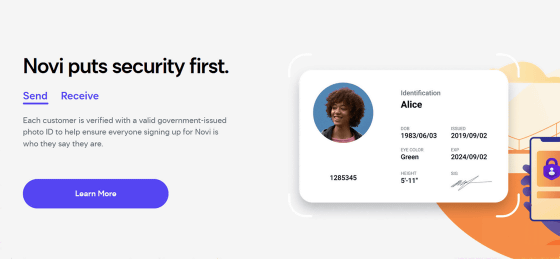 Novi realizes fee-free remittance because it uses USDP, a crypto asset (virtual currency) that moves in tandem with the US dollar. Money deposited in Novi's digital wallet will be exchanged for USDP at a rate of 1 dollar = 1 USDP, and you can transfer USDP for free and instantly by exchanging USDP between digital wallets instead of cash. It only takes a few seconds to send money, explaining that it's as easy as sending and receiving messages.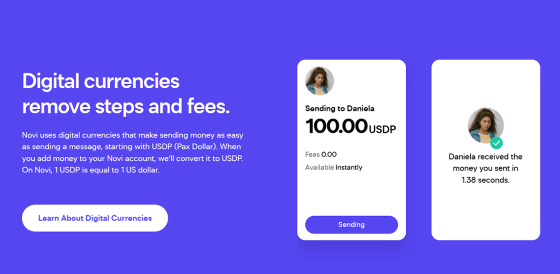 Facebook is partnering with Novi's management partner, Coinbase, a crypto asset exchange licensed by the New York State Financial Services Authority. Coinbase has a track record of securely managing $ 180 billion of crypto assets existing on the platform, and Novi users are protected by commercial crime insurance services provided by Coinbase. That thing.

David Marcus , head of F2 (Facebook Financial), Facebook's financial team, explained that the pilot deployment aims to test Novi's core capabilities, customer care, and compliance operations. doing.

We're doing a pilot to test core feature functions, and our operational capabilities in customer care and compliance. We're also hopeful this will demonstrate a new stablecoin use case (as a payments instrument) beyond how they are typically used today. 2 / 8

— David Marcus (@davidmarcus) October 19, 2021


According to Marcus, 56% of people in Guatemala do not have access to financial services, even though almost 100% have mobile phones. He also argued that it is very important to establish a remittance service between the United States and Guatemala, as remittances from overseas account for 14% of Guatemala's GDP, 90% of which is from the United States. I am.

The ????????-???????? remittance corridor is an important one. In Guatemala, 56% of people lack access to financial services, despite nearly 100% having mobile phones. Money sent from family & friends abroad contributes more than 14% of GDP and 90% of those remittances come from the US. 3/8

— David Marcus (@davidmarcus) October 19, 2021


In addition, Novi plans to offer free inter-personal remittances and develop a paid commercial payment service once the customer base is established. Marcus said this pilot deployment is a great opportunity to get user feedback as it takes time to scale up Novi.

Novi is available from the App Store and Google Play in Guatemala and most of the United States. The user who downloaded the app needs to sign up with the phone number and complete other settings, but it seems that the user may not be able to set it immediately after downloading and may be put on the waiting list.

At the time of writing the article, the only crypto asset that can be remitted by Novi is USDP, and the original virtual currency ' Diem (formerly Libra) ' announced by Facebook is not incorporated. However, Facebook is still working on Diem and plans to release Novi with Diem once regulatory approval is obtained.