More than 4 million people will get 'PC Building Simulator', a self-made PC simulation game, in just over 24 hours from free distribution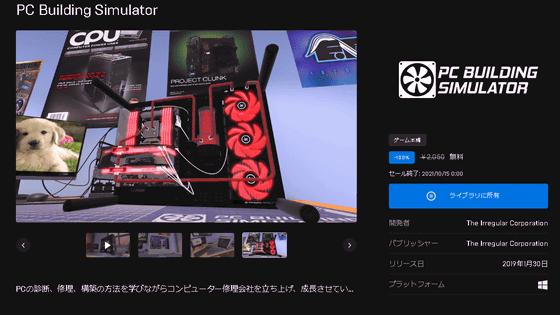 When the simulation game 'PC Building Simulator' that allows you to assemble your own PC was distributed for free on the Epic Game Store, it was revealed that it was obtained by more than 4 million people in just over 24 hours.

Over 4 million people claim PC Building Simulator free from the Epic Game Store in just over 24 hours • Eurogamer.net

https://www.eurogamer.net/articles/2021-10-09-over-4-million-people-claim-pc-building-simulator-free-from-the-epic-game-store-in-just- over-24-hours
PC Building Simulator is a self-made PC simulation game released in January 2019. Created by Romanian indie game developer
Kiss Claudiu
and sold by Irregular Corporation
as a publisher. PC Building Simulator is a game that grows your own computer repair business through PC diagnosis, repair, and construction, and it means that more than 1000 parts of existing PC makers such as AMD, NVIDIA, ASUS will appear. , Popular with game lovers and homebrew PC lovers.
GIGAZINE also has a play review, so if you are interested in what kind of game PC Building Simulator is, please check the following article.
I actually played with the PC in the simulation game 'PC Building Simulator' where you can assemble your own PC in the PC --GIGAZINE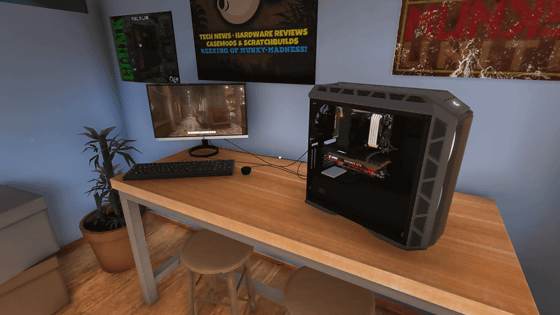 Normally, 'PC Building Simulator' is sold on the Epic Game Store for 2050 yen, but from October 8, 2021, free distribution will start for a limited time.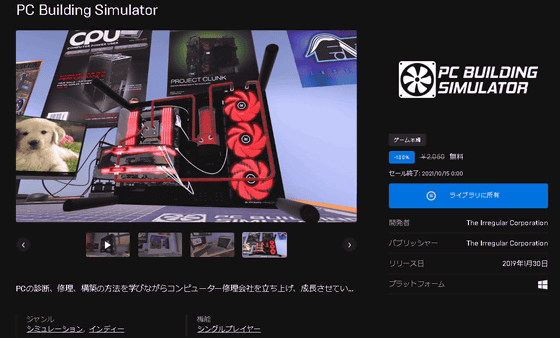 One day after the free distribution on the Epic Game Store started, the official Twitter account of the Epic Game Store said, 'PC Building Simulator is a free game of the week, already available to over 4 million players for free. To celebrate this, we are offering 10-50% off PC Building Simulator download content (DLC)! ' I revealed that I got the game.

PC Building Simulator is our free game this week and has already been claimed by over 4 million players ????

As part of the celebration, DLC for PC Building Simulator is 10% -50% off!

Check it out: https://t.co/4ad3oU2ruo pic.twitter.com/oHNVTXFhj4

— Epic Games Store (@EpicGames) October 8, 2021


The Epic Game Store started its service in December 2018. The Epic Game Store distributes free games every week, but Simon Carless, the founder of GameDiscoverCo , which publishes game-related analysis data, publishes data on 'games distributed free of charge by the Epic Game Store.'

Want to know how much $ the devs of those'free' Epic Games Store games got, & how many copies were grabbed? Here's the first 9 months to September 2019. ???? pic.twitter.com/5hkLb1VEjj

— Simon Carless (@simoncarless) May 3, 2021


Carless released 38 titles 'Entitlements' and 'Buyout Price (Epic)' that were distributed free of charge from December 14, 2018 to September 26, 2019. 'Amount paid by Games to the seller)' 'New Epic Accounts (the number of new Epic Games accounts increased during the free distribution period)' 'EPIC UA Cost (the cost of adding one new account)' ' Data such as 'New to Epic% (percentage of new users who got the game for free)'.

The free distribution of PC Building Simulator at the Epic Game Store will end at 0:00 on October 15, 2021, so if you are interested, please get it as soon as possible.